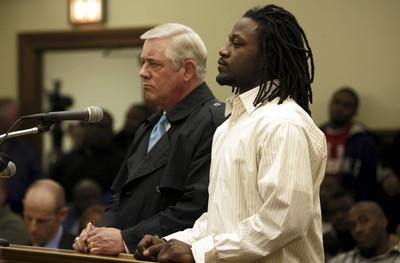 With the sixth pick in the 2005 NFL Draft, the Tennessee Titans select Adam Jones, cornerback, West Virginia.
When I heard then-commissioner Paul Tagliabue say those words as I watched the NFL Draft, I envisioned the Titans' return to greatness.
I had heard of "Pacman" Jones. I knew he had great hands and blazing speed. I also knew that the Titans needed to replace their top cornerbacks Samari Rolle and Andre Dyson, who left the team in free agency.
I'm a native of Nashville, and the Titans are my team. Pro Bowlers Steve McNair and Eddie George led their powerful offense as their defense shut down the opposition, carrying the Titans into the elite ranks of the NFL. It peaked with a Super Bowl appearance in 2000.
Then in 2004, injuries and the salary cap began to take their toll. Fans, myself included, watched in horror as top players and team leaders such as George, wide receiver Derrick Mason, Rolle and Dyson disappeared, casualties of the salary cap.
In 2005, the rebuilding process began and the first piece of the puzzle was drafting Jones. Things were looking great, right?
Not for long. His first arrest came in July 2005 after a fight at a Nashville nightclub. He then held out most of training camp, further damaging fans' perception of him. He hadn't even taken the field and he already had a bad reputation.
The 2005 season came and went, the team (4-12) wasn't very good and Jones' performance was lackluster. Sure, he was a dangerous punt returner, but his defensive skills needed major improvement.
Police questioned him several times throughout the season, though no major charges were filed. I kept my fingers crossed during the offseason between 2005 and 2006.
My wishes were not granted, however, as police in LaFayette, Ga., charged Jones in March 2006 with possession of marijuana. Then in August 2006, police in Murfreesboro, Tenn., arrested him on charges of disorderly conduct and public intoxication. So much for hoping he had grown up.
To top things off, McNair left to become quarterback of the rival Baltimore Ravens.
The 2006 season began with much hope, but the Titans got off to poor start at 1-5.
For the seventh game of the season, on Oct. 29, I took my seat in Section 139 at LP Field in Nashville. The Titans were playing the Houston Texans. Houston quarterback Sage Rosenfels threw a pass intended for Andre Johnson, who couldn't make the catch. The ball fell into Jones' arms. He returned the interception, the first of his career, 24 yards. The stadium erupted, myself included, happy to finally see him perform like a No. 1 pick.
"It's about time," I said to my friends beside me, smiling and high-fiving. But that was only the beginning.
Later in the game, Jones jogged out onto the field and waved his arms to excite the sold-out crowd. I try to do the same in Section 139.
The Texans punter booted a nice high kick. Jones fielded the ball cleanly. He moved left, then right, sidestepped one defender, then spun out of another's grasp.
The noise began to build as defender after defender failed to tackle him. Suddenly he found a lane and was off, streaking down the field. Fifteen, 10, five … touchdown Titans! The entire stadium shook as 68,000 fans screamed and jumped, adrenaline pumping. I shouted, laughed, jumped up and down and high-fived everyone around me. This would be the first of three punts he would return for touchdowns that season.
He continued his good play a few weeks later when he intercepted New York Giants quarterback Eli Manning twice in the fourth quarter, helping the Titans to a come-from-behind victory. I laughed and shouted until I couldn't breathe, loving how Jones had ruined Manning's day.
Three weeks later, he returned an interception 92 yards for a touchdown against Jacksonville. I was barely able to speak after this game, having lost my voice from all the cheering.
Jones' efforts helped the Titans improve to 8-8.
Never before have I, or many other Titans fans, looked forward to watching the special teams. With Jones, I found myself on my feet, eyes glued to No. 32 whenever he stepped onto the field. He proved to be a gifted athlete with game-changing abilities, and I was fortunate enough to see many of his magical feats firsthand.
Unfortunately for Titans fans, his off-the-field antics far outweigh his on-field performances. During NBA All-Star Weekend in February in Las Vegas, Jones and his entourage allegedly were involved in a fight at the Minxx strip club, which preceded a triple shooting. The Clark County District Attorney's office last week filed two counts of felony coercion against Jones and two of his associates for their roles in the fight.
Jones turned himself in on Friday, posted bail, then flew back to Tennessee. He must return to Las Vegas for a July 23 court date. The case is just one of six arrests and 12 incidents with police involvement he has had.
As Titans coach Jeff Fisher said June 18, "It's Pac's issue. It's no longer our issue. We've moved on."
I agree. As talented as "Pacman" is, I do not want to have to weigh success as a team on the field against one man's failures off the field. Winning is great, but not at the price the Titans and my hometown have to pay for Jones' actions.
I want an athlete on my team with game-changing abilities. I want a player who can make you stand up and cheer, make your hands shake with excitement and anticipation. I want a player who can lead the team to victory. In 2006, Jones' performances did these things. But I also want a player who can be a leader off the field, who can inspire others, who can be a good role model and represent Tennessee, my home.
Thankfully, Titans have quarterback Vince Young. And as Young said of Jones on Thursday, "We feel like he don't care about us right now."
Review-Journal intern Adam Zinser, a senior at Vanderbilt University, has lived his entire life in the Nashville area.