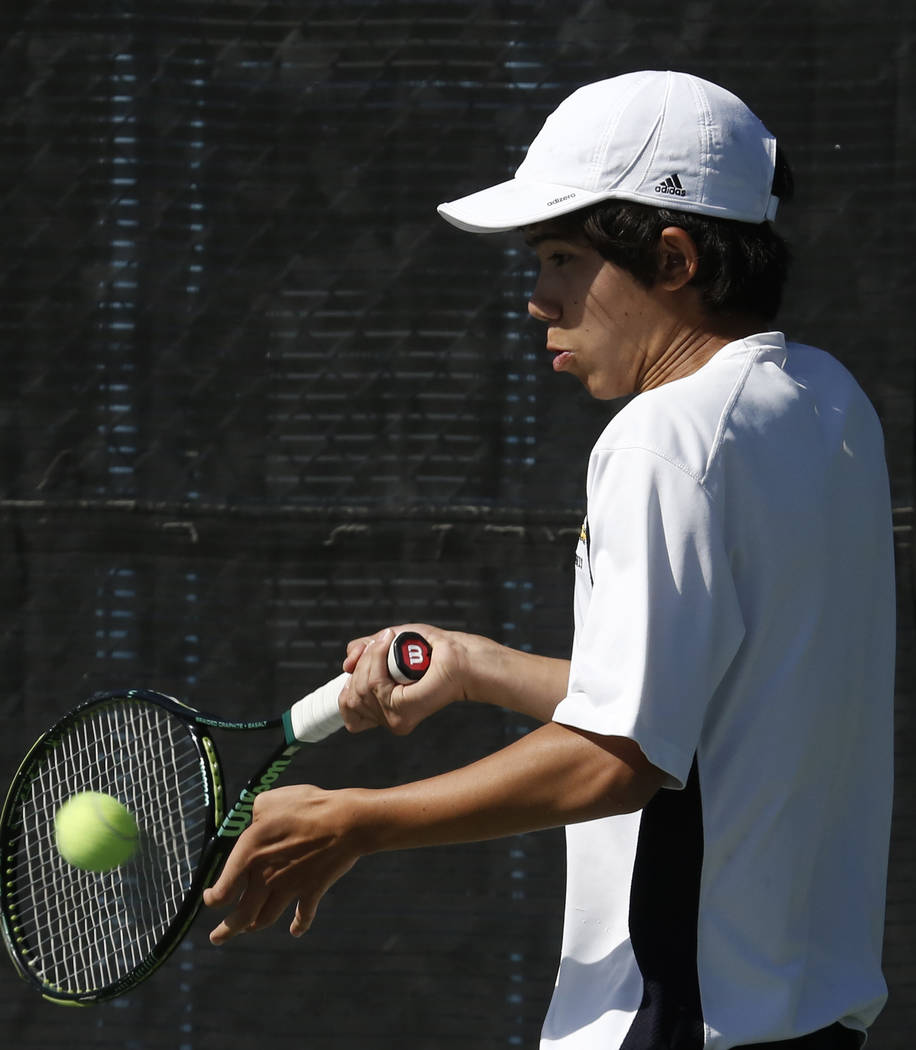 Palo Verde boys tennis coaches Richard Coop and Patjohn Lamparelli spent the past month concocting the optimal nine-man lineup to defeat unbeaten Clark, which had toppled the Panthers twice during the regular season.
"We already realized it was going to come down to a tiebreaker," Lamparelli said.
"The last ball," Coop added.
That, it did.
Axel Boticelli defeated Max Foels in the final tiebreaker match to give Palo Verde a 10-9 victory over the Chargers in the Class 4A state championship, sparking a raucous celebration Friday at Darling Tennis Center.
Panthers players jumped for joy and bull-rushed Boticelli, a soft-spoken sophomore who merely said he was happy he clinched Palo Verde's second consecutive state championship.
"We all really wanted to win this time. We had already lost to them twice," Boticelli said. "I'm glad we won."
The Chargers (18-1) defeated Palo Verde (16-3) on Aug. 29 and again Oct. 5 in the region championship. But Coop, who is in his first-year as head coach, and Lamparelli, in his ninth year as an assistant, had made some secret adjustments to their doubles pairings and saved them for the final installment of the trilogy.
The combinations of Sam Soderborg and Jayden Atkin, and Hayden Huckfeldt and Benjamin Waid were 2-1 in doubles and bolstered a 3-0 singles effort by Jack Kostrinksy.
Michael Pasimio and Simran Shah were 3-0 in doubles for Clark, and Rahul Gupte and Artem Iermolov were 2-1 in singles to force the tiebreaker.
"Our kids were very well prepared," Coop said. "They knew what they had to do today to win. They knew the magnitude of the match."
The Class 3A final wasn't as dramatic.
Boulder City (20-0) capped an undefeated season and claimed its first state title since 1977 with a 13-5 win over rival The Meadows (16-2). Andre Pappas and Connor Mikkelson were both 3-0 in singles, and Preston Jorgensen and Boen Huxford were 3-0 in doubles.
"My singles players and my double players both came together," Boulder City coach Rachelle Huxford said. "We won matches I didn't think we would."
Pappas, a senior, said beating the Mustangs was a "very satisfying" way to end his high school career.
"We trained on how to beat them, worked up to playing up to our level and not playing down," he said. "And just bringing it when the day comes."
The Eagles certainly brought it.
More preps: Follow all of our Nevada Preps coverage online at nevadapreps.com and @NevadaPreps on Twitter.
Contact reporter Sam Gordon at sgordon@reviewjournal.com. Follow @BySamGordon on Twitter.