Palo Verde boys nudge Canyon Springs on Miller's late jumper
February 26, 2015 - 10:28 pm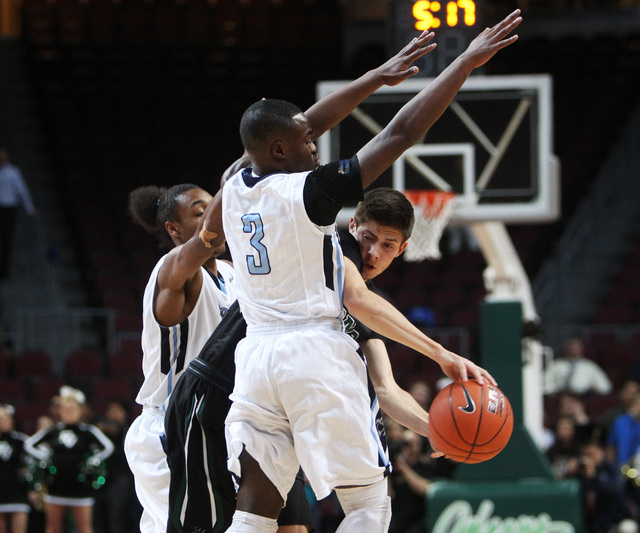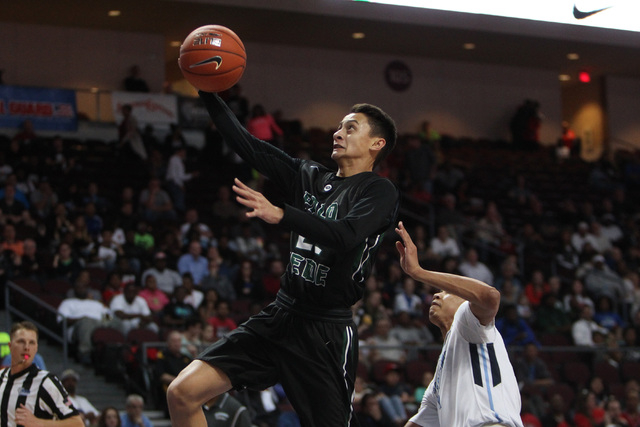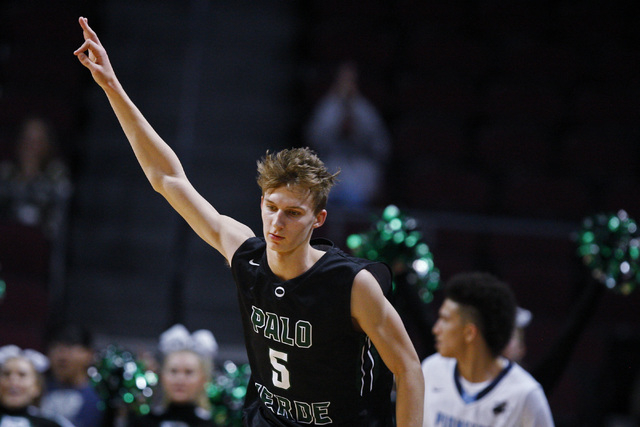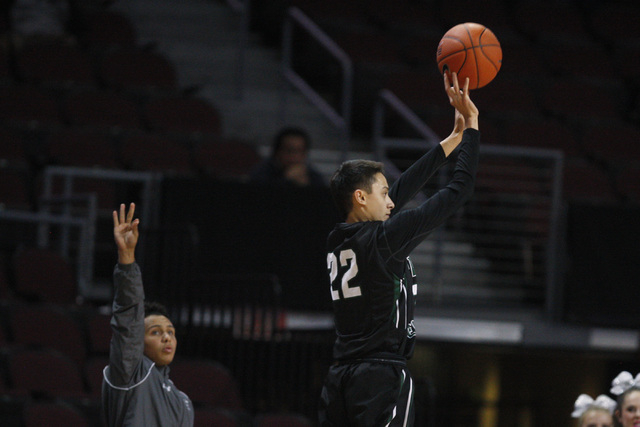 Some players look for someplace to hide with the game on the line. Palo Verde junior guard Taylor Miller looks for the ball.
Miller made the biggest shot of his high school career Thursday, knocking down a pull-up jumper with 10 seconds left to lift the Panthers to a 50-48 win over Canyon Springs in the Division I boys state semifinals at Orleans Arena.
"He's that kid," Palo Verde coach Paul Sanchez said. "He's just chiseled to (do that)."
The Panthers (21-9) will play Bishop Gorman (26-6) in the state final at 8:10 p.m. Friday at Orleans Arena. The Gaels, shooting for their fourth straight title, whipped Galena 75-41.
Palo Verde had the ball after a timeout with 22.7 seconds left. It ended up in the hands of reserve guard Ryan Vogelei, who drove toward the lane and dished to Miller in the right corner.
Miller took two dribbles and elevated for a 15-footer to give the Panthers the lead.
"I trust my teammates to hit big shots, but when it comes down to it, I want to hit the shots," Miller said. "I want for me to have a big part in (the result). When my teammates find me, I'm always ready."
Miller said the play wasn't designed to go to him, but he was indeed ready to take the big shot.
"We just wanted to spread the floor out," Miller said. "We were looking for Ja (Morgan) and Grant (Dressler) to run a pick-and-roll. Ryan got the ball, drove and Ryan made a good kickout and I hit the shot."
After Miller's go-ahead shot, Canyon Springs (19-11) got the ball to Jordan Davis, who raced toward the basket. But the ball was slapped out of his hands as he drove, and Vogelei came up with it and ran out the clock.
"(I) should have left less time on the clock," Miller said jokingly. "We made a big stop. We knew Jordan was going to get the ball and attack. He's their main guy. Ryan's a tough defender. He stopped him, and we were just blessed to get the win."
Canyon Springs led 48-45 after two free throws by Davis with 2:37 to play. After a steal, the Pioneers spread the floor and ran clock. They got the ball to an open Maurice Hunter inside, but his short shot missed, and Dressler rebounded.
Morgan then hit his third 3-pointer with 1:31 left to tie the score at 48.
Canyon Springs called timeout with 58.6 seconds left to set up a play, but Davis was called for traveling with 49.9 seconds left.
The Pioneers were in control early. They forced 11 first-half turnovers and turned them into 15 points to take a 28-21 halftime lead.
Canyon Springs led 12-3 before some hot outside shooting got Palo Verde back into the game. The Panthers were 4-for-6 on 3-pointers in the first quarter, including two by Miller, who finished with a game-high 19 points.
"That's a big part of our offense is our outside shooting," Miller said. "When we're hitting like we were today, we're tough to beat."
Miller finished 3-for-6 on 3-pointers.
"He kind of carried us, because he was the one that kept pumping us throughout the whole game and doing some hard work," Sanchez said.
The Panthers committed only four turnovers in the second half, and Sanchez said that was key to taking control.
"The biggest thing was we needed to take care of the ball better," Sanchez said. "They got us to turn the ball over in the first half. They got some easy fast-break baskets. Whenever we were able to set up our defense, we held them pretty good. But a bad shot or a turnover and they were racing and getting layups on us."
Morgan scored 17 points, and Dressler had 10 points, 11 rebounds and three blocked shots for the Panthers.
Davis had 18 points, 10 rebounds, five assists and three steals to lead Canyon Springs. Hunter added 10 points and seven rebounds for the Pioneers.
Bishop Gorman 75, Galena 41 — The Gaels led 19-0 after the first quarter and rolled past the Grizzlies in the other semifinal.
"We wanted to keep the pressure on them," Gorman coach Grant Rice said. "We really wanted to pressure them and make them play a little faster than they're used to."
The strategy worked, especially in the first quarter, when the Gaels forced 10 turnovers that led to eight points. Galena (24-7) was 0-for-9 from the field in the first quarter, including 0-for-5 on 3-pointers.
Gorman 7-footer Stephen Zimmerman had 10 points in the first half, including a tomahawk dunk off a give-and-go with Chase Jeter as the Gaels took a 32-13 halftime lead.
"We had a lot of energy at the very beginning," Zimmerman said. "We let up a little bit. In my opinion, we didn't have a good game. We could have played a lot better, but we started off with a run that helped us out."
The win was the 113th of Zimmerman's career, the most in school history. He will look to close out his high school career with a fourth consecutive state title.
"I think it hit my parents before it hit me, because my mom was crying a few minutes ago," said Zimmerman, who finished with 18 points, six rebounds and two blocked shots. "But it's a huge blessing."
The 6-11 Jeter scored 18 points in the second half and finished with 23 points and 13 rebounds.
Zackary Lessinger led Galena with 17 points and nine rebounds.
The game will be the fourth of the season between Gorman and Palo Verde. The Gaels beat the Panthers 82-46 in the Sunset Region title game.
"I'm happy for Palo," Rice said. "Coach Sanchez is one of the best guys in basketball. I like their team. I really like their team, and they're such a dangerous team and I think the city realizes that now."
Contact prep sports editor Damon Seiters at dseiters@reviewjournal.com or 702-380-4587. Follow him on Twitter: @DamonSeiters.