Palo Verde builds big lead, hangs on against Shadow Ridge, 77-71
February 10, 2015 - 10:58 pm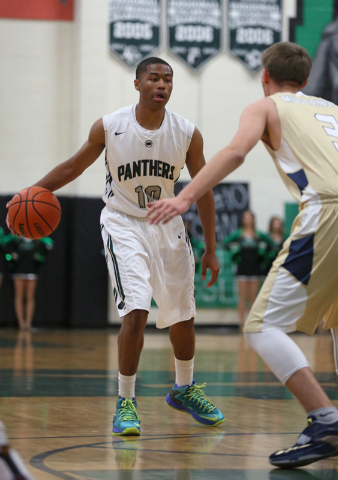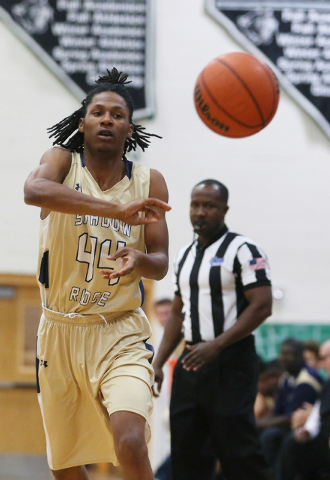 Palo Verde's boys basketball team hit the floor Tuesday looking to build some momentum before the start of next week's Sunset Region playoffs.
And for three quarters, the Panthers appeared to be doing just that, pushing their lead to 23 points. But then things got a little close for comfort, as Palo Verde had to hold off a furious Shadow Ridge comeback to escape with a 77-71 home win.
"I think we relaxed a little bit," Palo Verde coach Paul Sanchez said. "Things started not going our way on offense, and bad offense makes for bad defense. They got some easy baskets, layups and stuff. We lost our focus and concentration, but were able to get it back at the end and make free throws to keep them away and get the win."
Palo Verde (16-8, 5-2 Southwest League) led 62-39 after a basket by Grant Dressler with 1:10 to go in the third quarter, and it looked as if the Panthers would cruise to the win. The Mustangs had another idea. Shadow Ridge went on a 26-5 run from that point, pulling within 67-65 on two free throws by Melvin Johnson with 2:24 to play.
"We're trying to play with a playoff attitude so we don't have letdowns and we play at a steady level and a high level without peaks and valleys," Sanchez said. "At the end, I know we play better when it's tight and we have to focus a little bit. Shadow didn't give up, and they fought and got momentum to make it a close game."
The Mustangs (11-14, 2-6) cut the deficit to two again on a drive by Jerell Springer with 1:57 left that made the score 69-67. But Palo Verde immediately found the mismatch inside, getting the ball to the 6-foot-7-inch Dressler on the left block. Dressler scored over the 6-1 Johnson to push the lead back to four, and the Panthers were 6-for-6 from the free-throw line in the final 43 seconds.
"We're always looking for that," Sanchez said of the mismatch inside. "Grant is pretty solid inside and out."
Dressler finished with 27 points and 10 rebounds to lead Palo Verde. Ja Morgan had 20 points, six rebounds and four assists, and was 4-for-4 from the line down the stretch.
Connor Lemmon added 12 points for the Panthers, who secured the Southwest League's No. 2 playoff seed.
Springer led Shadow Ridge with 27 points and eight rebounds, and Johnson added 15 points and seven rebounds.
Contact prep sports editor Damon Seiters at dseiters@reviewjournal.com or 702-380-4587. Follow him on Twitter: @DamonSeiters.