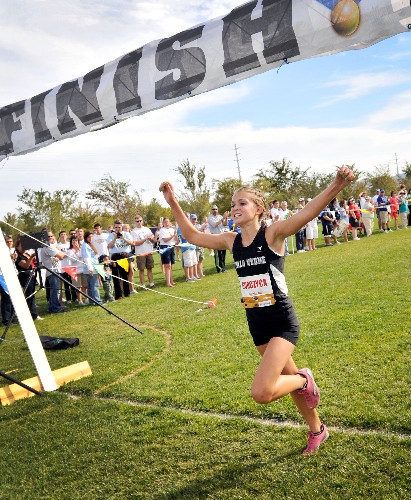 The big smile broke out about 20 yards from the finish line. The arms went up in victory right before the end.
Katie Gorczyca could afford to celebrate her seasonlong domination of Class 4A girls cross country with no other runners in sight and her first state championship sewn up.
The Palo Verde freshman not only won the 4A individual title with a time of 19 minutes, 49 seconds but also led the Panthers to a team championship Saturday at Veterans Memorial Park in Boulder City.
Green Valley's Alyssa Rapovy placed second, 28 seconds behind Gorczyca in 20:17. Erika Root of Reno took third, two seconds behind Rapovy.
Her dominant performance allowed Gorczyca to become the first freshman to win the 4A crown since Abby Miller did so for Green Valley in 1996.
No one needs to give Gorczyca a history lesson either.
"I want to win all four years like Abby Miller did, so that's my goal," Gorczyca said.
Gorczyca led from the beginning of the race, opening a wider lead at nearly every checkpoint. The only drama left after she finished was if her team would support her enough to win the team crown.
Kelsi Koch finished ninth, Marissa Suan placed 15th, Ashley Koch came in 27th and Sarah Leiserowitz crossed the line in 29th. Palo Verde's team score of 58 was 10 points better than second-place Damonte Ranch. Carson took third with 75.
"We can only control what we do," Palo Verde coach Robert Davis said he told his team before the race. "So the whole goal was just, let's go run a (personal record) and see how we can do."
Gorczyca fell just a few seconds short of her winning time from last week's Sunset Region meet.
"My strategy was just to stay relaxed the whole race," Gorczyca said.
Carson's Alex Drozdoff was fourth in 20:24. Andrea Gonzalez of Arbor View finished fifth in 20:30. Koch and Shadow Ridge's Mallory Reese, who was 10th in 20:39, were the only other Southern Nevada runners to place in the top 10.
In the Class 3A race, Fernley's Mariah Anthony won in 20:39, and Elko took the team crown. Boulder City's Jessica Tobler was the top Southern Nevada finisher, placing fifth in 21:40.
In the Class 2A race, Becky Grabow of Sierra Lutheran took first at 20:34, and Incline won the team title. The Meadows' Megan Alexander was sixth in 22:21.
In-depth high school sports coverage