Palo Verde grad Miller won swim bronze, gold in Rio Olympics
August 25, 2016 - 5:02 am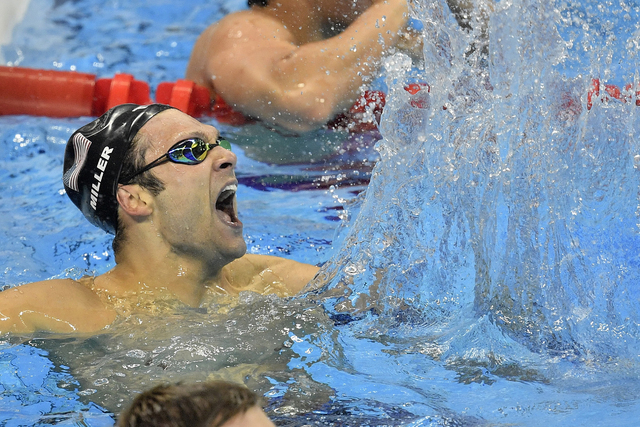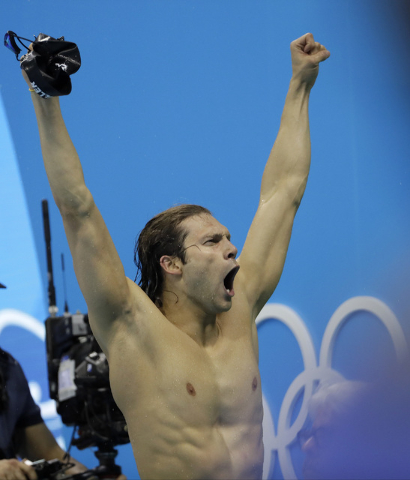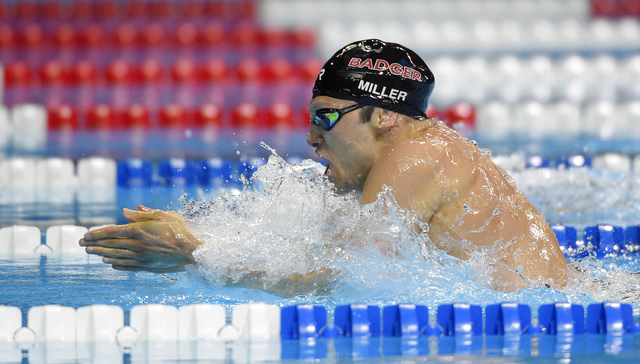 Las Vegas native and Palo Verde High School graduate Cody Miller won a bronze medal at the 2016 Summer Olympics in Rio de Janeiro. Miller swam in the men's 100 breaststroke and set an American record for the event with a time of 58.87.
"So happy," a beaming Miller told NBC Sports immediately after the event. "I have been dreaming about this since I was a little kid, and you never really think it's going to happen until it happens."
British record-holder Adam Peatytook home the gold after clocking in at 57.13, a world record.
"I knew he was going to go out fast, so I was trying to go out faster but smooth so I could come home well and … it's just exciting," Miller said, explaining his strategy.
Cameron van der Burgh of South Africa took silver in 58.69.
Later at the games, Miller won a gold medal by swimming the breaststroke leg of the United States' 4×100 medley relay, helping set the U.S. set an Olympic record with a time of 3:27.95. His run was a key part in giving Michael Phelps his 23rd career gold medal in his potentially last race in the Olympics.
The 5-foot-11-inche, 174-pound Miller was born in Billings, Mont. He started swimming at age 8 for a medical condition called pectus excavatum, notable for its trademark sunken chest. About a year later, he and his family moved to Las Vegas, where he began standing out with swimming achievements.
Miller said he'd wanted to compete in the Olympics "ever since I was like, 10, 11 years old. Everybody looks up to those Olympic swimmers. So it was always a dream of mine."
While with the Sandpipers of Nevada Swim Club, Miller broke national records for boys 15-16 in the 100- and 200-meter breaststroke events. Miller also competed at the national, and occasionally international, level as a junior swimmer qualifying for meets such as the World Championship Trials, Olympic Trials, U.S. Open, and Junior Nationals, earning himself a spot on the U.S. National Junior team in 2009.
After graduating from Palo Verde High School, Miller went to Indiana University where "everybody assumed that I lived in a casino on the Strip," he said. He swam under head coach Ray Looze and continued to make notable marks in the swimming world. He earned a degree in business management but still trained post-graduate in Indiana representing the Badger Swim Club and continued to compete with Team USA at the 2013 World University Games.
Internationally, Miller went to the 2015 FINA World Championships as a U.S. National Team member, where he won gold as part of the 4×100 relay. He won two relay medals at the 2014 FINA Short Course World Championships in Doha, Qatar. The 2015 Arena Pro Swim Series ranked him No. 3 in the world for the 100 breaststroke.
He said it was at his first long-course national title, after college, when it hit home that he could achieve his goal of being an Olympic champion.
"That's when it kind of slingshotted me onto the world stage," He said. "… It was an eye-opener, knowing that I could really do this."
Miller credited the USA Swimming Foundation's Building Champions program with supporting him after college so he didn't have to work but could devote himself to representing America in Rio.
"It gave me everything. No doubt, I wouldn't be an Olympian without it. Going to meets is expensive, and there's no money in swimming," he said.
It wasn't just daily living expenses where he required financial assistance. Meets took him to various lands — Scotland, Dubai, Russia, Sweden.
Building Champions received $612,000 in support funding for its national team this year, with $550,000 of that going directly to the athletes.
"There are a number of athletes who turned professional," said Debbie Hesse, executive director. "Once they graduate from college they have little to no source of income, so our job is to support these athletes so they're able to swim and train."
She explained that she uses the term "professional" to mean someone who trains full time after college.
To reach Summerlin Area View reporter Jan Hogan, email jhogan@viewnews.com or call 702-387-2949.