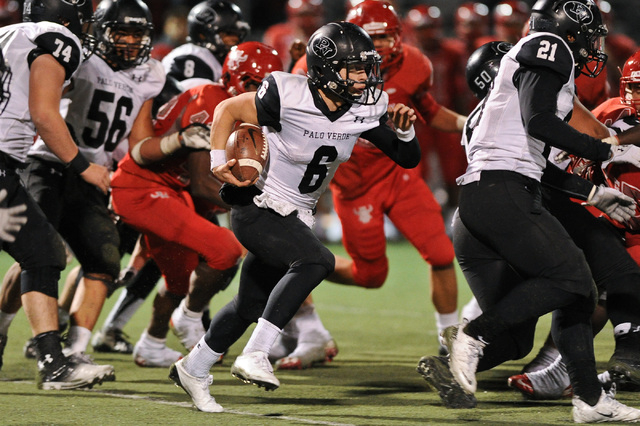 The numbers show that Palo Verde's defense completely shut down Arbor View on Friday night as the seventh-ranked Panthers clinched the Northwest League title with a 21-7 road win over the No. 4 Aggies.
While the Palo Verde defense was stout, the unit got a huge assist from the offense. Palo Verde (8-1, 5-0) held on to the ball for 18:51 of the second half to help ensure Arbor View never had a chance to find a rhythm.
"The plan was to come out, keep grinding them in the run game and then score," said quarterback Parker Rost, who ran for two scores and threw for another. "It just so happened that we just kept control of the ball and kept getting first downs. That's our game, to just keep running the ball and moving it down the field. It's all about just getting positive yards and first downs, and that's what we did."
Arbor View (7-2, 4-1) managed just 38 yards of offense after halftime and 127 in the game.
"I'm just proud of the kids," said Palo Verde coach Darwin Rost, the quarterback's father. "We've been preparing for them for three weeks. Our kids know the double-wing, but (Arbor View) does a great job."
The Panthers led 14-7 at halftime after Rost ran in a 6-yard touchdown with 1:47 left in the second quarter. Palo Verde took the opening kickoff of the second half and kept it for 14 plays before a missing a 25-yard field goal.
Arbor View tried to capitalize and worked the ball downfield with two completions and a pass interference penalty, but Dallas White intercepted an Andrew Cornwell pass at the Palo Verde 14-yard line on the second play of the fourth quarter and returned in 21 yards to halt the Aggies' only second-half threat.
Palo Verde went right back to work, deliberately moving the ball downfield on a 12-play, 65-yard drive capped by Rost's 22-yard TD run.
"We put that offense in because it keeps our defense off the field, and we can grind, grind, grind, too," the elder Rost said. "I'm proud of the kids for executing and hanging on to the ball. You can't turn the ball over in a game like this. You just can't."
Rost ran for a game-high 79 yards and accounted for all three touchdowns.
"Arbor View beat us for the league championship on our field last year, and Parker held that in the back of his mind. It motivated him in the weight room and everything, so he really wanted it really bad," Rost said of his son. "He's a student of the game. He's been around the game since he's been born. He really wanted this one bad, and he's worked hard to get there. He said, 'Coach, give me the ball. I want it.' He was telling me all week, on the way to school and the way back home. Everywhere."
Palo Verde had control from the very beginning after Arbor View's Anthony Smith fumbled on the opening play and the Panthers recovered at the Aggies' 29. Rost threw to a wide-open Jake Ortale for a 19-yard touchdown pass three plays later.
Arbor View took advantage of a short field to tie the game midway through the second quarter as Salah Boyce ran for a 3-yard TD just a few plays after Rost fumbled in the backfield on a broken play and set up the Aggies at the Palo Verde 14.
Arbor View will host Legacy in the Sunset Region quarterfinals on Friday. Palo Verde will host Cimarron-Memorial.
■ Centennial 28, Legacy 17 — At Centennial, Lantz Worthington's 91-yard run in the fourth quarter helped the Bulldogs erase a 17-0 deficit and sparked a key win to secure the Southwest Division's No. 2 seed.
After the Longhorns scored all of their points during the first quarter, Centennial (5-4, 4-1) capitalized on four Legacy turnovers to score 28 unanswered points over the last three quarters.
Worthington finished with 125 yards on 13 carries, while Hunter Brown intercepted Legacy's Devin Williams in the third quarter, then recovered a key fumble by Williams in the fourth quarter for the Bulldogs.
Centennial quarterback Coll Thomson scored twice, both on 2-yard runs.
DeMichael Walker ran for 110 yards and a touchdown on 20 attempts for Legacy (6-3, 3-2), while Casey Hughes rushed for 72 yards and a touchdown on 13 attempts.
The win means Centennial will host Northwest No. 3 seed Shadow Ridge next week, while Southwest No. 3 seed Legacy will face Northwest No. 2 seed Arbor View in a rematch from earlier this season, when the Longhorns won the annual Battle of the Bulls game, 7-0 at Arbor View.
■ Bishop Gorman 69, Desert Oasis 7 — At Desert Oasis, the Gaels scored 69 points on 29 plays and cruised to a win a over the Diamondbacks and another Southwest League title.
Randall Cunningham Jr. completed all five of his passes for 135 yards and two touchdowns for Bishop Gorman (9-2, 5-0 Southwest). He also scored on a 50-yard run. Alize Jones caught two passes for 64 yards and a touchdown and returned a kickoff 64 yards for another score.
Bishop Gorman racked up 305 yards on 18 plays, maintaining possession for only 6:07 of the first half.
Jocquez Kalili totaled 150 yards of offense and scored on a 76-yard swing pass from Richie Stammetti for Desert Oasis (4-5, 1-4). Stammetti completed 15 of 28 passes for 160 yards. Gary Abdella was his primary target, catching eight passes for 80 yards.
■ Cimarron-Memorial 42, Bonanza 14 — At Cimarron-Memorial, Michael Barnson rushed for 162 yards and two scores, Maurice Bennett scored three touchdowns and the Spartans (6-3, 2-3 Southwest) outscored the Bengals 35-7 in the second half to earn the victory.
Bennett opened the second half with a 75-yard kickoff return for a touchdown to spark the Spartans. On the following Bengal possession, Bennett blocked a punt, scooped up the ball on the 10-yard line and ran it in for another touchdown. Bennett's final score came on a 32-yard pass from Derek Morefield with just more than a minute to play in the game.
Barnson racked up 162 yards on 26 carries, including scoring runs of 9 and 4 yards. Jayveon Taylor led the Bengals (3-6, 2-3) with 11 carries for 101 yards and two touchdowns: a 45-yard first-quarter run and a 65-yard kickoff return.
■ Spring Valley 21, Sierra Vista 13 — At Spring Valley, the Grizzlies defense put up a goal-line stand with 18 seconds left to earn the No. 4 seed in the Northwest League.
After Sierra Vista recovered a fumble at the Spring Valley 35, Maliek Broady burst for a 34-yard gain down to the Spring Valley 1. On the next two plays, Broady was stuffed at the line for losses. After Kenneth Faccinto's third-down pass fell incomplete, Faccinto scrambled left on fourth down but could not connect with the diving Javion Hunt, ending the Mountain Lions' hopes.
Spring Valley took the lead for good with 49 seconds left in the first half. Devyn Deckard gave the Grizzlies field position with a kickoff return to the Sierra Vista 45, and, after two false start penalties, E.J. Wilbert found a lane down the sideline for a 55-yard touchdown to put Spring Valley ahead 21-13.
Sky Thompson of Spring Valley had a 65-yard interception return during the fourth quarter negated because of multiple personal foul penalties during and after the play, three of which resulted in player ejections.
Broady led all rushers with 173 yards on 31 carries, including a 27-yard touchdown run late in the second quarter. Micah Benoza totaled 102 yards on three catches for Spring Valley.
■ Shadow Ridge 51, Durango 20 — At Durango, senior running back Cody Alfar compiled 145 yards and scored three touchdowns, sparking the Mustangs (5-4, 3-2 Northwest) past the Trailblazers (0-9, 0-5).
Alfar rushed for a 58-yard score and a 45-yard TD in the first quarter and added a 7-yard TD carry early in the second quarter to give Shadow Ridge a 20-7 lead.
Durango led 7-0 on a 1-yd TD run by Artie Gallegos that capped a nine-play, 54-yard opening drive.
Shadow Ridge's Melvin Johnson supplied a 20-yard TD scamper, which was followed by a 30-yard field goal by Caio Gadanha and a 30-yard TD strike to J Henderson from Dustin Puia to make it 37-7.
Durango used a hook-and-lateral to score before the half. Quarterback Ben Hayden connected on a 4-yard out to Caleb Booze, who lateraled to Gallegos, who raced 40 yards down the right sideline to make it 37-13 at the break.
Puia scored on a 1-yard keeper in the third quarter, and Johnson provided a 91-yard kickoff return for a TD in the fourth quarter to put away the game for Shadow Ridge, which got an interception from Joseph Rodriguez and a forced fumble from Reece Lofthus.
Hayden added a 5-yard TD run in the fourth quarter and finished with 115 yards passing for Durango, which got 63 yards in kickoff returns from Gallegos.