Palo Verde, Harris breeze into state final
November 30, 2008 - 10:00 pm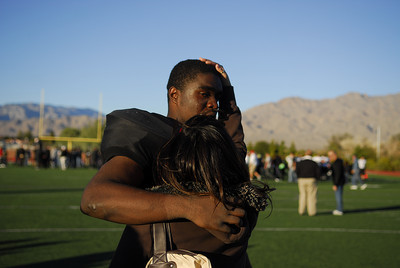 Las Vegas High coach Chris Faircloth said he thought Palo Verde's Torin Harris was the fastest player his team had ever prepared for.
It didn't take Harris long to show that speed Saturday.
Harris broke away for a 69-yard touchdown run on Palo Verde's first offensive play, and the Panthers went on to defeat Las Vegas 42-21 in a Class 4A state semifinal at Arbor View.
It was the first of three touchdowns by Harris, who has committed to play for Southern California. Harris also passed for a touchdown.
"If there was a difference maker in this entire game, it was Torin Harris," Faircloth said. "On both sides of the ball. There's a reason he's going to USC."
Palo Verde (14-0) will play McQueen (13-0) in the state final at 12:07 p.m. Saturday at UNR's Mackay Stadium.
Harris said the early touchdown helped set the tone for the Panthers. Las Vegas had run 12 plays on its first possession, but the drive stalled at the Palo Verde 40.
"It just got us hyped up," Harris said. "We've got speed all in our backfield. And that's the main thing you've got to do with us — stop our speed."
Harris showed off his wheels again on the first play of Las Vegas' next drive, picking off an Emir Lopez pass and returning it 30 yards for a touchdown and a 14-0 Palo Verde lead.
The Panthers used Harris at quarterback at times, and he tossed a shovel pass to Chaz Thomas who took the ball 10 yards for a score with 9:30 left in the half to make it 21-0.
Harris added a 14-yard TD run in the fourth quarter. He finished with 129 yards on 10 carries. He also had two catches for 25 yards, completed both pass attempts for 15 yards and intercepted two passes.
"He's kind of a special little player," Palo Verde coach Darwin Rost said. "He's not just done it in this game, he's done it in a lot of games for us, too. I know he was foaming at the mouth. He really wanted to get one of those kickoff returns, too."
Palo Verde's secondary had a strong game against Las Vegas' spread offense, picking off Lopez four times. Sidney Hodge and Alex Bonczyk also intercepted Lopez, who had been picked off only seven times all season.
"As a secondary, we really had to step it up this week," Harris said. "We hadn't really been thrown at that much this year."
Rost said the team was able to use man-to-man coverage against the Wildcats.
"We've got some kids that can run over there, too," Rost said. "Sidney, Torin and Bonczyk, they can all flat out run, so we thought we could do a little man coverage. A lot of people have tried to run some zone against them, and they'll pick you apart."
Las Vegas (12-2) made a rally, trimming the lead to 28-21 on a 45-yard run by Lopez with 11:50 to play, but the Wildcats were unable to put the ball in the end zone again.
"We put ourselves in too big a hole in the first half," Faircloth said. "We played an absolutely horrendous first half. We tried to make a run and we didn't have enough."
Reggie Bullock rushed for 103 yards and a TD, and Aaron Franklin had four catches for 118 yards for Las Vegas.
Hodge rushed for 139 yards, including an 80-yard touchdown. Kelly Zurowski passed for 179 yards and a touchdown for the Panthers, who are returning to the state title game for the first time since winning the championship in 2004.
"Since I got bumped up (to varsity) as a sophomore, all we wanted was to go to a state championship," Harris said. "As a senior, it feels really good."
Contact Prep Sports Editor Damon Seiters at dseiters@reviewjournal.com or 702-380-4587.
NevadaPreps.comIn-depth high school sports coverage
Palo Verde 42, Las Vegas 21 Palo Verde 42, Las Vegas 21