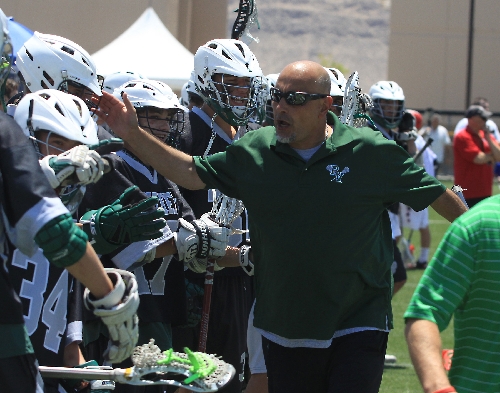 No lacrosse coach in town is better at rallying a team than Palo Verde's Gary Campo.
When the defending state champion Panthers entered April with a losing record, the veteran coach convinced his players they could still contend for a postseason berth. And when they fell behind by three goals Saturday, Campo made them believe victory was at hand.
Palo Verde made an unlikely comeback to defeat the Henderson Cougars of Coronado High 10-7 in the Southern Nevada Lacrosse Association varsity state championship at Bishop Gorman.
Campo, whose team had two lopsided losses to Henderson during the regular season, said the state final was a microcosm of the Panthers' uneven season.
"It's ironic," Campo said. "Our season was just like this game. We hit a little bump in the road and got through it."
Saturday's "little bump" was a 4-1 deficit 36 seconds into the second quarter. Henderson (32-3) was all business in the opening minutes, with Blake Day, Jacob Sigler and Quinton Eissler scoring in the first quarter and Sigler early in the second for the second of his three goals.
Campo, aware of Henderson's No. 22 national ranking by MaxPreps.com, said his squad never was intimidated.
"(The ranking) means nothing to me," said Campo, who coached at Bonanza before moving to Palo Verde. "I've coached in the championship game the last seven years, and the other team has been favored every time but once."
Palo Verde (20-14) began its comeback in the second quarter, taking a 5-4 lead with a four-goal spurt. The Panthers went ahead when Powell Naylor's close-range shot deflected off the foot of a Henderson player. Eissler's second goal in the final minute of the half got Henderson even, but the momentum had clearly shifted to Palo Verde.
"At halftime, we talked about not giving up," said sophomore attacker Isaac Young, who led the Panthers with three goals.
Palo Verde needed only seven seconds to re-establish the lead in the third quarter on Jeremy Huber's score, triggering a three-goal run for an 8-5 lead with 9:43 remaining in the period. While the Panthers controlled possession, lethargy appeared to set in for Henderson.
"Conditioning was a factor," Campo said. "We worked for this. We practiced at 7:45 this morning. That's what my guys are. They're a dedicated bunch."
Young, who played junior varsity for most of last season, concurred.
"This is the hardest we've ever played," he said. "The feeling is outstanding, knowing everyone put their heart into it."
Palo Verde carried a 9-6 lead into the fourth and began working the clock. Mike Vautrin sealed the victory for the Panthers with a goal at the 1:49 mark.
Midfielder Austin Collins helped Palo Verde with two goals and two assists. Goalie Remi Ickes made eight saves.
Cougars coach Chris Eissler struggled to explain his team's defeat, but credited Palo Verde.
"Campo can coach a championship game," Eissler said. "They're a great team, and they just outplayed us. You can win every game all season, but it doesn't matter if you don't win the final one."
In-depth high school sports coverage