Palo Verde slugs its way to title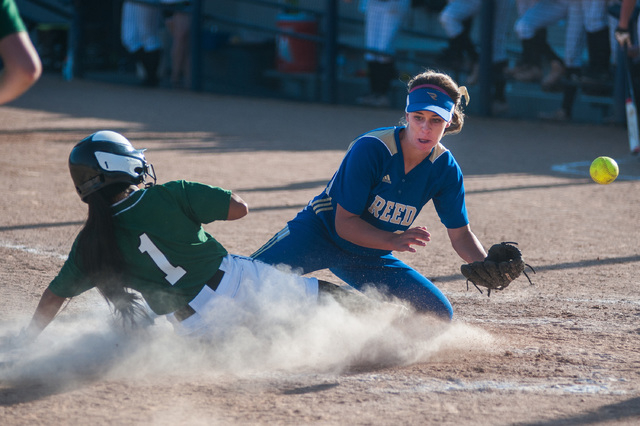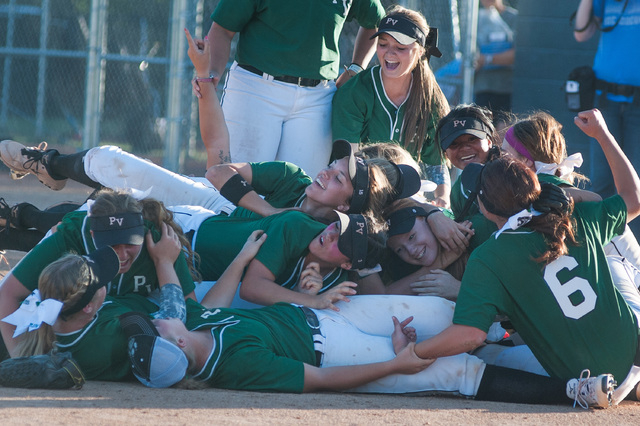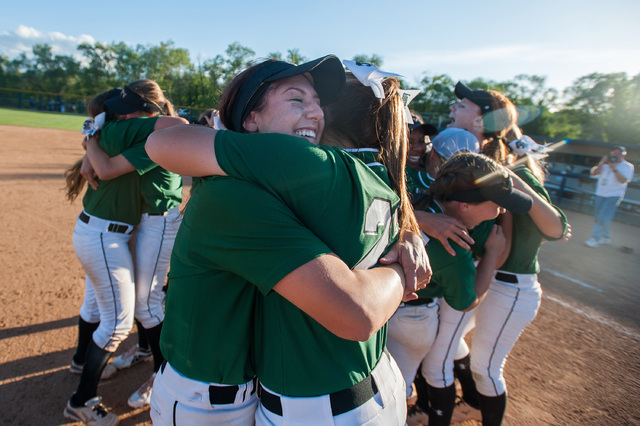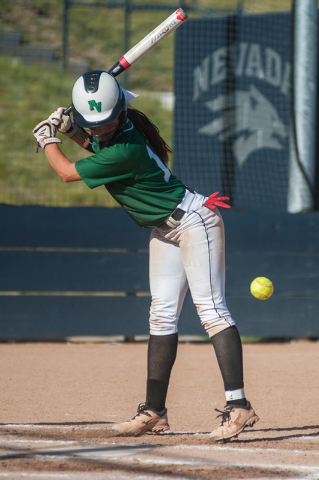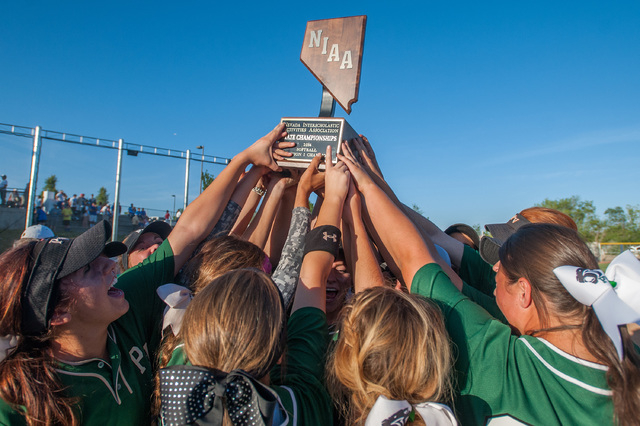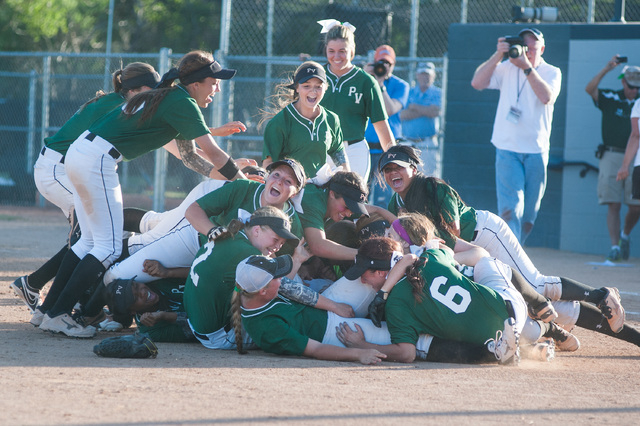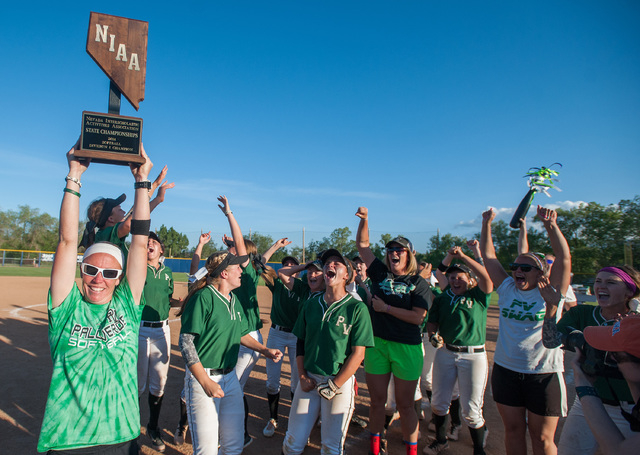 RENO — Last season, Rachel Williams couldn't pitch on back-to-back days.
Last week, Melissa Lacro likely wasn't even a thought to pitch in the state tournament.
The two Palo Verde seniors combined to gut their way through a winner-take-all championship game Saturday and lead the Panthers to a 12-8 victory over Reed in the Division I state softball title game at UNR's Hixson Park.
"(Lacro) hasn't pitched in three months. For her to take the ball and do what she did …" Palo Verde coach Kelly Glass said. "Rachel has worked through so much, and she's grown up a lot. This year has been her best year.
"This just means so much."
The Panthers (33-7) cruised to two victories to open the tournament before stumbling in their first shot to win the title and losing to Reed 11-7 in the day's first game. It set up the showdown game.
Williams, who has worked her way through shoulder problems the past two seasons, threw 145 pitches in the opener. Kelsea Sweeney was unavailable with a back injury, and freshman Hailee Lupinetti became ill while warming up for a relief appearance in the first game.
So Palo Verde turned to Lacro, who had thrown sparingly during her first three seasons and had only two appearances this year, the latter coming March 26.
"I knew there was a chance that I was going to have to pitch this game," Lacro said. "I just kept believing I could do it."
Lacro navigated her way through five innings, allowing eight runs on 13 hits.
But it was good enough as the Panthers clawed out of a 5-1 hole with a seven-run top of the fifth. Lacro's bases-clearing triple down the right-field line made it 7-5. She scored on a passed ball.
Lacro had two hits in her previous 11 at-bats before the triple.
"She was silent for a little bit, and I just looked at her and said, 'Where have you been?' " Glass said.
The Raiders tied the game 8-8 in the fifth, but two-out singles by McKenzie McBride and Lacro in the sixth gave the Panthers the lead for good.
Palo Verde then turned to Williams.
After allowing eight hits and nine walks in the first game, Williams retired the Raiders in order in the sixth and worked around a one-out walk in the seventh.
Appropriately, Williams got a tapper to the circle to end the game. She underhanded the ball to first baseman Rachael Turner, and the Panthers mobbed near the first-base line.
"It was an indescribable feeling," Williams said. "Knowing that all the seniors were going out with a bang, it's overwhelming."
Williams tossed five innings in the Panthers' win over Reed on Thursday and four in relief in a win over Foothill on Friday.
She worked a total of 8 2/3 innings Saturday. In four state tournament games, she threw 288 pitches.
"I've never been ridden through a tournament like this before," Williams said. "It definitely made me step up and be there for my team."
The Panthers racked up 21 hits, including 14 in the final three innings, in the final. Turner was 4-for-5, and Kiley Harrison went 4-for-6 for Palo Verde. Lacro was 3-for-5 with four RBIs.
"We just found our energy," Lacro said. "We're probably the most energetic team in Nevada, and we found it again."
Palo Verde scored 47 runs in four games, including 37 in three games against Reed, which hadn't allowed more than seven runs in a game all season.
It was the second state title for Palo Verde. Five of the Panthers' seven seniors played on the 2011 title-winning team.
In the opener, Reed used a seven-run fourth inning to erase a 5-0 deficit and force the decisive game. Breanna Beatty homered twice for the Panthers.
DIVISION III
Lincoln County dug itself into a deep hole Thursday after dropping its first game in the Division III tournament.
Rather than sulk, coach Pat Kelley delivered some choice words to his players.
"We didn't work this hard to come up here and lose," he said. "From there, we just took it one game at a time. They played their hearts out."
Kaylee Teel went 3-for-4 with two two-run homers and a double in the second game to lead the Lynx past White Pine 10-4 at Bishop Manogue High in Reno, giving them the state championship. It was the school's second title but first since 1999.
Chelsea Lloyd pitched four innings of relief to get the win for the Lynx. Tanji Tibbitts was 3-for-4 with an RBI for Lincoln County (30-7), which beat White Pine (20-8) 8-6 in the day's first game.
DIVISION IV
Kennedy Huntsman has been the go-to pitcher for Pahranagat Valley all season.
So when the senior got into a bases-loaded jam with no outs in the top of the seventh, no one panicked on the home side. Her coach simply walked to the circle and told her to do what she has done all year: Get outs.
With the score 8-3, Hunstman comfortably went to work and recorded her first out on a sacrifice fly. After a two-run single, she retired the next two batters to help the Panthers to an 8-6 victory over Eureka for the Division IV championship at Bishop Manogue High in Reno. It's their second consecutive state title.
"For some of the kids, it's what they expect," Pahranagat Valley coach Mike Sparrow said. "It's what they worked for. It's certainly a great experience, and it never gets old."
Merinna Scott was 2-for-3 with two RBIs, and Madison Harris went 1-for-2 with two RBIs for the Panthers (25-4).
Cassie Wells' double was the only extra-base hit for the Vandals (26-3), who also lost to Pahranagat Valley on Friday.
Contact reporter Bartt Davis at bdavis@reviewjournal.com or 702-387-5230.