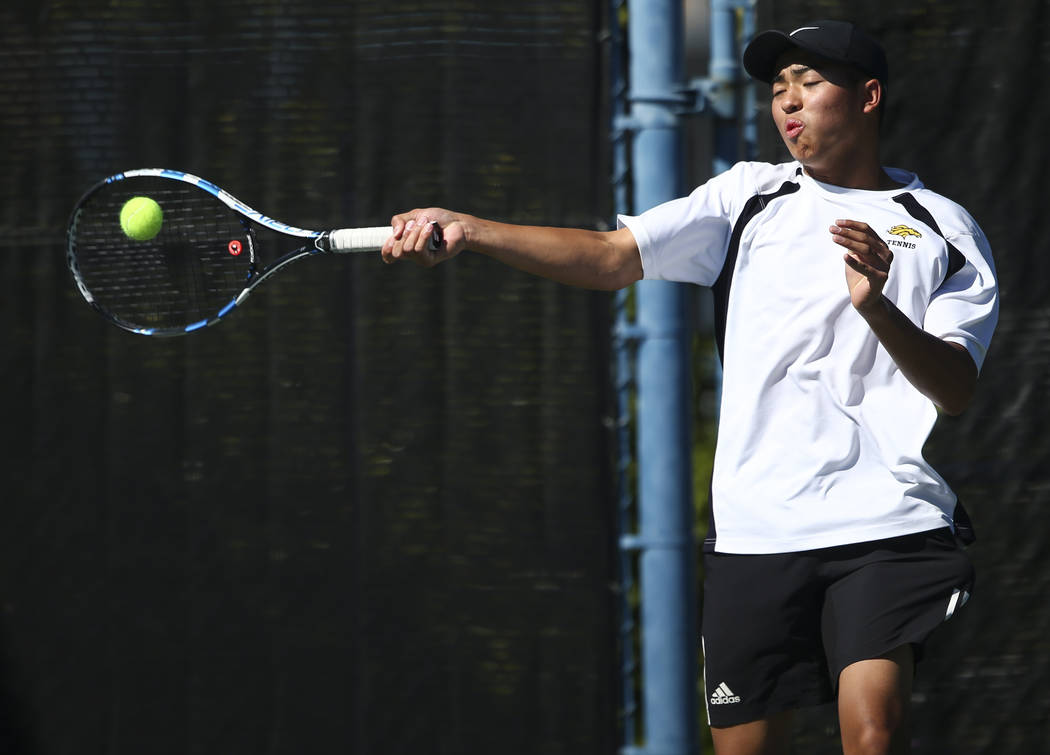 Palo Verde sophomore Axel Botticelli is good friends with Clark sophomore Artem Iermolov. He knows the ins and outs of his game, his strengths and weaknesses.
And he made sure to exploit those weaknesses on high school tennis' biggest stage Saturday, claiming a 6-3, 6-1 victory in the Class 4A state singles final at Darling Tennis Center.
Botticelli leaned on his return game and his first serve, forcing Iermolov to chase balls all over the court before attacking his backhand, point after point after point.
"My game plan was to tire him out," Botticelli said. "His backhand was pretty weak, and he missed a lot."
Botticelli trained — often with Iermolov — and played in regional tournaments during the offseason in preparation for the 2017 high school season.
He said he didn't expect to win the state championship, and didn't even know he qualified until learning from one of his Panthers teammates.
"I was trying to be a lot more intense this year," Botticelli said. "I do not regret playing high school tennis. I really like it."
Clark's Michael Pasimio and Simran Shah did their best to redeem Iermolov with a 6-1, 6-2 win over Desert Oasis' Caiden Jacob and Tyler Parlade in the 4A state doubles final.
Pasimio had won two state championships in singles and jumped at the opportunity to play doubles with Shah, who lost in the 2016 state doubles final with Pasimio's older brother, Marcus.
"I (wanted to) show (my brother) that I'm the better Pasimio," he said jokingly.
Truckee's Zach Haas outlasted Western's Rua Elmore for a 3-6, 7-6 (7-3), 6-2 win in the Class 3A singles final for his second straight state title.
Haas uncorked several vicious first serves in the final two sets after struggling in the first set. He said he thought he was in control after winning the second-set tiebreaker and overpowered Elmore in the third set.
"I started getting a lot more free points, and of course that makes it way easier as far as winning your serve," Haas said. "If you're winning your serve you're in the match."
Truckee's Zach Larson and Noah Warren worked for a 6-4, 6-4 victory over The Meadows' Justin Finseth and Ben Goodman in the 3A doubles final.
"This is the greatest thing ever," Warren said. "We've been dreaming about this ever since the beginning."
Contact reporter Sam Gordon at sgordon@reviewjournal.com. Follow @BySamGordon on Twitter.