Palo Verde's gloves are golden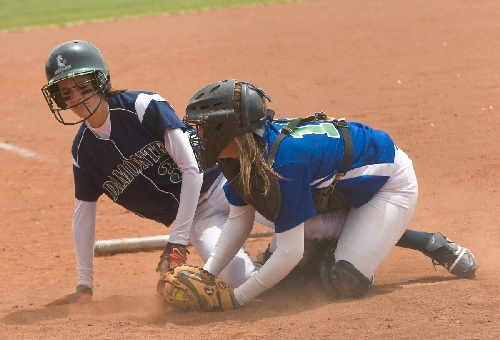 RENO — Palo Verde's softball team could have gotten down after a 4-0 loss to Spanish Springs in the Class 4A state tournament Friday morning.
Instead, the Panthers got downright defensive.
Rebounding from that loss in the double-elimination tournament, Palo Verde was fantastic defensively en route to a 4-0 victory over Green Valley in an afternoon elimination game at UNR's Christina M. Hixson Field.
Palo Verde (29-9) will play Damonte Ranch (22-11) in the losers' bracket final at 10 a.m. today. That winner will face Spanish Springs (33-1) in the championship game and would need to beat the Cougars twice to win the state crown.
"When we do everything right, we play well," Palo Verde coach Kelly Glass said. "We played defense, and we hit the ball this afternoon."
Center fielder Angel Council and right fielder Kristi Jones made diving catches, the Panthers fittingly ended the game by turning a double play, and the defense handled 28 chances without an error.
With strong wind making any ball in the air an adventure, Council made a highlight-reel grab in the third inning, sprinting into right-center and catching Shelby Vickers' drive in mid-dive.
"We got together and we talked more this game," Council said. "It was more important that we bounced back and played well because now we have a shot at winning state."
Jones' snare in right field to end the fifth might have been a touch better.
With runners at first and second, Ali Bodnar hit a looper into right-center. As the wind pushed the ball away from Jones, she dived and made the catch just before the ball would have hit the grass.
"I love my outfield," said Glass, a former standout outfielder in college at New Mexico. "It's all the hard work they've been putting in. We just have to play defense."
The Gators (29-9) had only one runner in the final two innings, and she was erased when shortstop Lauryn Stover started the game-ending double play.
Melissa McCormick pitched a three-hitter, walking three and striking out four, and she supplied two RBI singles for the Panthers, both with two outs.
"Every time we got runners in scoring position, they'd come up with a catch," said Green Valley assistant coach Greg Taylor, who filled in for his wife, Lauren. Lauren Taylor gave birth to the couple's second child Tuesday night. "Missy (McCormick) is a heck of a pitcher. She kept us off balance."
Cheryl Iddings' two-out double in the second scored Erika Stratton with the first run. Iddings and Council each had two hits, and Council scored three runs.
■ Spanish Springs 4, Palo Verde 0 — Spanish Springs' Karlyn Jones struck out 10 of Palo Verde's first 12 batters and finished with a two-hitter and 12 strikeouts to help the two-time state champions win the tournament's first game.
■ Damonte Ranch 9, Green Valley 6 — A three-run first inning sent the Mustangs on their way past the Gators.
Green Valley cut the deficit to 3-2 in the third and 6-5 in the fifth, but each time Damonte Ranch scored three runs in the top of the next inning.
Alicia Firelein, Desiree Laswell and Carly Smith each went 2-for-4 for Green Valley. Laswell homered and drove in two runs. Firelein had two doubles and an RBI.
Contact reporter Bartt Davis at bdavis@reviewjournal.com or 702-387-5230.
In-depth high school sports coverage
View slide show