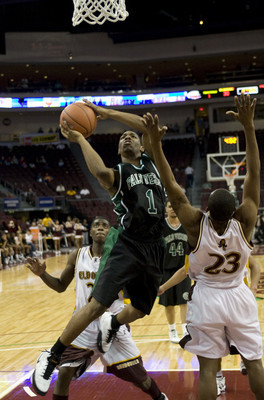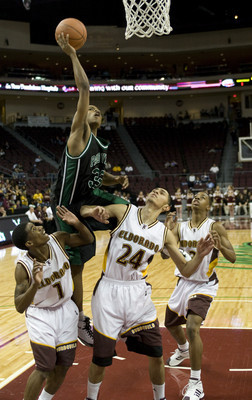 Moses Morgan and his Palo Verde basketball teammates are one victory from erasing their biggest question mark.
And they'll get to play a familiar opponent.
The Panthers scored the first 16 points, and Morgan finished with 23 points and 11 rebounds to carry Palo Verde to a 68-60 victory over Eldorado in the Class 4A boys state semifinals Thursday at the Orleans Arena.
The Panthers (24-5) will play Bishop Gorman (27-5) for the state championship at 8 p.m. today. Gorman beat Hug 52-37 in Thursday's late semifinal, setting up a rematch against Palo Verde. The Gaels beat the Panthers 60-55 last week in the Sunset Region championship.
"Before every game, coach (Jerome Riley) always writes 'state championship' with a question mark," Morgan said. "Now we're just one more game away, and we can erase that if we can become the state champions."
On running into Gorman again, Morgan said, "We feel like we need to come back and get our revenge."
Palo Verde advanced by blitzing the Sundevils from the start, with Morgan's 3-pointer making the score 16-0 with 2:18 left in the first quarter. Eldorado missed its first nine shots and committed five turnovers in the quarter.
"We came out with a sense of urgency today," Riley said. "We had very little room for error."
Eldorado (23-9) finally scored on Marcus Moreland's low-post basket with 1:57 left in the quarter, but by then the game was effectively over.
"We wanted to come out and make a statement and get the 'W'," said Morgan, a junior forward. "We were really anxious and hyped at the beginning. We just came out and played hard."
In contrast, Eldorado looked anxious early, and the Sundevils didn't react to the pressure as well as Palo Verde did. Eldorado shot 3-for-15 in the first quarter.
"We got too jittery and … just the anticipation," coach Michael Uzan said. "And shots didn't fall for us right away, and it left us flat."
The Panthers converted the Sundevils' first-quarter turnovers into nine points and a 20-6 lead.
"Although we forced turnovers, unlike the last game we capitalized off them," Riley said. "We scored off those turnovers and (Eldorado's) missed shots."
After trailing 16-0, Eldorado outscored the Panthers 60-52, but the early deficit was too much. Palo Verde led 39-20 at halftime.
"It's hard to come back from 19 (points behind)," Uzan said. "We just didn't get off to a good start, and our kids got frustrated early. We just played catch-up the whole game."
Mitrell Clark and Charles White led a second-half charge by Eldorado. Clark scored 17 of his 25 points after halftime, when White had 12 of his 17. White finished with seven rebounds and six blocked shots.
The Sundevils appeared to have a chance after a Fabian Garcia basket cut the lead to 57-43 midway through the third quarter, but Morgan promptly answered with a 3-pointer for Palo Verde.
D.J. Stennis and Davion Pearson each added 12 points for the Panthers, who reached the state tournament by rallying to beat Liberty 68-63 in the play-in game Monday.
That was three days after their loss to Gorman, and tonight they'll get a chance to make up for that.
Contact Review-Journal Prep Sports Editor Damon Seiters at dseiters@reviewjournal.com or 702-380-4587.
In-depth high school sports coverage
Slideshow