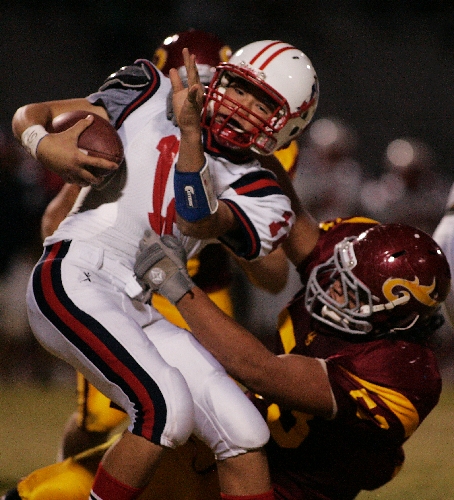 A high school football team's two-minute offense is rarely a thing of beauty, even in the low-pressure setting of practice.
Liberty ran it to near perfection Friday night.
The third-ranked Patriots scored 10 points in the final 2:33 of regulation to force overtime, then stopped a Del Sol 2-point conversion attempt in overtime to hang on for a 32-30 road victory.
"We practiced from the first day of camp the two-minute drill just for situations like that," Liberty coach Rich Muraco said. "And most of the time, it doesn't work that well, even in practice."
The Patriots (3-1, 2-0 Southeast League) got the ball with 3:14 to play after a 21-yard field goal by Dylan Lindemann gave Del Sol (2-3, 0-1) a 24-14 lead.
The drive didn't start well, as Jeremy Lagasca bobbled the ball when he tried to field the kickoff on a bounce, forcing him to cover the ball at the Liberty 5.
But two plays later, quarterback Kai Nacua hit Lagasca on a hitch route, and Lagasca streaked down the right sideline for an 81-yard touchdown, cutting Del Sol's lead to 24-21.
"We were able to hit Jeremy on the short hitch route, and he took it for the touchdown," Muraco said. "That was huge."
Liberty forced a Del Sol punt, and was aided when Dragons punter Chris Marshall bobbled the snap and was tackled for a 6-yard loss at the Liberty 46 with 1:25 to play.
"That was a really big break for us," Muraco said. "Instead of having to go 50 or 60 yards to get into field-goal range, we only had to go 20 or so."
Working with no timeouts, Nacua completed four passes to move the ball to the Del Sol 17, then spiked the ball to stop the clock with 6.3 seconds to go.
"When we got the ball back, getting into field-goal range was really big," Muraco said. "Kai made some good throws and good reads."
Marcos Rivera, who kicked a 47-yard field goal last week against Silverado, booted the tying 34-yard field goal as regulation time expired.
"I had to beg him to come out to be our kicker," Muraco said of Rivera, a pitcher and infielder on the Patriots' baseball team. "He was nervous about being the kicker and having it come down to those types of situations, but last week the Silverado game really helped his confidence. He wants it now. He wants the pressure."
Liberty got the ball first in overtime, and Nacua scored on a 1-yard plunge to make it 30-24. The Dragons were called for encroachment twice as Rivera lined up to kick the extra point, so Muraco decided to go for two points, and Teu Tai's short run made the score 32-24.
"We just had to keep that momentum going," Lagasca said. "We had heart. We had to keep ourselves going."
Marshall, who rushed for 280 yards and two touchdowns, scored on a 10-yard run on Del Sol's first overtime play. But a group of Dragons stopped Marshall 2 yards short of the goal line on the 2-point conversion attempt to seal the victory.
"They beat us last year in the playoffs. They kicked us out," Lagasca said. "We have to do our thing this year."
The game was scoreless deep into the second quarter before the teams combined for 21 points in a 44-second span.
The Dragons struck first when Marshall lined up to take a shotgun snap and lofted a 3-yard touchdown pass to Troy Miller, the team's quarterback, with 2:42 to go in the half.
Lagasca returned the ensuing kickoff 91 yards to tie the score, 7-7.
"He's a special player," Muraco said. "He's probably our most athletic kid, the kid with the most speed. And he makes things happen when the ball's in his hands."
Marshall responded with a 70-yard touchdown run to give the Dragons a 14-7 lead with 1:58 to go in the half.
Del Sol got another big play to start the second half when Dwayne Kirkland returned the opening kickoff 97 yards for a touchdown.
Contact Prep Sports Editor Damon Seiters at dseiters@reviewjournal.com or 702-380-4587.
In-depth high school sports coverage