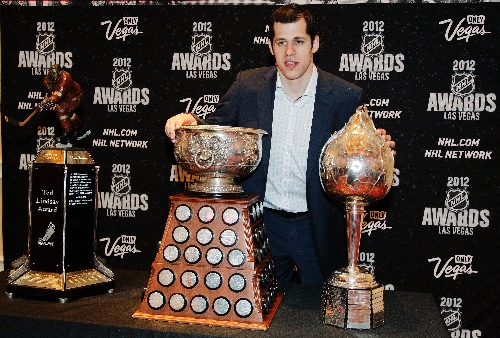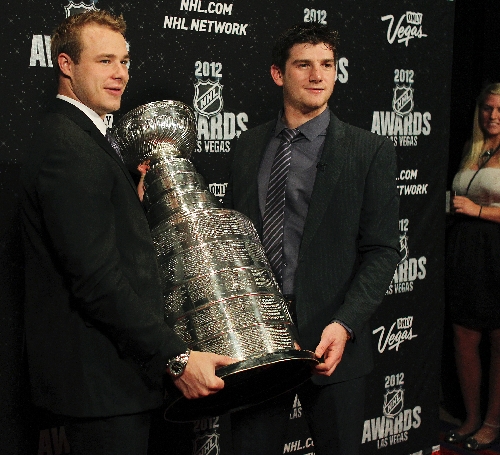 With former Hart Trophy winner Sidney Crosby sidelined most of the season with concussionlike symptoms, Penguins center Evgeni Malkin propelled Pittsburgh to a 108-point season.
Malkin was rewarded for his efforts Wednesday, when he won the NHL's Most Valuable Player award in dominant fashion at the NHL Awards at Wynn's Encore Theater.
A near-unanimous choice for his first Hart Trophy after twice finishing as runner-up, Malkin received 144 of a possible 149 first-place votes from members of the Professional Hockey Writers' Association for 1,473 points to roll to victory over Lightning center Steven Stamkos (598 points) and Rangers goalie Henrik Lundqvist (556).
Malkin, who compiled a career-high 50 goals and an NHL-best 109 points, also claimed the Art Ross Trophy as the league's leading scorer and the Ted Lindsay Award as the most outstanding player as voted by the NHL Players' Association.
By scoring 12 more points than runner-up Stamkos – who had 97 points and led the league in goals (60) to take home the Maurice "Rocket" Richard Trophy – Malkin became the first scoring champion to win by a double-digit margin since 1999, when Pittsburgh's Jaromir Jagr produced 127 points, 20 ahead of Anaheim's Teemu Selanne.
Malkin is the fourth Penguins player in franchise history to win the Hart, joining Mario Lemieux (1988, 1993, 1996), Jagr (1999) and Crosby (2007).
Lundqvist won his first Vezina Trophy as the league's top goaltender after placing third in the category from 2006 to 2008. He garnered 17 of a possible 30 first-place votes for 120 points to top the Kings' Jonathan Quick (63 points) and the Predators' Pekka Rinne (42).
Contact reporter Todd Dewey at tdewey@reviewjournal.com or 702-383-0354.
NHL AWARDS WINNERS
Awards presented at the NHL Awards and winners:
Hart Memorial Trophy (most valuable player to his team): Evgeni Malkin, Pittsburgh Penguins
Ted Lindsay Award (most outstanding player in NHL as voted by players): Evgeni Malkin, Pittsburgh Penguins
Vezina Trophy (outstanding goaltender): Henrik Lundqvist, New York Rangers
James Norris Memorial Trophy (outstanding all-around defenseman): Erik Karlsson, Ottawa Senators
Calder Memorial Trophy (outstanding rookie): Gabriel Landeskog, Colorado Avalanche
Frank J. Selke Trophy (outstanding defensive forward): Patrice Bergeron, Boston Bruins
Jack Adams Award (outstanding coach): Ken Hitchcock, St. Louis Blues
William M. Jennings Trophy (goaltender[s] on team with fewest goals against): Jaroslav Halak, Brian Elliott, St. Louis Blues (165 goals allowed)
Art Ross Trophy (leading scorer): Evgeni Malkin, Pittsburgh Penguins (109 points)
Maurice "Rocket" Richard Trophy (leading goal scorer): Steven Stamkos, Tampa Bay Lightning (60 goals)
Bill Masterton Memorial Trophy (perseverance, sportsmanship and dedication to hockey): Max Pacioretty, Montreal Canadiens
Lady Byng Memorial Trophy (sportsmanship and gentlemanly conduct): Brian Campbell, Florida Panthers
Mark Messier Leadership Award (superior leader in hockey and as a contributing member of society): Shane Doan, Phoenix Coyotes
NHL Foundation Player Award (charitable and community work): Mike Fisher, Nashville Predators
King Clancy Memorial Trophy (leadership qualities on and off the ice): Daniel Alfredsson, Ottawa Senators
NHL General Manager of the Year Award: Doug Armstrong, St. Louis Blues