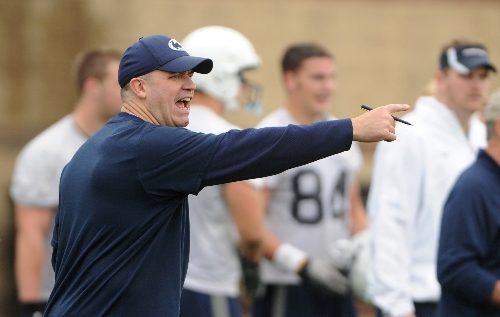 STATE COLLEGE, Pa. – The man dressed in blue Penn State sweats with a whistle hanging from his neck barked out orders as he surveyed the offense.
After a troubling offseason for the Nittany Lions program, it was finally time for Bill O'Brien to get back to coaching football.
"I want Penn State to turn the page and move forward, understanding why we are," O'Brien said Monday after holding the team's first preseason practice – and the first workouts since the NCAA leveled strict sanctions on the school for the Jerry Sandusky child sex abuse scandal.
"It's a new Penn State. It's a new Penn State football program."
The prospect of replacing Hall of Fame coach Joe Paterno alone would have been a tough task.
But the sanctions handed down as a result of the scandal have left O'Brien with even more pressing challenges.
A four-year bowl ban. Significant scholarship cuts. And an NCAA exception that allows current Nittany Lions to transfer immediately to play for other schools in light of the landmark punishments.
"We do have some restrictions, but we all know why they're there," O'Brien said. "We're going to make sure we're focused on that in addition to doing the really good job of playing some good, tough football."
As of Monday's morning workout, nine players had left since the sanctions were announced July 23. But that count includes Rob Bolden, a backup quarterback who fell out of favor with two coaching staffs and was granted permission to look at other schools before July 23. Star tailback Silas Redd, a 1,200-yard rusher, is the biggest loss after he defected to Southern California last week.
But O'Brien thinks he has reached some roster stability now that camp has started. At the first practice, the roster stood at 109 players including walk-ons, or 92 percent of the roster as of July 23, when sanctions were announced.
"I'm very confident that the guys out here today are committed," O'Brien said. "Again, it's day to day, but I'm confident in these guys. … They got up at 5:15 a.m. to practice."
Justin Brown was the latest to depart after the senior, who would have been Penn State's leading returning receiver, left the team Sunday. With a picture of him in his Penn State uniform running away from a defender posted on his Twitter page, Brown thanked well-wishers for their support.
According to the NCAA exception, players have all season to transfer, but lose immediate eligibility with their new teams if they play a game with Penn State.
"I respect those guys. They made individual decisions," O'Brien said. "But I think we've got to start focusing, like I said all along, on the kids that are here. … I think we're really good where we started today."
O'Brien didn't ask for pity. He stressed repeatedly after the morning workout that the team understands why "we're in the position that we're in."
The players themselves had nothing to do with the scandal. Neither did O'Brien. But they are bearing the brunt of the NCAA's punishment.
"We've got to understand our responsibility to the community, to children, to child abuse organizations," he said. "That's No. 1. These kids understand we're going to talk about that quite a bit. We're going to show what we mean by that."
O'Brien has had regular contact with the Pennsylvania Coalition Against Rape, and he said he planned to meet with them again this week.
He called his players "hard-working, good kids. They're going to class and I'm proud to be their head coach."
Anxious, too. O'Brien understandably couldn't sleep Sunday night in anticipation of the first day of practice.
Naturally, the early-riser arrived at the Lasch Football Building about 4:45 a.m. It turns out the rest of his coaching staff beat him to the office by 15 minutes.
"They're going to be busting my chops when I get up to that meeting," O'Brien joked later.