Perez wrests belt from Agbeko
November 1, 2009 - 10:00 pm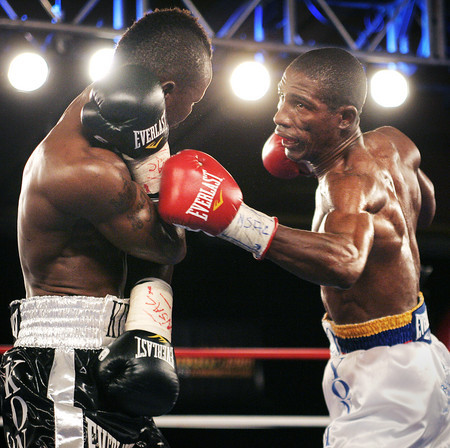 It might have been Halloween, but Yonnhy Perez did not have to resort to trickery to wrest the IBF bantamweight title from Joseph Agbeko.
He merely beat up the reigning champion at Treasure Island, as the 30-year-old veteran from Colombia scored a 12-round unanimous decision Saturday.
"This is a dream come true," said Perez (20-0). "All the hard work and preparation paid off."
Judges Glenn Trowbridge and Barry Druxman had Perez winning 117-110, and Jerry Roth scored it 116-111 for the new champion.
"I knew I was winning the rounds, and I trained to throw a lot of punches," Perez said. "I know Agbeko likes to throw a lot of punches, so I knew I had to be in better condition."
The key moment in the fight came in the 10th round. Agbeko had rocked Perez with a combination and was in pursuit of his opponent when the two clashed heads, and Agbeko was stunned.
He stopped fighting and turned his back to Perez, who landed a right to the back of Agbeko's head. Agbeko dropped to the canvas, and referee Robert Byrd ruled a knockdown and sent Perez to a neutral corner as the sellout crowd of 1,012 at the TI Ballroom roared.
"I didn't see whether it was a punch or a head butt," Byrd said.
He could not use Nevada's new instant replay system at the end of the round because the fight had not ended because of injury.
But ultimately, it didn't matter. Perez was comfortably ahead on the scorecards, and though Agbeko complained afterward, he could do nothing to change the outcome and keep his belt.
"I was fighting well to that point," said Agbeko (27-0), who was defending his title for a third time. "I thought I was winning the fight. (Perez) seemed energized after being awarded the knockdown, and I was never the same after his head hit mine.
"We will never know what would have happened had our heads not come together."
Agbeko tried to get the necessary knockout in the 12th round. But Perez wisely kept throwing punches, not allowing himself to become a stationary target. He was justly rewarded for his defense as well as his constant ability to land deflective punches.
In the WBC interim lightweight championship, Antonio DeMarco scored a 10th-round technical knockout over Jose Alfaro, knocking him down three times to win the title.
DeMarco (23-1-1) frustrated Alfaro with his jab and followed up with solid combinations throughout the fight. He had it all going his way in the 10th round, dropping Alfaro (23-5) twice within 35 seconds, then finishing him off with a sharp right at the 2:07 mark as referee Joe Cortez stopped the fight.
"My lifelong dream was to become the (WBC) world champion," said DeMarco, who was comfortably ahead on all three scorecards — 90-81, 89-82, 89-82 — heading into the 10th round. "I was a little surprised the referee let the fight go. At one point, he turned around, and I knew that it was only a matter of time."
Said Alfaro: "He used his jab and distance better than I did tonight. That was the difference I could not overcome. I couldn't land any punches."
Contact reporter Steve Carp at scarp@reviewjournal.com or 702-387-2913.
Slideshow