Philadelphia Eagles fire head coach Chip Kelly
December 29, 2015 - 4:51 pm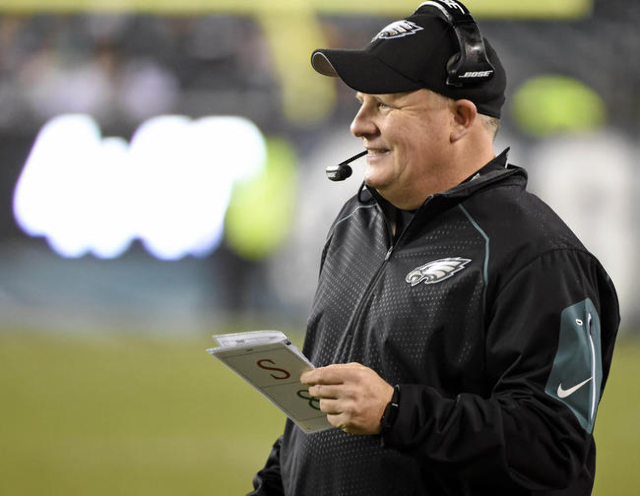 The Philadelphia Eagles announced they have released coach Chip Kelly from his contract.
"We appreciate all the contributions that Chip Kelly made and wish him every success going forward," Eagles owner Jeffrey Lurie said in a statement released by the team on Tuesday.
Pat Shurmur will take over as interim head coach for the Eagles' regular-season finale against the New York Giants this Sunday. Vice president of player personnel Ed Marynowitz was also released, with veteran NFL personnel man Tom Donahoe taking over as senior director of player personnel.
Kelly was 26-21 in three seasons with the Eagles after signing a five-year, $32.5 million contract to leave the University of Oregon in 2013. He turned around a team that went 12-4 in 2012 as Philadelphia went 10-6 in his first season and won the NFC East.
Philadelphia lost 26-24 to the New Orleans Saints on a last-second field goal in the first round of the playoffs in what would prove to be Kelly's only postseason appearance with the franchise. The Eagles again finished 10-6 last season, but missed out on the postseason.
Kelly orchestrated a massive offseason overhaul, parting ways with star running back LeSean McCoy among several other veterans, and traded quarterback Nick Foles to St. Louis for Sam Bradford.
Kelly brought in 2014 NFL rushing leader DeMarco Murray during free agency, but the former Dallas Cowboy never got comfortable in Kelly's scheme and has been relegated to a shared backfield role with Ryan Mathews and Darren Sproles.
Philadelphia was eliminated from playoff contention with last Saturday's loss to the Washington Redskins.
There has been speculation Kelly could reunite with former Oregon Duck quarterback Marcus Mariota, who was the No. 2 overall pick in the 2015 NFL Draft by the Tennessee Titans.
Like Sports News on Facebook: