Picking on someone his own size
December 3, 2014 - 11:37 pm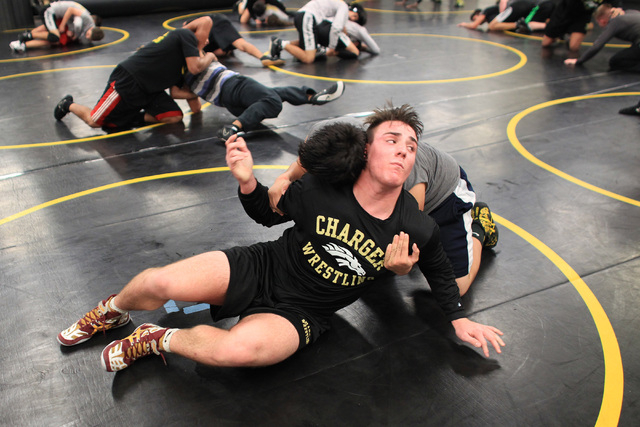 Competing against opponents who were up to 80 pounds heavier than him had its disadvantages for Clark wrestler Jacob Chaparian.
But there was a bright side, too. Unlike most of his teammates, Chaparian didn't have to worry about cutting weight.
"We'd go to out-of-state tournaments and they'd go to Subway and get like half of a 6-inch (sandwich), and I'd get the whole footlong. Or I'd go across the street to In-N-Out (Burger)," Chaparian said. "It was the best."
Chaparian wrestled in the 285-pound division for the Chargers last season and finished third at the Division I-A state tournament despite being undersized. Now, the senior is in his natural weight class — 220 pounds — and hopes to become Clark's second state champion in two years.
"I expect him to do real well at 220s," Chargers coach Hunter Weller said. "I'm looking for him to be a state qualifier again and, more than likely, be a state placer. How far is what he can determine … but I am expecting big things from him. I've set my bar up there where I think he should be in the top of the state."
Chaparian was pushed to the 285-pound division last season by the presence of then-senior teammates Michael Hervis and Edwin Centeno. Hervis won the Division I-A state title at 195 pounds, the school's first individual champion in more than a decade, according to Weller, and Centeno took second at 220 pounds to help the Chargers finish seventh in the team standings at the state tournament.
Chaparian wrestled at close to 205 pounds as a junior and was forced to use his quickness to overcome his size disadvantage. He admittedly struggled with the handful of big, fast competitors in the 285-pound weight class such as Pahrump Valley's Jace Clayton, the two-time Southern Region champion and last season's state runner-up.
Chaparian added about 20 pounds in the offseason, and he went 7-0 with seven pins Friday at Clark's season-opening Charger Duals. His biggest threat in the Southern Region figures to be Pahrump Valley senior Jeremy Coates, who was fourth at state last season at 220 pounds.
"Last year, I really had to work on strategically placing myself not to be under them, not to put myself at a disadvantage because I was, a lot of times, 80 pounds lighter than the guys that I wrestled," Chaparian said. "This year, the guys are my weight or even a little bit lighter. Right now, it seems a lot easier.
"I can lift them for certain shots. I can be under them and not be squished, and I can still maneuver. So, it's a lot better right now, although I do have to cut weight."
Chaparian, who sat out the football season because of a concussion, is one of the Chargers' co-captains and has assumed a vocal role on the young team.
"He is a guy I kind of count on to regulate and set a tempo for the other kids," Weller said.
Chaparian's leadership also extends into the community. He spent the past two summers as a counselor in training at Clark County's Omni Discovery Camp, which is for kids ages 8 to 12, and worked this summer at Camp Sam, a retreat at Mount Charleston for special-needs adults.
Chaparian carries a weighted 4.2 GPA and is hoping to attend college in California before becoming a lawyer.
"He's a real great kid," Weller said. "He pushes the other wrestlers when they need to be pushed. He's very supportive of them. He understands this is tough for everybody and is always willing to work with younger wrestlers, which is what I ask for in a captain."
Contact reporter David Schoen at dschoen@reviewjournal.com or 702-387-5203. Follow him on Twitter: @DavidSchoenLVRJ.