Pioneers' defense overwhelms Wildcats
February 11, 2009 - 10:00 pm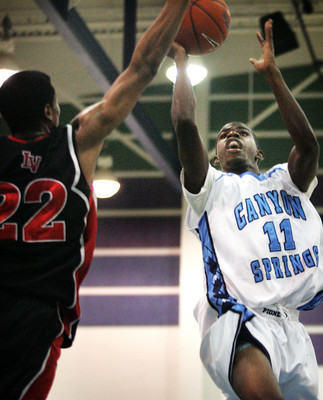 Las Vegas boys basketball coach Jason Wilson told his team to be ready for a playoff atmosphere at Canyon Springs on Tuesday night.
The warning didn't help.
The host Pioneers forced 16 first-half turnovers and rushed to a 15-point halftime lead on their way to an 84-73 victory over the Wildcats.
"We absolutely were not ready for what was coming," Wilson said. "I told these guys this was going to be like a playoff game. And our youth and inexperience showed up big time in the first half. We looked like deer in headlights with a semi rolling at us."
Canyon Springs (18-9, 7-4 Northeast League) used its defense to push the pace, scoring 16 points off turnovers. The Pioneers attempted 43 first-half shot, compared with 23 for Las Vegas (15-11, 7-5).
"We thought they didn't have the bench to be able to stay with us, that we were deeper than they were, basically," Canyon Springs coach Daryl Branham said. "If we can play up-tempo, and teams want to play up-tempo with us, then that hopefully will play in our favor."
The Pioneers also got a big game by 6-foot-6-inch junior forward Adrian Snow, who had 22 points and 10 rebounds. He scored eight points in the first quarter to help Canyon Springs take a 22-13 lead.
"We watched the film from the first time we played them, and Adrian got a lot of looks inside. We felt that we could go back (inside)," Branham said.
Las Vegas twice closed to within six points in the fourth quarter, the last time on a three-point play by Aamahd Franklin with 3:40 to go.
But a basket by Antonio Snow, who scored 17 off the bench, and a free throw by Adrian Snow pushed the lead back to nine.
Terence Stanley and Michael Thompson added 15 points each for Canyon Springs.
Tony Eackles led Las Vegas with 23 points. Tyree Anderson scored 18, and Franklin had 15 along with 14 rebounds.
Canyon Springs moved into third place in the Northeast and locked up the league's No. 3 playoff seed.
Contact Prep Sports Editor Damon Seiters at dseiters@reviewjournal.com or 702-380-4587.
In-depth high school sports coverage
TUESDAY'S HIGHLIGHTS
BOYS
• Cimarron-Memorial's Dale Puckett had 15 points and 20 rebounds in a 62-49 home victory over Legacy.
• Pierre Jackson had 21 points and 15 assists as Desert Pines locked up the Northeast League crown with a 102-67 home victory over Rancho.
• Indian Springs' Brady Hughes had 21 points, 12 rebounds and eight blocks in the Thunderbirds' 75-40 home win over Sandy Valley.
GIRLS
• LaBrea Walker supplied 21 points and 10 rebounds, and Desert Pines clinched the Northeast League title with a 69-34 home win over Rancho.
• Deanna Daniels compiled 16 points and 14 rebounds as Centennial locked up the Northwest League crown with an 84-43 home victory over Mojave.
• Coronado's Stacy Rapp scored 13 of her 15 points during the second half as the Cougars rallied from a 27-17 deficit for a 54-50 victory at Tech.