Pioneers keep cool, come back
December 6, 2013 - 12:31 am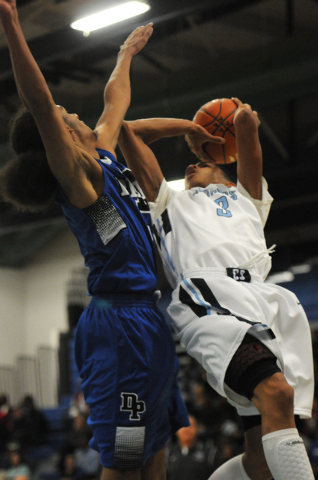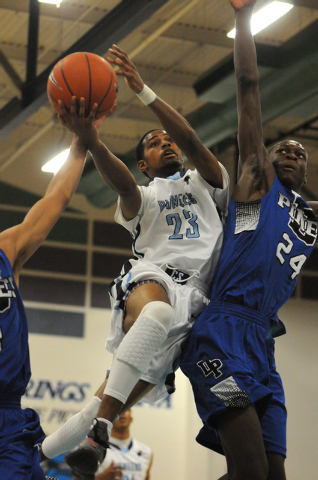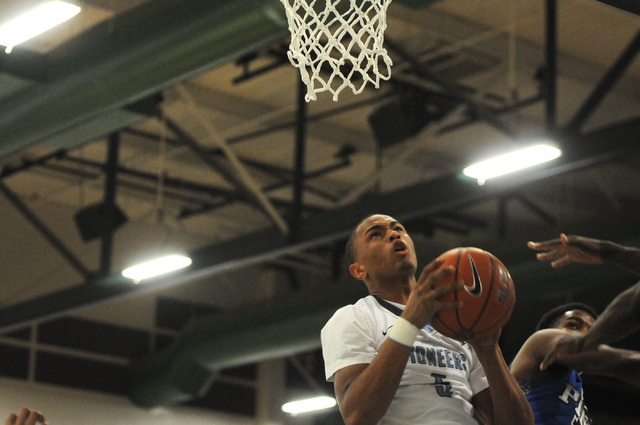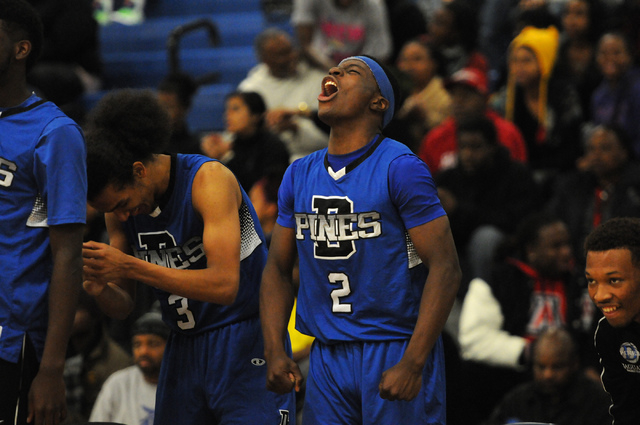 Canyon Springs coach Freddie Banks didn't yell and scream when his team went into the locker room trailing by five points on Thursday night.
He decided a calm message was more appropriate.
"I told them they have to settle down and play basketball," Banks said. "Normally, I go in there and throw towels and things like that. I was just calm and collected, and I told them, 'Just clam down.' "
The Pioneers responded, rallying for a 66-61 home win over Desert Pines.
Jordan Davis keyed an early second-half run, scoring seven points in the first 3 minutes, 50 seconds of the third quarter. He had four points during a 7-0 run that gave the Pioneers a 46-45 lead with 4:10 remaining in the quarter. They wouldn't trail again.
"We just started attacking the basket more than shooting jump shots," Banks said. "I tried to open it up and make them play defense a little better."
Coby Myles had his way against Canyon Springs (2-0) in the first half. The junior guard had 16 points, six rebounds and four assists by halftime as Desert Pines (1-1) took a 41-36 lead.
But the Pioneers did a better job against Myles in the second half, limiting him to seven points, all in the fourth quarter. Canyon Springs often ran a second defender at Myles to force him to give up the ball, and senior guard Shaquile Carr focused on shutting him down.
"We did try to force him to give up the ball a little more," Banks said. "And Shaq told me, 'Coach, I got him.' That makes a big difference when seniors can step up and say, 'I got him.' "
Canyon Springs never led by more than seven points, and the Jaguars pulled within 54-53 on a 3-pointer by Myles with 7:03 to play.
Myles hit a drive with 3:07 remaining that trimmed the Pioneers lead to 61-59, but Desert Pines could get no closer.
Davis scored 20 points, and Carr had 19 to lead Canyon Springs. Gerad Davis supplied 14 points and five rebounds for the Pioneers.
Myles finished with 23 points and 12 rebounds, and Nate Grimes had 15 points, 14 rebounds and six blocked shots for the Jaguars, who played without two of their most experienced players.
Senior point guard Malik Davis hasn't played yet this season because of a knee injury, and senior post player Re'meake Keith didn't play because of disciplinary reasons.
Contact prep sports editor Damon Seiters at (702) 380-4587 or dseiters@reviewjournal.com. Follow @DamonSeiters on Twitter.