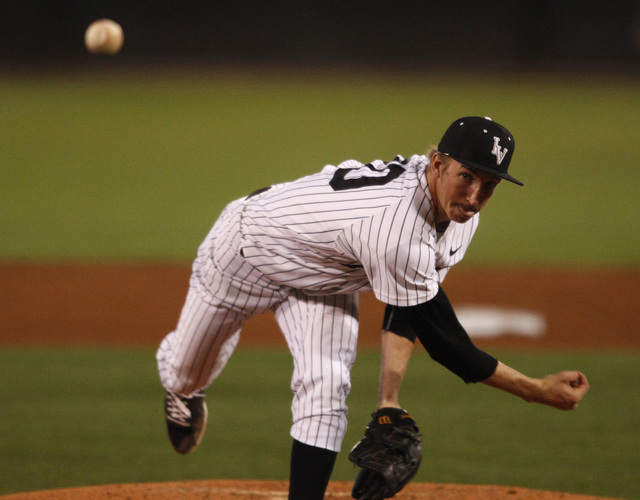 About 50 major league scouts showed up, and even Washington Nationals slugger and hometown hero Bryce Harper made an appearance.
Erick Fedde made sure all 1,303 spectators — the scouts and Harper included — who came to Wilson Stadium on Friday had plenty to see.
He retired 22 of the 23 batters he faced, including the final 17, and struck out a career-high 11 hitters in 7 1/3 innings to lead UNLV to an opening-night 5-0 victory over Central Michigan.
The shutout was the Rebels' first since defeating New Mexico 8-0 on April 29, 2011.
Baseball America billed this game as the country's best pitching matchup of the day, and the junior right-hander did more than hold up his end of the deal. Fedde used a two-seam fastball to hit 96 mph on the radar gun and generally stayed around 94. He also deftly mixed in a changeup, cutter and slider.
"It was just one of those days I had command of all my pitches," Fedde said. "I felt good."
Fedde allowed only one hit, a second-inning double by Logan Regnier that snuck just inside the first-base line. His 11 strikeouts topped his previous best of 10 set last season against Air Force in March.
Coach Tim Chambers considered removing Fedde after seven innings, but thought his performance deserved to be saluted by the crowd. So Fedde pitched to one batter into the eighth and was taken out after 104 pitches, doffing his cap on the way to the home dugout as fans cheered.
Left-hander Brayden Torres pitched the final 1 2/3 innings for the save, allowing two hits. He escaped a two-on jam in the ninth inning.
On the other side of the marquee starting matchup, Central Michigan right-hander Jordan Foley allowed five hits and two earned runs in 5 2/3 innings. He struck out four.
"That guy's good, too," Chambers said. "That's why we didn't run as much on the bases."
But the Rebels made Foley work, and he threw 102 pitches.
His team's defense didn't help his efforts, with the Chippewas committing three errors behind him. Two occurred in the second inning, leading to UNLV's first run of the season.
With the game still tight in the fifth, T.J. White doubled off the left-field wall to drive in two runs and give the Rebels a 3-0 lead.
"Three runs is huge, especially with a guy like Fedde on the mound, because you know he's going to go out there and dominate for you and he's going to work his butt off," said White, who went 2-for-5.
UNLV added two runs in the eighth on a sacrifice fly and a hit batter.
The teams play a doubleheader at 1:05 p.m. today and conclude the series with a game at 1:05 p.m. Sunday.
"We've got the whole rest of the weekend," White said. "It's just the beginning. We know it's going to be a fun year for us, and I hope it continues this way."
Chambers knows it's a long season, and much has to be done if the Rebels are to meet their goals of playing deep into the postseason.
He'll take this start, though.
"We'll get better," Chambers said. "Offensively, we swung at a lot of pitches that we shouldn't have, but were just missing them."
Contact reporter Mark Anderson at manderson@reviewjournal.com or 702-387-2914. Follow him on Twitter @markanderson65.