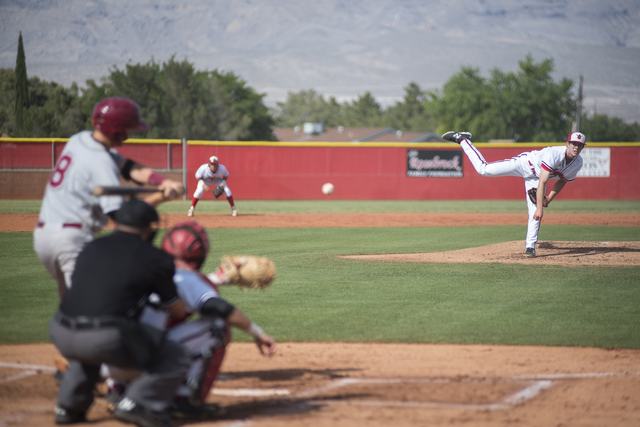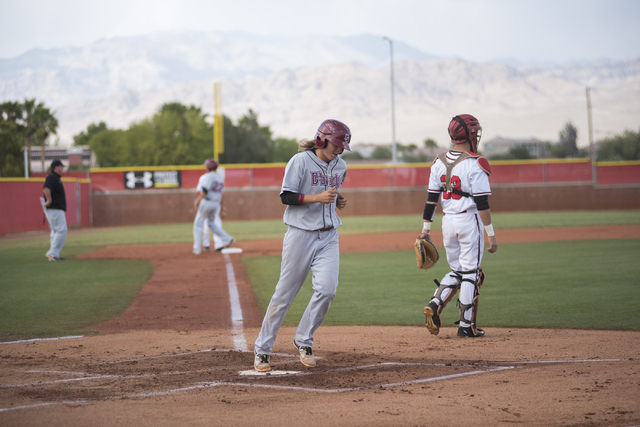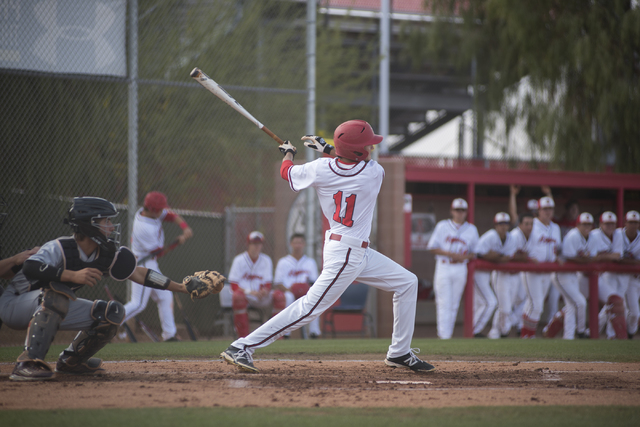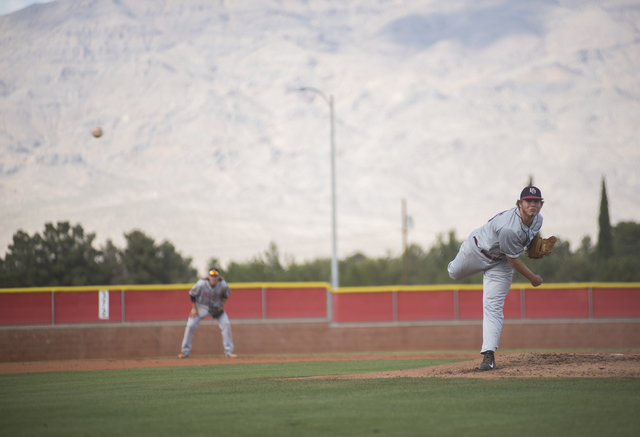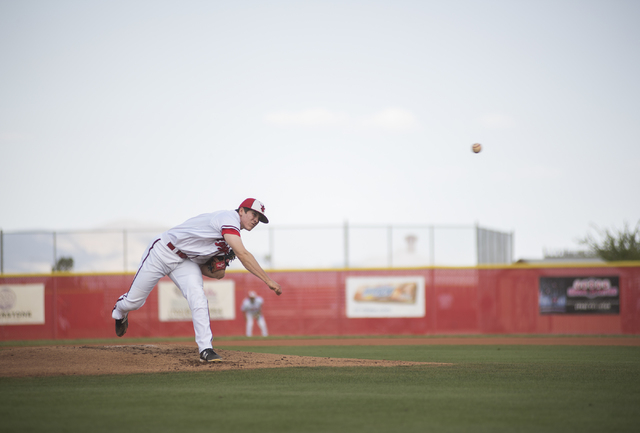 Pitching to keep alive his team's hopes of a league title Wednesday, A.J. Landis insisted he felt no pressure.
The Desert Oasis right-hander pitched as if there was no margin for error, though.
Landis tossed a three-hitter and didn't allow a runner to reach third base until the seventh inning as he led the Diamondbacks to a 7-0 baseball win at Arbor View.
Desert Oasis (23-7, 5-2 Northwest League) moved one-half game ahead of the Aggies (20-6, 4-2) heading into the final week of the league season. A loss would have put Desert Oasis 1½ games behind Arbor View, which won the teams' first meeting on April 8.
"I just knew I needed to go out and make my pitches," Landis said. "I had control of all my pitches. I was able to put them where I wanted to."
Landis faced two more hitters than the minimum through six innings before encountering the only thing remotely close to trouble in the seventh, when the Aggies got a one-out walk and single to put runners at the corners. But Landis got a strikeout and a fielder's choice to finish the shutout.
Landis, who improved to 8-0 and lowered his ERA to 1.00, finished with nine strikeouts and three walks. He threw 71 of 107 pitches for strikes.
"He's been doing it all year," Desert Oasis coach Paul Buboltz said. "He has four pitches and throws them all for strikes. For me, calling pitches, it's an easy job. Nobody can sit on a pitch with him because he can throw so many pitches."
The Diamondbacks took advantage of almost every Arbor View mistake to build their lead.
Chris Van Kuren's sinking liner to right with the bases loaded in the first inning was dropped. Arbor View right fielder Justin Rivera recovered to get a force at second on the play, but Bryson Stott raced home to give Desert Oasis the only run it would need.
Stott hit a liner to first in the third inning that could have turned into a double play, but the ball was dropped, allowing Caeden Marin to reach second. Nolan Kingham followed with an RBI single to score Marin and make it 2-0.
The Aggies committed two errors to allow a run to score in the fifth and two in the sixth as Desert Oasis increased its lead to 5-0.
"That's what we've been doing the past few weeks, capitalizing when people make mistakes," Buboltz said. "These guys have found a groove. They're a confident bunch of guys."
A run-scoring single by Kingham and a bases-loaded walk to Kyle Fuentes in the seventh finished the scoring.
Kingham and Stott each went 2-for-4 for Desert Oasis, which has won seven straight.
"We've been working hard all year for this," Landis said.
Contact reporter Bartt Davis at bdavis@reviewjournal.com or 702-387-5230.