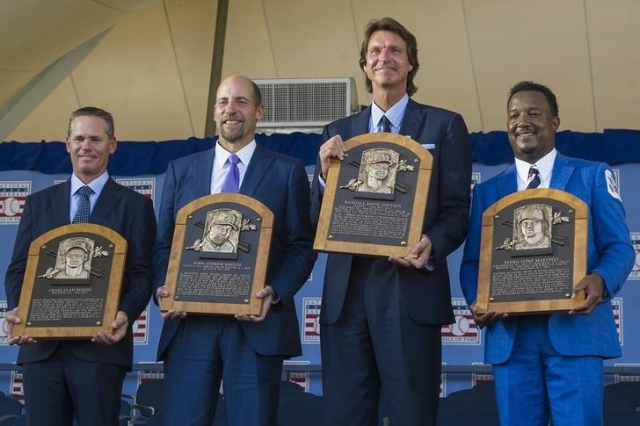 NEW YORK — Randy Johnson, Pedro Martinez and John Smoltz became the first trio of pitchers inducted into the Baseball Hall of Fame in the same year as they joined Craig Biggio in Sunday's Class of 2015 at Cooperstown, N.Y.
Tens of thousands attended the ceremony in the quaint upstate village with the liveliest, loudest contingent coming to support Martinez, the second Dominican after Juan Marichal in 1983 to be enshrined in the hall.
"Ola, Ola," he shouted to compatriots who were waving small Dominican flags.
"It's a great moment, not only for me, for my family. It's a great moment for the Dominican Republic and Latin America," added Martinez in a speech in English and Spanish.
Forty-nine Hall of Famers assembled on an outdoor stage to welcome the new members, including pitching greats Sandy Koufax, Bob Gibson, Steve Carlton, Tom Seaver, Whitey Ford and the 'Dominican Dandy' himself, Marichal.
After finishing his speech, Martinez called former Giants ace Marichal to join him and together they held a Dominican flag.
Martinez won 219 games across 18 seasons in Los Angeles, Montreal, Boston, New York and Philadelphia, winning five ERA titles, three Cy Young Awards and the Red Sox's 2004 breakthrough World Series title.
Johnson, a towering lefthander who won 303 games, garnered five Cy Youngs including four in a row from 1999 and led the league in strikeouts nine times. He won three games in the 2001 World Series triumph for Arizona over the Yankees.
"If you were cheering for me, I'd run through a brick wall for you and throw as many pitches as needed to get the victory," Johnson said.
Smoltz showed his diversity by beginning as a dominant starter and after surgery on his elbow became a top flight closer for Atlanta.
"At 6-10 (2.08m), (Johnson) is truly the freak that mastered the game in a way that no other could," Smoltz, who donned a wig during his speech to poke fun at his baldness, said.
"With Pedro Martinez being on the opposite end of the spectrum and with me kind of fitting in the middle, it shows why baseball is a game of all sizes and shapes."
Biggio collected more than 3,000 hits in a 20-year career spent entirely with the Houston Astros and played catcher, second base and outfield.
"I gave the game everything I had every day," Biggio said. "In baseball, tomorrow is not guaranteed, and I tried to play every game as if it was going to be my last."