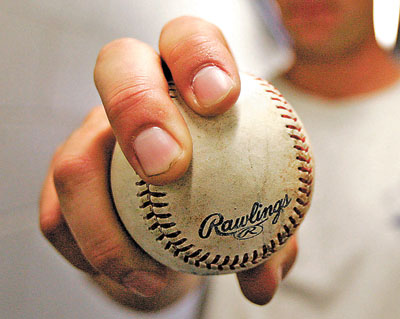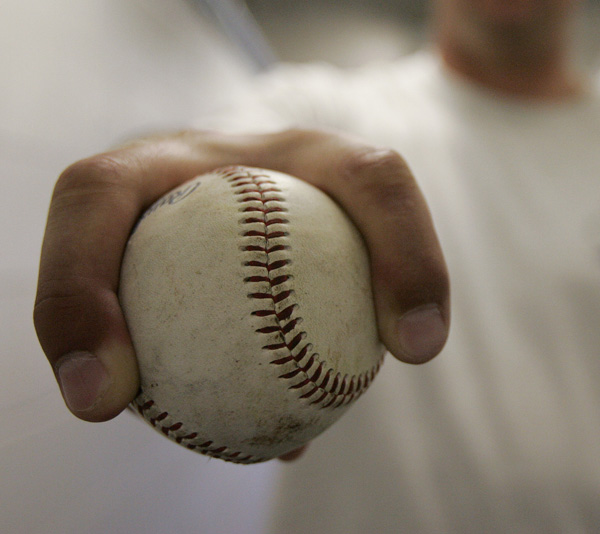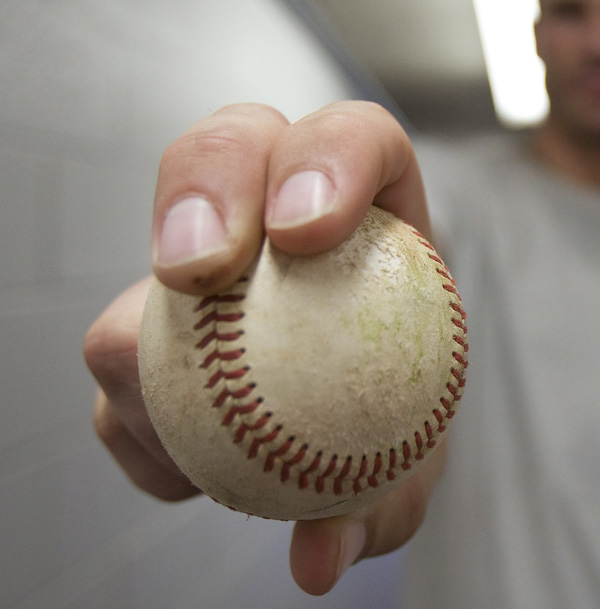 Jason Johnson stands on the mound at the Metrodome in Minneapolis, second-guessing himself in the game of his life.
It is July 2004, and Johnson is midway through an 11-strikeout, five-hit shutout for the Detroit Tigers.
He's cruising, hitting the outside corners, his shoulders sturdy, glare ice-cold. In short, he's comfortable.
At bat for the Minnesota Twins, with a 1-2 count: Torii Hunter, All-Star center fielder.
Johnson considers a curveball and quickly changes his mind. Change-up? No, not now. Maybe a fastball.
But …
"I knew he thought I was going to throw a fastball. And I knew he knew it," Johnson said. "I threw him a slider on the outside corner that just locked him up for strike three. He had no idea. I saw him in the airport the next day, and he says, 'You know what? That was ridiculous, man. I was embarrassed. But, man, you were great out there.'
"That one pitch, I still remember."
On that day, with that pitch, Johnson won the battle of wits.
Hunter had his weapon — typically weighing about 34 ounces and made of maple.
Johnson also was armed — with his right arm and his mind, loaded with memories of particular matchups and a solid command of each pitch.
In agreement among four Las Vegas 51s pitchers — Johnson, Dwayne Pollok, Justin Orenduff and Jon Meloan — is one thing: To make it in Triple A and the next level, a pitcher must know how to mix his pitches.
"Talking to guys who've been in the big leagues, you can never throw hard enough," Pollok said. "You've got to mix it up. You could go out there and throw 106 (mph), and they'll still time you. That's all hitting is — timing. It's our jobs as pitchers to disrupt that timing."
Sure, there's always the "out" pitch, the one choice that a pitcher relies on primarily for success, but that's only part of the game within the game.
CATCHING UP
Fact: A mistake in Double A and below might get a stay of execution. At the Triple-A level, the margin for error for a pitcher has slimmed down to next to nothing.
A foul-up in Las Vegas is not just a foul ball — it flies out of the park.
"The experience level goes up for you as the hitters get better; you've got to learn how to pitch to these guys," Pollok said. "They're not gonna swing at stuff right down the middle, like in A-ball. You can kinda just throw fastballs and get them by people. You can miss your spots a little, and they won't hurt you. Here, they're gonna hurt you."
For Meloan, even a perfect pitch at this level might not yield the results he wants.
Because of the lack of humidity, Meloan's "out" pitch, a curveball, is rendered almost useless sometimes.
"A lot of places in the (Pacific Coast League) — Vegas, Salt Lake City, Tucson — those are dry climates, no humidity," he said. "When we went to Round Rock in Texas, there was finally some humidity, and I threw some of the best curveballs I've thrown all year. When you get to this level, you have to pay attention to those small details."
Thing is, hitters are paying attention to those details, too. And they often have plenty of opportunities. So a pitcher has to make a decision: Stick with what's worked for years, or try to grow.
"My first three years in the big leagues, I was throwing 96 (mph), and I thought, 'I'm just gonna get away with that,' " Johnson said. "I'd throw it down the middle and say, 'Here, hit it.' After a while, 95 or 96 is good, but they're gonna get it. I finally realized I'd have to start learning control."
COMMAND AND CONQUER
For every Randy Johnson, there are 10 pitchers who can throw 95 mph and are not in the major leagues.
A fast pitch is only that — "You could throw a 747 airplane at hitters, and they would eventually time how fast it's going," Meloan said.
Instead, the Las Vegas pitchers agree that command of the strike zone is what it takes to get to the major leagues. That doesn't mean a pitcher needs six pitches that can induce a ground ball. Two or three will suffice.
"When you get to pro ball, it's about fine-tuning pitches than doing more," Pollok said. "You get the location down, throw strikes, be able to throw two or three consistently for strikes; that's how you try to evolve through the game."
Added Orenduff, in his fifth season of minor league ball: "It's tough to have command of three pitches. The guys who do have that command are up in the big leagues. I have that fastball and slider, but my change-up, I'm still refining as a really solid third pitch."
Still, a command of pitches is not the same as command of the strike zone.
Just as the margin for error gets smaller, so does the opportunity for success. Strike zones get smaller because hitters are prepared for anything.
So, if a pitcher is worth his salt, he'll learn to move around his pitches. High and tight one pitch, down and away the next.
"If I'm in a game and I have an 0-2 count and I want a guy to swing at my slider, then I have a focal point," Orenduff said. "I've learned that through just pitching. It's usually the center of his chest if I'm trying to throw down and away. If I'm behind 2-0, I'll have a different focal point, maybe his left shoulder.
Added Meloan: "As you move up from Double A to Triple A and to the majors, the standards for what is a quality pitch is more defined. You may have a certain area that'll get you outs in Double A. Well, in Triple A, that doesn't work. That standard gets smaller and smaller. The quicker you learn to use the next pitch to set up the next pitch to set up the next pitch, it's gonna help."
DOWN AND 'OUT'
A pitcher uses his "out" pitch in a jam and, sometimes, just for fun. He has complete control over it, can wedge it just out of a batter's reach.
Each pitcher has a different story about his "out," but they all end the same way.
Strike three.
Meloan on his curveball: "I think I have a plus curveball. When I get into a sticky situation out there — runners in scoring position or I need a strikeout — that's the pitch I'm going to. If I'm going to get beat, I want to get beat with my best stuff."
Pollok on his forkball: "It's almost like a change-up — you've got the difference in speeds to keep the timing off for the hitter — but it also has that diving action. I use it 0-2, 1-2, and maybe, maybe use it first pitch if somebody's free-swinging."
Orenduff on his slider: "I was 13 or 14 and started going to some private lessons with a coach named Gary Lavelle. I used to just kinda throw a curveball. With my arm slot, he thought it'd be a good idea to throw a slider, and he showed me the grip. It was a natural pitch for me — I didn't have to work at it. When I started throwing it in games, it was just always there for me."
Johnson on his two-seam fastball: "The two-seam fastball that I have, I learned from Scott Erickson. He taught me the grip, and I've gone with it since. I kinda throw it off-center on the ball, and it's a pitch where I know that if the guy knows I'm throwing a fastball, I know I can still get it by him. I don't care if he knows it's coming, I can still get him out."
An "out" pitch is an old friend who knows your third-grade teacher's name. It's a raggedy blanket that your mother brought you home from the hospital in. It's a pair of slippers, perfectly contoured to your feet.
In short, it's comfort.
Contact reporter Jon Gold at jgold@ reviewjournal.com or 702-380-4587.