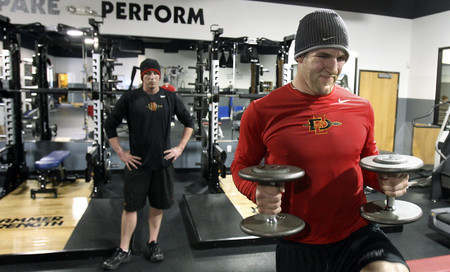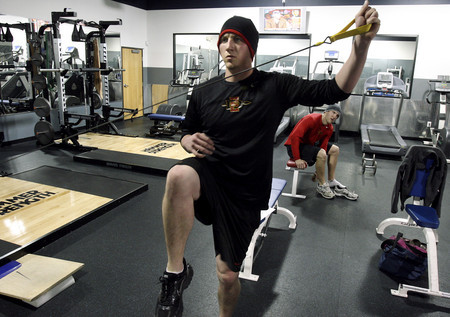 It's 5:30 a.m. Jon Berger is awakened by a phone call from Tyler Lavigne, his former baseball teammate at College of Southern Nevada and San Diego State, who proudly proclaims he's already on his way to the gym.
"So I've got to get up now, too, because I can't let him get there before me," Berger said. "It's pretty funny. We both always want to compete against each other. It drives us."
Whether they're working out together in their hometown of Las Vegas or separately on the road with their respective professional teams — Berger was drafted last year by the San Diego Padres and Lavigne by the St. Louis Cardinals — the pair of right-handed pitchers regularly exchange early-morning wake-up calls, text messages
and trash talk as part of their ongoing quest to outdo each other.
"It's always a battle," Lavigne, 21, said. "If he pitched seven innings (last season for the Aztecs), I'd try to go eight. If he had six strikeouts, I'd try to get seven.
"Still to this day, we talk crap to each other. If he runs a mile, I ran for a mile and a half."
They've been trying to top each other since they pitched for rival high schools — Berger for Bishop Gorman and Lavigne for Centennial. But back then they weren't exactly on speaking terms.
"At Centennial, our coaches put in our mind to hate Gorman," Lavigne said. "Jon and I always used to pitch against each other, and we got into it, yelling back and forth at each other."
Said Berger, who turned 23 Monday and graduated a year ahead of Lavigne in 2005: "Both high schools don't get along, in general. We didn't like each other."
But their frosty relationship thawed in the spring of 2007, when Lavigne started closing games for Berger at CSN.
"We had to talk, because I had to save games for him," said Lavigne, who went 8-2 with five saves and a 0.80 ERA that season en route to region Pitcher of the Year honors. "We started working out together and hanging out more."
The two have since developed a close relationship, and CSN coach Tim Chambers said it has "really turned Tyler's body around, especially the last two years."
"Tyler's a guy with a super amount of ability who really didn't work on his body very much," Chambers said. "Jon, on the flip side, is a big guy with an outstanding work ethic who made himself who he is today through extremely hard work.
"Jon finally rubbed off on (Tyler)."
The 6-foot-2-inch, 220-pound Berger and 6-foot, 190-pound Lavigne have been working out together in Las Vegas six days a week as each prepares for his first full professional season.
They push each other through grueling workouts at Dr. Robert Braden's local Work 4 It facility. They also do pilates and throw three times a week, all the while battling each other for bragging rights.
"You wouldn't think we're best friends," Berger said. "It's really competitive and we yell at each other.
"If (Lavigne) doesn't do something right just because he's tired, or if we're doing sprints and he's slower than he usually is, we'll just wear each other out about it."
A year after Berger left to play for San Diego State, Lavigne followed him there. Last season, they pitched in a three-man rotation behind phenom Stephen Strasburg, who throws over 100 mph and was drafted first overall last year by the Washington Nationals.
Berger was the Aztecs' No. 2 starter for most of the season and Lavigne No. 3, though their roles were flip-flopped toward the end of the year.
Lavigne put up better numbers than Berger last season, going 8-2 with a 3.05 ERA, 87 strikeouts and 28 walks, and Berger finished 4-5 with a 5.83 ERA, 72 strikeouts and 12 walks.
But Berger appeared to get the best of Lavigne in the June draft, when he went in the 33rd round and Lavigne in the 50th. However, because Berger was a senior signee, he received less money than Lavigne, who left school as a junior.
Both players pitched in Class A after turning pro and posted similar statistics. Berger went 5-3 with a 4.73 ERA, 68 strikeouts and 13 walks and Lavigne finished 2-2 with a 4.71 ERA, 34 strikeouts and eight walks.
Berger is stronger than Lavigne, but Lavigne is more flexible. Berger is better at basketball, but Lavigne is better at golf.
"He's not much of an athlete," Berger joked about Lavigne.
The only area in which they won't berate each other appears to be on the mound, where they're both control pitchers who throw in the high 80s to low 90s. Berger relies on his change-up and Lavigne on his sinker.
"We definitely both want success for each other and for ourselves," Lavigne said.
The foes-turned-friends plan to talk to each other several times each week during the upcoming season. They dream about facing each other one day in the big leagues, something that Chambers thinks could become reality.
"If they can stay healthy, I can see both of them sticking around (the pros) for a while."
Contact reporter Todd Dewey at tdewey@reviewjournal.com or at 702-383-0354.
BROTHERS IN ARMS
Tyler Lavigne
AGE: 21
HIGH SCHOOL: Centennial High School
COLLEGE: San Diego State
DRAFTED: By St. Louis Cardinals, 50th round in 2009
HIGHLIGHTS: Second-team All-Mountain West Conference last season at San Diego State; second-team junior college All-American at College of Southern Nevada
Jon Berger
AGE: 23
HIGH SCHOOL: Bishop Gorman High School
COLLEGE: San Diego State
DRAFTED: By San Diego Padres, 33rd round in 2009
HIGHLIGHTS: Ranked 12th in nation in walks allowed per nine innings pitched (1.23) last season at San Diego State; team captain at College of Southern Nevada