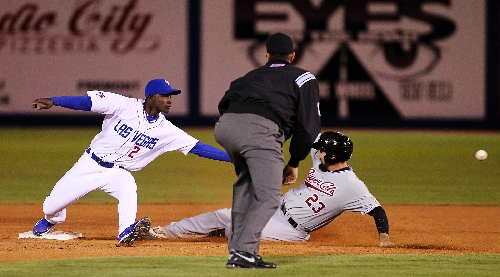 The 51s hit Thursday night.
That's what they do.
What they haven't done — and apparently still don't — is pitch.
Sacramento pounded Las Vegas for 18 hits in an 11-6 victory at Cashman Field, and the 51s must hope the season opener isn't a sign of what's to come.
Recent history, though, indicates otherwise.
The 51s led the Pacific Coast League in batting average three of the past four seasons but posted a winning record just once. Their team ERA has been 5.00 and up every year but one since 2007.
Las Vegas didn't have much trouble hitting against Sacramento, banging out 14 hits.
"I feel one through nine we're pretty confident," said 51s outfielder Travis Snider, who went 2-for-5 with a run. "The guys can come with the bat, and we can hit situationally. Even though we didn't take advantage of the wind tonight with the long ball, we've got a lot of guys who can take it out of the park, too."
The 51s rallied with four runs in the fifth inning to come to within 7-6, but it wasn't enough. The
River Cats scored three in the seventh to resume control.
It seldom seems to be enough against Sacramento, which has beaten the 51s nine consecutive times.
That's especially true when the pitching struggles as it did in this game.
51s manager Marty Brown hoped to get 90 pitches out of starter Aaron Laffey, and the left-hander delivered 96 pitches. But he lasted only 4 2/3 innings giving up 11 hits and seven runs, all earned. Sacramento roughed him up with three home runs.
The low point came in the third when Laffey settled under a popup near the mound, but the ball plopped on the grass next to him. He then threw errantly to second base, allowing the River Cats to put two runners on base.
At least he Laffey didn't have the kind of night Arkansas football coach Bobby Petrino experienced Thursday.
Laffey, who appeared in a combined 47 games for Seattle and the New York Yankees last season, wasn't alone. Three pitchers followed to allow four runs and six hits.
Eight of the River Cats' nine starters had at least two hits, and nine of the hits were for extra bases.
Maybe tonight's 51s starter, Jesse Chavez, will reverse the trend. He saved 16 games in Omaha last season and makes his first start since 2007. Chavez has significant relief experience with three major league teams.
Las Vegas needs some kind of hope on the mound and not just in the batter's box.
"We have guys that have major league experience," Snider said of the pitching staff. "They've been successful at that level as well as in Triple A.
"The talent's there, the ability's there, it's just a matter of going out and doing it."
Contact reporter Mark Anderson at manderson@reviewjournal.com or 702-387-2914. Follow him on Twitter: @markanderson65.
SACRAMENTO — 11
LAS VEGAS — 6
KEY: The River Cats had 18 hits, including three home runs and six doubles.
NEXT: River Cats (RHP Jarrod Parker) at 51s (RHP Jesse Chavez), 7:05 p.m. today, KBAD-AM (920)