Players relish attractions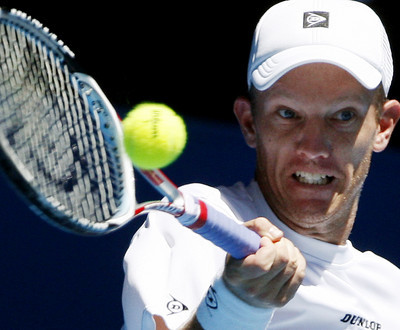 Lleyton Hewitt has revealed the secret to his success at the Tennis Channel Open: He has to play well in order to pay for his wife's shopping sprees in Las Vegas.
"My wife loves the shopping here, so I've got to try to win the tournament just to break even," said the 27-year-old Australian, who won last year's event here after placing second in the inaugural tournament. "When I'm practicing, she has a good look around at all the hotels and a lot of very expensive stores in there as well."
Hewitt, a two-time Grand Slam champion (2001 U.S. Open, 2002 Wimbledon), has made his third straight trip to the TCO — which pays more than $68,800 to the winner — accompanied by his wife, Australian actress Bec Cartwright, and their 2-year-old daughter, Mia.
"I'm probably a little different than most of the players, because I have a young family, so a lot of the players stay out later than I would and probably gamble a little more than I do," he said.
Like many of his fellow TCO participants, though, Hewitt said he loves Las Vegas and enjoys the city's diverse mix of shows, restaurants and other attractions.
"It's priceless. You can't see that stuff anywhere else in the world," said Hewitt, who has seen impressionist Danny Gans and comedian Brad Garrett and dined at the N9NE steakhouse at The Palms in past years. "My wife and I were extremely impressed. We're very fortunate this city can hold so many different kinds of comedians and great acts.
"It's an amazing place just to walk down the (Strip), especially at night. We really enjoy it."
Swedish player Thomas Johansson, the 2002 Australian Open champion, lives in Monte Carlo but said the popular European tourist spot doesn't compare to Sin City.
"It's not even close to being like Las Vegas," he said. "This city is 24 hours, which is amazing to me. When I go to bed at night, I see people sitting at machines, and when I wake up in the morning, they're still there.
"Just walking around, there are so many things happening in this city, everywhere you walk, you're like 'wow.' "
Johansson's coach, fellow Swede Magnus Norman, said they made a point of fitting the TCO into their calendar.
"We really tried to squeeze this tournament for Thomas into our schedule because we wanted to come back here," said Norman, a former No. 2 player in the world.
Norman and Johansson went to the "O" show at Bellagio and "Tao" at the Venetian last year, and Norman also went to the nightclub "Pure" at Caesar's Palace. He said this year's agenda could include the play "Mamma Mia" and a round of golf, weather permitting.
"We're both like a 10-handicap, which makes it kind of interesting," Norman said.
"Tao," "Pure," "O" and other Cirque du Soleil shows are among the favorites for many players, including the Bryan brothers, Mike and Bob, the top-ranked doubles team in the world and two-time defending TCO champions.
"This is one of the best weeks (on the ATP Tour). There is so much to do when you're off the courts," Mike Bryan said. "The energy is on a different level, so we're looking forward to it.
"If we win the title, I'm sure we'll have a fun night out, maybe go to Pure, (Las Vegas resident Andre) Agassi's place. He'll hook us up. A lot of guys give Andre a call. He's our connection to the city. He runs the place and gets us free tickets to shows, dinners and a table at Pure. He's the man."
The Bryans, one of the best doubles teams in tennis history, also spend a lot of time at the blackjack tables, where they wager about $20 a hand.
"We're still learning our strategies," Mike Bryan said. "I bought a blackjack book, and I'm reading up on it. I'll try some card counting techniques."
Mike Bryan said 2006 TCO singles champion James Blake is "always the big winner at gambling" among the players, most of whom are staying at the Las Vegas Hilton.
Promising American player John Isner, 22, was planning to try his luck in a poker room in his spare time, but first-time visitor Mirjana Lukic appeared overwhelmed by the city's vast array of attractions.
"There are so many different things to do, it's difficult to pick right away. That's the hardest thing," said Lukic, who will compete in the women's event this week at the Darling Tennis Center. "We're so excited, but we don't know where to begin. Hopefully, I'll stay here long and keep playing, which is the most important thing.
"You need to be rested and ready (to play), but in the meantime, it's really good to relax your mind and not think about the match."
Tell that to Hewitt, who faces Marat Safin at 7 p.m. today in a rematch of the 2005 Australian Open won by the Russian. Hewitt's wife's next shopping spree could hang in the balance.
Contact reporter Todd Dewey at tdewey@ reviewjournal.com or (702) 383-0354.