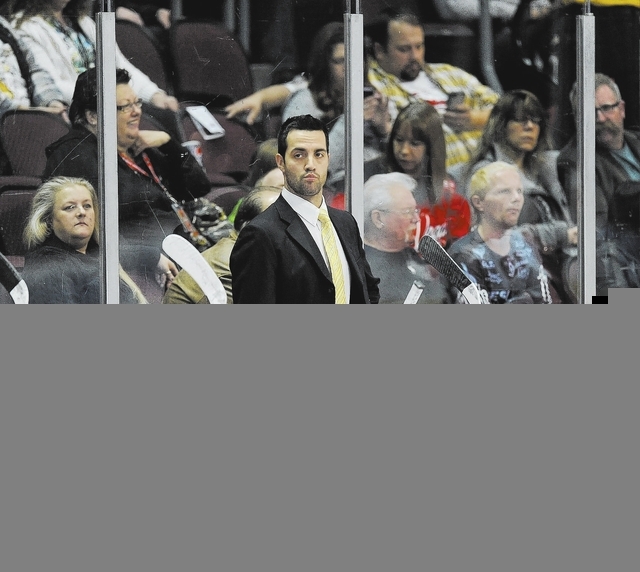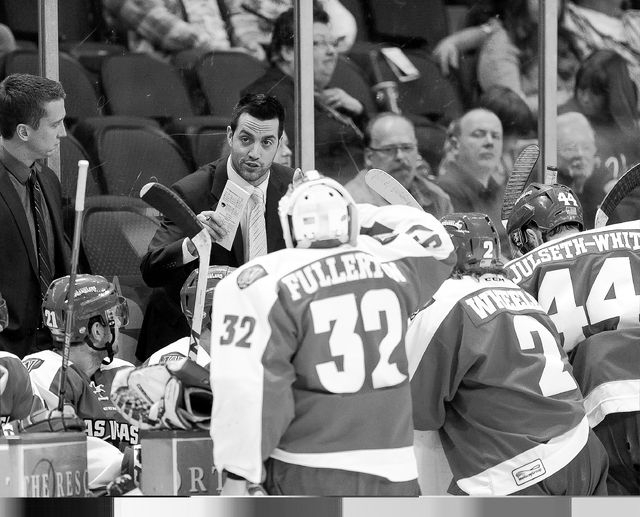 Throughout a trying season in which the Wranglers appear headed for their first losing record in 10 years and were essentially evicted from Orleans Arena, first-year coach and general manager Mike Madill has maintained his perpetually positive attitude.
"Every night is another chance to turn things around," Madill said. "I'm a positive guy, and when you look at things in a negative way all the time, it's not going to change."
Things took a turn for the better recently for last-place Las Vegas, which was on pace to miss the ECHL playoffs before getting a reprieve from the governor — or, in this case, the league's Board of Governors.
After the San Francisco Bulls folded Monday in the midst of their second ECHL season, the league informed Madill that the Western Conference's remaining eight teams would qualify for the playoffs, thereby clinching a spot for the Wranglers.
Before the Bulls folded, the top eight of nine teams would have advanced. In years past, the top seven of eight teams qualified.
While it's not the manner in which two-time conference champion Las Vegas (11-25-4, 26 points) wanted to secure a postseason berth, it still gives it a chance to salvage its season.
"Come playoffs, nobody cares how you did during the season," Madill said. "It's the same in the NHL. You can finish eighth and win the Stanley Cup. You all start fresh.
"It's a total fluke that something like this happened, but we'd be climbing anyway to make the playoffs. I know we'd be doing that whether San Fran was here or not. We're going to do some damage in the second half."
Las Vegas captain Geoff Paukovich said the team is embracing its opportunity.
"It's a big second chance for all of us. It would be really special if we can take advantage of it," he said. "We still don't want to finish last in the conference. We've still got a lot to play for in terms of our seeding."
Playing their first home game in 26 days Friday night, the Wranglers beat conference-leading Ontario (29-9-5, 63) 5-2 before a franchise-record sellout crowd of 7,786.
The win — only the team's third in 18 games — started a stretch of seven home games in 10 days and 13 of 15 games at home, where Las Vegas lost to the Reign 4-2 on Saturday night.
"Things are starting to progress," goalie Mitch O'Keefe said before the homestand. "I think we're going to string some wins together at home this month. We've been on the road a long time."
The numbers aren't pretty for the Wranglers, who entered Saturday with the fewest goals (90) in the league and second-most goals against (134). They're also last in shots per game (24.44) and shots against (37.44), are third in penalties (19.59 minutes pg) and last on the penalty kill (79 percent).
Madill remains confident that once his squad recovers from a rash of injuries, things will turn around.
"We've really had a tough time with injuries," he said. "Hopefully we start getting healthy now. When we're healthy and we've got guys competing to play every night, it makes them better.
"I still really believe in this team. We have the right guys."
A former ECHL All-Star defenseman and Wranglers captain who twice helped lead Las Vegas to the Kelly Cup Finals, Madill never has been a part of a losing team in the league.
"We've always been good, so I know what we need to do. I've just got to get the guys to do it," he said. "It's very, very frustrating, but at the same time you live and you learn and you build a bridge and get over your problem.
"That's what we're working on, and we're close to turning the corner."
Madill hasn't taken out his frustrations on his players.
"His biggest skill is kind of staying level-headed and always having the right perspective on things," Paukovich said. "He doesn't come in and rip our heads off every day."
The 31-year-old Madill, who has made several recent roster moves, is looking at his rookie year as a coach and general manager as a learning experience.
"It's a lot of work, but it's fun. I enjoy it," he said. "You wouldn't learn anything if it was easy. I do everything as honest as I can and as positive as I can, so I don't regret anything."
Contact reporter Todd Dewey at tdewey@reviewjournal.com or 702-383-0354. Follow him on Twitter: @tdewey33.