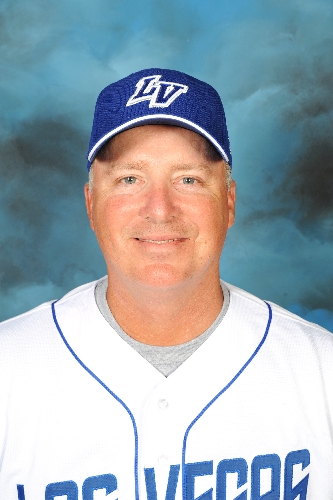 Before Marty Brown became manager of the 51s this season, he spent the past five years managing in Japan, where he fell in love with the food, culture and people, including his wife Kyoko.
"It was pretty refreshing, kind of how our culture used to be a long time ago," said Brown, 48, an Oklahoma native who also played three years in Japan (1992 to 1994). "There was an element of respect (here) long ago and we've lost that.
"I've never had an argument with a Japanese player. All the problems I ever had were with American players."
Each Japanese team — six apiece in the Pacific and Central leagues — is allowed to have four American players, who usually command a much larger salary than they could in the United States.
While a premium Triple-A player makes an average of about $15,000 a month in season, Brown said a first-year American player in Japan typically earns between $250,000 and $350,000 a year.
Despite their big salaries, Brown said Americans are expected to act humble.
"You're looked at as a helper. Guys that stay over there for a long time never take the credit. Once you try to take the credit, you won't be there very long," he said. "You have to adapt to the Japanese. Guys who go over there for the first time might have 10 years in the big leagues here, but they're still a rookie in Japan.
"They haven't earned (respect) over there. A lot of players have trouble with that. The ones that do don't usually make it too long."
Respect is a common theme in Japan, where younger players will bow when an older player enters a room and a pitcher who hits a batter will typically tip his cap to the player to let him know it was unintentional.
Fans are also respectful of the teams they support, cheering, chanting and singing songs for individual players.
"I've never heard fans rag on a player. Everything that comes out of a fan's mouth in Japan is positive, and they take it very hard when they lose," Brown said. "They feel like they didn't help their team enough to win, whereas you've got guys coming out here ragging to be ragging, just so they can be loud in front of a crowd.
"We've got good fans here, too, but you never see any of that kind of (negative) stuff in Japan. It's refreshing."
Brown said the level of play in Japan can be slightly better than Triple A one night and comparable to Class A the next, depending on the pitching.
The style of play is different as well, with Japanese teams playing small ball from the start of games, even bunting in the first inning to manufacture runs.
The baseball also is literally smaller than ones used here and, until this year, the home team could actually choose which balls would be used in the game.
"They could actually pick either a live ball or a dull ball depending on what team they were facing," Brown said.
Japanese games end in a tie if the score is knotted after 12 innings, mainly to ensure fans can catch the last train home on the subway.
Another rule unique to Japan is that managers are allowed to argue with umpires for only five minutes before they risk ejection. Brown, who managed the Hiroshima Toyo Carp from 2006 to 2909 and Tohoku Rakuten Golden Eagles last season — when he was the lone American manager in Japan — became something of a folk hero when he set the record for most ejections, with eight.
While most managers would meekly return to the dugout after five minutes, Brown would stay on the field and challenge the umpires to toss him.
After he earned his first ejection by hurling first base into right field, fans went crazy and began making T-shirts and stick figurines in his honor.
Brown returned to the U.S. last fall after getting replaced by a legendary Japanese manager. But he said he wouldn't hesitate to return.
"I'd go back again in a heartbeat," he said. "It was a good experience as a player and manager. I wouldn't replace it with anything."
Contact reporter Todd Dewey at tdewey@reviewjournal.com or 702-383-0354.
FRESNO 6
LAS VEGAS 4
KEY: Andres Torres hit a two-run homer to ignite the Grizzlies' four-run fourth inning, and the 51s squandered a 4-0 first-inning lead.
NEXT: Grizzlies (RHP Daryl Maday) at 51s (RHP P.J. Walters), 7:05 p.m. today, KBAD-AM (920)