Ex-Nirvana producer wins 2nd career WSOP bracelet
Updated June 18, 2022 - 11:28 am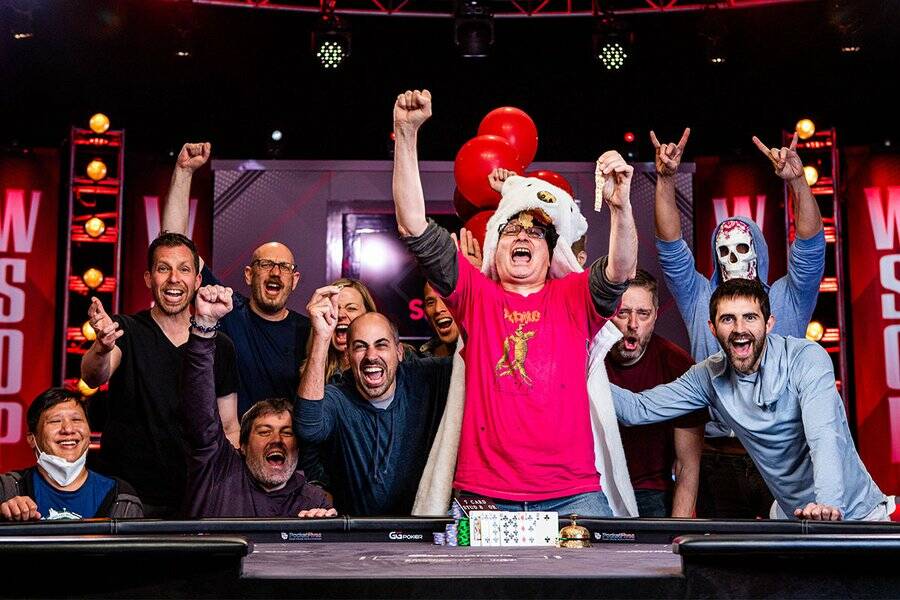 Renowned indie rock producer and recording engineer Steve Albini captured his second career World Series of Poker bracelet Friday night.
Albini took down the $1,500 buy-in H.O.R.S.E tournament at Bally's Event Center, defeating James Morgan heads-up for the $196,089 first prize.
The 59-year-old resident of Chicago outlasted a field of 773 players to win the three-day tournament. Albini also was victorious in 2018 when he was the last person standing in the $1,500 buy-in Seven-Card Stud event.
"The first one felt like a fluke. This one also felt like a fluke. I was all-in a million times in this tournament," Albini told WSOP reporters. "In the Stud tournament, the bracelet that I won in 2018, I was never all-in in that tournament. I was never short of chips. But it still felt like I kind of fluked it because I beat a table full of really great players that I didn't expect to beat.
"This time it felt like a fluke because I was so short on chips so often, and I kept getting all-in, and I kept surviving."
STEVE ALBINI WON A SECOND BRACELET AND IMMEDIATELY DROPPED AND BROKE IT #WSOP32 pic.twitter.com/635i0pUdv9

— Eric Rodawig (@ericrodawig) June 18, 2022
Albini owns Electrical Audio recording studio in Chicago and has worked with some of indie rock's biggest bands, including the Pixies, The Breeders, Bush, Jawbreaker and former Led Zeppelin members Jimmy Page and Robert Plant.
He is best known as the producer of Nirvana's third and final studio album "In Utero," which was released in 1993 and has sold more than 15 million copies worldwide.
In addition to his own career as a musician, Albini is a regular at cash games in the Chicago area and was railed at the final table by some of poker's most prominent professionals, including two-time WSOP bracelet winner Brandon Shack-Harris.
@electricalWSOP 🎈🎈🎈🎈🎈🎈🎈🎈🎈🎈🎈🎈🎈🎈🎈🎈🎈🎈🎈🎈🎈🎈🎈🎈🎈🎈🎈🎈🎈🎈🎈🎈🎈🎈🎈🎈🎈🎈🎈🎈🎈🎈🎈🎈🎈🎈🎈🎈🎈🎈🎈🎈🎈🎈🎈🎈🎈🎈🎈🎈🎈🎈🎈🎈🎈🎈🎈🎈🎈🎈🎈🎈🎈🎈🎈🎈🎈🎈🎈🎈🎈🎈🎈🎈🎈🎈🎈🎈🎈🎈🎈🎈🎈🎈🎈🎈🎈🎈🎈🎈🎈🎈🎈🎈🎈🎈🎈🎈🎈🎈🎈🎈🎈🎈🎈🎈🎈🎈🎈🎈🎈🎈🎈🎈🎈🎈🎈🎈🎈🎈🎈🎈 pic.twitter.com/G7sDP7WkeB

— 🎈Brandon Shack-Harris (@Oscillator_WSOP) June 18, 2022
"Everything in my life comes in pieces, in parts. Poker is one part of my life," Albini said. "So when I'm playing poker, I try to commit to it. I try to take it seriously. I try to make sure I devote the attention to it that it deserves as an occupation.
"But it's only part of my year. I only play tournaments at the World Series of Poker. I play cash games informally in Chicago. It's a part of my livelihood, but it's not my profession."
Albini held the chip lead for a good portion of the final table and rang a hotel bell after winning a pot. But he was down to crumbs during four-handed play and again with three remaining.
At one point of three-handed action, Albini had less than two big blinds in his chip stack. But he survived an all-in bet and went on an hourlong heater to gain control.
Albini eliminated Jason Daly in third place and took a commanding chip lead into heads-up play against Morgan. After trading pots early, Albini won three straight hands in Seven-Card Stud and clinched the victory in a hand of Stud 8 or Better.
"Brandon Shack-Harris got an ornate hotel bell that he would ding at the table when he was going to check. I thought it was really charming, and he brought it here so the rail could ding when I won a pot," Albini said. "It got irritating to some of the other players, so I brought it to the table so anyone who wanted to could celebrate by ringing the bell."
Contact David Schoen at dschoen@reviewjournal.com or 702-387-5203. Follow @DavidSchoenLVRJ on Twitter.