Polian relishes role as Pack leader
February 1, 2013 - 2:02 am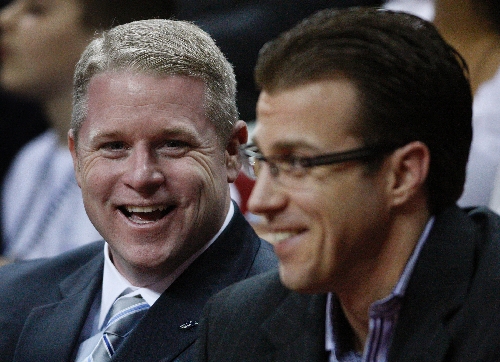 Maybe it will take some time before new UNR football coach Brian Polian truly understands the rivalry with UNLV, but he got a taste of the intensity Tuesday night.
Polian walked into the Thomas & Mack Center for the basketball game between the schools and was immediately booed by the Rebels' student section.
Rather than be offended, Polian sounded impressed.
"Hey, rivalries are what make college sports fun," he said. "I've been lucky enough to be part of Stanford-Cal (and) Notre Dame-USC, and to be a part of this one is going to be exciting."
Polian, 38, takes on the task of following a coaching legend in Chris Ault, the man most responsible for creating the animosity between the two state schools, someone who knew how to dominate his southern rival by winning the past eight meetings.
But Ault's shadow is much longer than how he performed against UNLV. He built UNR from a Division II program into a successful upper-level school that constantly reinvented itself.
The Wolf Pack tried unsuccessfully to replace Ault twice when the coach stepped away.
Now it's Polian's turn.
"I have a ton of respect for Coach Ault, and I understand what he means to the state, and I understand what he means to the university," Polian said. "That being said, I can't try to be Coach Ault. I can't try to replace him. You can't replace him. All I can do is just be me, and I'm very comfortable in my own skin. I'm very comfortable with what our vision of this football program is going to be, and we're going to work to achieve that."
Polian comes from Texas A&M, where he was special teams coordinator and tight ends coach for a program that became a force in its first season in the Southeastern Conference. The Aggies were the only school to beat Alabama, and quarterback Johnny Manziel won the Heisman Trophy.
Polian also was the recruiting coordinator at Stanford in 2010 and 2011 and at Central Florida in 2004 before going to Notre Dame for five seasons.
His recruiting efforts, especially considering a late start after being hired Jan. 7, appear to be going well. The Wolf Pack have received four commitments from players ranked among the nation's top 135 at their positions, according to Scout.com.
"We are very excited about this class," Polian said. "We'd be excited about it if we had a year to recruit."
Polian also hired a staff that includes former head coaches Jeff Genyk (Eastern Michigan) and Jim Hofher (Buffalo and Cornell). And Polian convinced offensive coordinator Nick Rolovich to remain with UNR after he had agreed to leave for Temple.
"I told him he was my most important recruit," Polian said. "He was the first guy that I called after I accepted the job, and I think we just clicked."
Having Rolovich back is key because Polian will continue to run the pistol, the offense Ault invented. That offense has migrated to the NFL, and former Wolf Pack quarterback Colin Kaepernick has ridden it all the way to the Super Bowl with the San Francisco 49ers.
Polian said tweaks will be made to the offense, but no overhaul.
"We'll keep the core of it," he said. "Now, we've got some different guys in the room, and certainly my experience offensively coming from Texas A&M, there'll be some wrinkles that we add to it, but overall I think we're going to stick to what we believe in."
Polian probably was meant to be involved in football. His dad, Bill, was considered one of the NFL's top executives. His older brother, Chris, was the Indianapolis Colts' general manager from 2009 to 2011. Another brother, Dennis, is the Tennessee Titans' special assistant to the head coach.
"From a very early age, I knew I was going to coach," Polian said. "I grew up around Marv Levy and those Buffalo Bills training camps, and I watched how he interacted with the other coaches and with the players, and I knew that's what I wanted.
"I tell people all the time I don't know if I'm lucky, if I'm simple or a combination of both, but this is all I've ever wanted to do. I've never given a single thought to doing anything other than coaching."
Contact reporter Mark Anderson at manderson@reviewjournal.com or 702-387-2914. Follow him on Twitter: @markanderson65.