Postcard from Brazil: Changing plans and moving on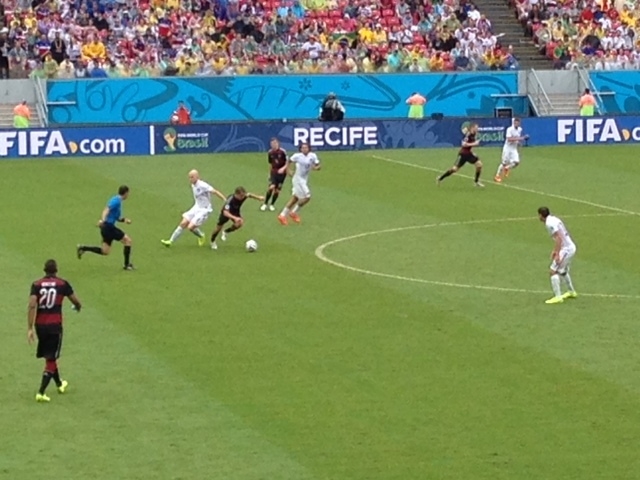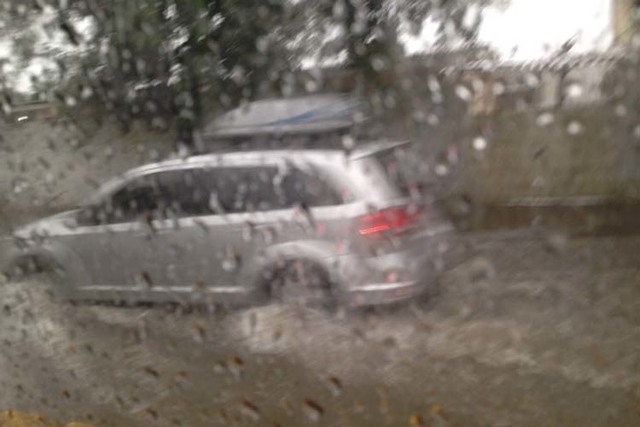 We met and made friends with Andrew and his cousin Adam from Baltimore, and Andrew's father Luciano, at our Boa Viagem area apartment in Recife.
We grabbed a cab to seek out the American Outlaws fan club party. Fitting the five of us in a tiny cab was quite the stretch and it turned out that the address we had was a bum one that led us on a wild goose chase.
We resorted to our phones, Google maps, the Outlaws' Facebook page, etc., to get us out of the middle of nowhere when the address to the pizza place spot ceased to exist.
Using data on your phone can prove to be expensive during international travel, and wifi becomes your best friend. If I were to get one tattoo to sum up the entire trip, it'd be that spinning circle ball of non-connectivity that has perplexed us constantly while in Brazil.
We finally arrived at the right place which was of course only two miles from where we'd started. There were huge lines to get into the Outlaws' party, one pretty deep for fans with tickets to it, and another wrapped way down the block for those that didn't.
We balked on it and hit up a nearby Shell gas station. The night before, cousin Drew and I played like Jay and Silent Bob at a different Shell station, drinking beers at its tables and microwaving and eating food all before being made to pay. "What a country!"
While in the long line of Americans at the Shell, word got around that there was another open air restaurant to be had nearby. We procured the last table there and before long, the place got crazy with all of us chanting and singing American classics. Hordes of fans were standing on chairs and tables belting out our ditties, and after a spell we were informed that we'd successfully drank the joint dry.
At that point, our table of five roused up the "hey, hey, hey, goodbye" chant that all joined in on as we exited.
On Thursday we hit the streets for a taxi with two Columbians and a Peruvian who were US fans from Jersey to head for the game at Arena Pernambuco.
The rains set in early morning and lasted all day and night. While along the Avenida Boa Viagem on the beach trying to take cover, the bigger Columbian offered Drew mineral water from his bottle. He took a swig and half choked, spitting some out. Drew had thought he'd heard "mineral" but had actually been offered "Smirnoff" from the Spanish accent!
The three peeled off to find their own taxi and we stuck to the beach avenue, that was busy and included a police motorcade for the German team bus.
Those three soon pulled up having successfully scored a cab, and invited us to cram in with them.
With Drew on my lap, we embarked on a long slow journey through flooded streets. We saw cars breaking down all over the place. One sighting included a fully-dressed Captain America fan abandoning his car alongside the highway and accepting a ride with other US fans while using his shield to ward off the downpour.
It took us almost two hours but we finally arrived at the stadium. We were treated to a good game, with our team thrilling us with two close chances to tie very late.
Out of the 41k crowd, our pal Will from California that we met at the bust station in Fortaleza, showed up in the row in front of us to add in our fun.
At the game's completion, we learned of the result of Portugal's 2-1 victory over Ghana that advanced us out of the group stage, and the US fans went berserk. We shook hands with the German fans, as we were never more excited after a loss. Joy spread among the stars and bars fans and everyone exalted with chants of "USA" and high fives.
After the game I spotted our Aussie Socceroos contingency we'd met in Fortaleza with Shell, her father Terry and brother Phil, and we shared beers and the long crowded walk to busses, trains, and taxis back into Recife with our soaking wet ponchos and clothes.
It was another memorable World Cup night as we went to bed proud of our team and its great accomplishment.