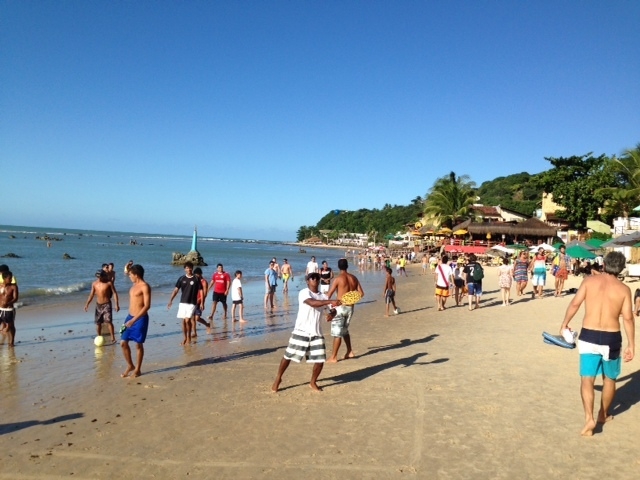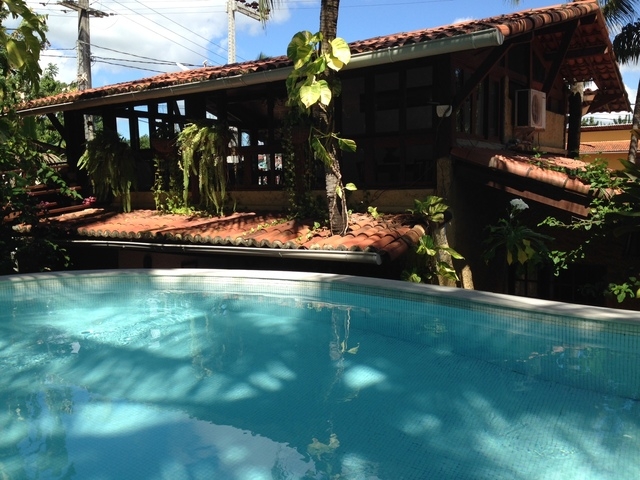 On Thursday we hopped a cab and met Rey, his girlfriend Carla and his best friend Eduardo at a bar near a university campus in Natal. We watched Uruguay's Luis Suarez's two goals put England on the brink of elimination, while a local band busted out the axé genre of music.
They then took us to a spot a short walk away to Arena das Dunas where we took in the Japan versus Greece game. We sat next to some Greek-Americans who held up posters that read "Gyros > Sushi" with pictures of a gyro and a sushi roll. Both nations were equally represented and the crowd of 40,267 was treated to a physical, scoreless draw.
Just like after the USA game, we wandered aimlessly for a taxi, as we were told that there wasn't an official stand for the entire stadium and to just hit the streets and hope. We re-visited the pizza place that held the Outlaws fan club USA game pre-party and amazingly the prices for food and beers returned to locals-friendly levels.
We found a cabbie and his circuitous route through cobblestone side streets could've easily resembled the dotted-line steps of Family Circus' Jeffrey retrieving the mail.
He dropped us off in Ponta Negra and we again enjoyed the nightlife there with a trip to a live music joint named Pepper's Hall. There was a stop-gap club system in place that took awhile to get into and they charged us around 30 Reals ($15) for a cover. Inside it swirled with bright colorful disco lighting and the band played Brazilian pop music. Back home, one wouldn't think that the place to be would feature a lead singer on accordion, but it was popular and packed.
We met three Japanese fans who were very friendly, and I conversed with them about my trip there in 2006.
On Friday, we took a taxi to a bus stop that was next to a Sam's Club. A local bus picked us up and with it being packed, we were made to stand in the aisle for over and hour as we made our way to Praia da Pipa. The inland route reminded us of our native Ohio, rolling up highway 71 with its green thick woods and many farms.
Once we landed at the bus station, we crossed over to a nice buffet restaurant and watched the end of Costa Rica's 1-0 win over Italy. A taxi took us to our pousada, and we enjoyed a restful nap during France's 5-2 win over the Swiss.
Pipa has pristine beaches backed by tall cliffs, dreamy lagoons, decent surfing, dolphin- and turtle-filled waters, global restaurants and good nightlife. It used to be just another small, roadless, fishing village when discovered by surfers in the 1970s, but today it rivals Brazil's Jericoacoara as the Northeast's hippest beach town, attracting partiers from Natal, João Pessoa, Recife and beyond at holidays and weekends, and a slew of international travelers year-round. Its laid-back, independent-traveler and ecological vibe sports ranks of umbrella'ed tables along the main beaches that cater to vanloads of day-trippers from Natal. Its main beach has fishing boats, numerous bars/restaurants, and rock pools at low tide.
Baia dos Golfinhos, to its west, is where dolphins come close inshore mornings: it's backed by by cliffs and accessible on foot within hours either side of low tide. Enterprising locals offer cold beer, coconuts and caipirinhas.
Praia do Amor is the advanced surf beach, and Lagoa de Guaraíras is one of the area's most stunning landscapes, a massive dune- and mangrove-bound lagoon, particularly spectacular at sunset.
Santuário Ecológico de Pipa is a small, privately owned reserve, which does a valuable job of protecting at least some of the Pipa coast from development. Well-marked trails there lead through forest to impressive lookouts over the bay, from which one can often see large green turtles at high tide.
We hit the well-lit cobblestone streets at night and they reminded me of Avalon at Santa Catalina Island or Put-In-Bay on Lake Erie's South Bass Island with its fun atmosphere of bars, restaurants and shops. We ate a huge frango (chicken) dinner and chatted with Uruguayans and Mexicans during the Honduras vs. Ecuador match.
We then enjoyed a drink at a restaurant that offered a solo Brazilian guitarist who played John Lennon's "Imagine" among his oeuvre. The streets really filled up and were quite rocking with loud music blaring out of the popular Oz Music bar.
After a few beers, we called it a night early and trudged back up a steep cobblestone lane to our pousada, stopping along the way to take in the brilliant night sky and the often-clandestine-to-the-States, vivid Milky Way galaxy stripe. Today promises another day of great soccer, but even better beach life and natural surroundings to explore.
Brennan Karle is a Las Vegas teacher who covers prep sports for the Review-Journal. He's in Brazil for the World Cup and will be sharing electronic postcards on his experiences. You can see photos of his trip on Instagram at brennankarle.