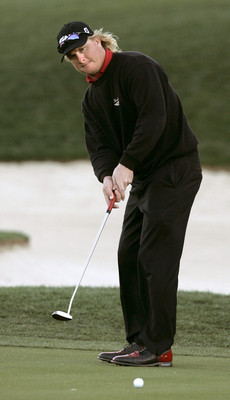 Adam Scott and Ryan Moore walked up the fairway together, smiling and enjoying the moment.
The two former UNLV golf standouts never were teammates. But on this late April day in Irving, Texas, they were co-stars of what would amount to a 70-minute infomercial for Rebels golf.
Scott bested Moore in a three-hole playoff to win the Byron Nelson Championship. Throughout the playoff, CBS announcer Jim Nantz kept referring to UNLV. He mentioned Dwaine Knight, pointing out his success in 21
years as Rebels golf coach.
"It was wonderful publicity for the program," Knight said. "To watch Adam and Ryan obviously made me very proud."
Another ex-UNLV golfer, Charley Hoffman, played in Moore's group in the final round of the Byron Nelson, which turned into a showcase for three of the four former Rebels who currently are regulars on the PGA Tour. Chad Campbell is the other.
UNLV products Chris Riley and Skip Kendall split time between the PGA Tour and the Nationwide Tour, golf's Triple-A level. Several former Rebels are playing on the Nationwide Tour, including Bill Lunde, Jeremy Anderson, James Oh, Andres Gonzales and Warren Schutte. Several others compete on the Gateway, Asian PGA, Canadian and Butch Harmon tours.
"There's a great tradition that has been built. It's great to see so many UNLV guys playing well," said Riley, who played for the Rebels from 1992 to 1996, graduated with a degree in communications and has earned $9,019,516 in 13 years as a pro.
The former Rebels each said their experience at UNLV helped them reach this stage of their professional careers, and several common themes emerged from their success stories.
The first was Knight.
"More than anything, being around Coach helped me get to where I am," said Campbell, who graduated from UNLV in 1996 with a degree in hotel administration and has earned $15,420,219 since turning pro in 1996. "He was such a big influence on my game. He taught me how to manage my game, how to manage my time away from golf. I improved my short game and my putting while I was at UNLV."
Hoffman said Knight's ability to recognize talent and then cultivate it is what makes the program successful year after year.
"He has the ability to recruit great players from all over the world," Hoffman said. "He didn't always get the most talented player, but he got the ones with the most potential, and through his coaching, he got the most out of them."
Knight said having played on the PGA Tour gives him a unique insight and he strives to pass that on to his players.
"We've always tried to prepare them for the next level," Knight said. "It's very difficult to get your PGA Tour card. There's a lot of great players. But we want to give them a taste of what it's going to be like while they're with us.
"Between school, golf and travel, there's not a lot of free time. So we always work with them on their time-management skills. I think it definitely helps them when they leave, whether they go on the tour or not."
Then, there's the quality of the courses they play while at UNLV.
Some schools have private courses on or near campus. UNLV doesn't have its own course, but the program hasn't lacked a suitable place to practice and play.
For years, the Rebels called Shadow Creek home. Steve Wynn owned the course from its 1989 opening until it was sold to the MGM Grand in 2000.
"It was a big factor in my decision to go to UNLV," Campbell said. "To have Shadow Creek as your home course? That was unbelievable."
The team currently calls Southern Highlands home.
The third factor is the weather. Las Vegas is conducive to playing golf any time of year.
"I grew up in Wisconsin, and for me, it was the first time I could play year-round," said Kendall, who graduated in 1987 with a degree in business administration. "Back home, my season began in May and ended in August. So when I got to UNLV and could play all year, that certainly helped."
Kendall, who played for the late Chub Drakulich at UNLV and has earned $7,632,572 since he turned pro in 1987, doubts he would have been able to play professionally had he chosen to stay home.
"No question, being able to play all the time helped me," Kendall said. "I was an average college player. But I was willing to work hard to get better, and being at UNLV enabled me to work on my game all the time."
Finally, there was the competition from within. With so much talent on the Rebels roster year after year, just securing a spot in the starting lineup requires stellar play.
Even Moore, who came to UNLV with impressive credentials in 2001, had to push himself to earn his spot.
"I'm where I want to be because of my college experience," said Moore, who turned pro in 2005 and has earned $4,471,164 but is still a few credits shy of obtaining his degree. "We had a talented team, and playing with those guys definitely helped me work harder to improve."
Hoffman, who graduated in 1999 with a degree in business and has earned $3,457,752 since turning pro in 2000, said every practice round at UNLV was pressure-packed.
"You had to play incredible just to earn a spot in the lineup," he said. "It definitely brought out the best in you."
The former Rebels say it's hard to keep track of the current team, given they're constantly on the move.
But almost all of them stay in touch with Knight, and he updates them on the program. It could be a phone call, an e-mail, a text message or a chance meeting at an airport, but the alumni remain connected with the program.
"I try to give back to the school," said Campbell, who along with Riley donated $180,000 to UNLV's professional golf management school. "I pull for them to do well."
Kendall said he'll see other UNLV alumni and they'll chat about all things Rebels, whether it's golf, basketball or football.
"It's a nice feeling to run into an alum," Kendall said. "I'll see Chris Riley and Jeremy Anderson and Bill Lunde, and we talk. We want each other to do well."
When Scott, Moore and Hoffman got together at the Byron Nelson, too much was riding on the outcome to reminisce.
"That was the farthest thing from our minds," Moore said of his matchup with Scott. "I was trying to win the tournament and so was Adam. But now that I look back on it, yeah, it was pretty cool to have two UNLV guys trying to win the tournament."
Scott, who played for UNLV from 1998 to 1999, refused to be interviewed for this story. The 27-year-old Australian has been the most successful ex-Rebel, having won six PGA Tour events and earned $18,131,325 since turning pro in 2000.
Hoffman said Scott still cares about UNLV, even if he was there only for a short time.
"I know Adam enjoyed his time," Hoffman said. "I think what happened was Coach wanted him to stay in school but Adam felt it was best for him to leave. It turned out to be the right decision, given what Adam's done on the tour."
Knight said he doesn't talk much with Scott, but that doesn't mean the two are on the outs.
"Not at all," Knight said. "We talk, but it's not on a regular basis. … He did the right thing when he left early."
Knight said while the playoff between Scott and Moore was under way, he received a message on his cell phone from Scott's father, Phil.
"He texted me and said, 'You've got this covered,' " Knight said. "I'm proud of all the guys we've sent on to the pros. They've been great ambassadors for the program and the community."
Contact reporter Steve Carp at scarp@reviewjournal.com or 702-387-2913.