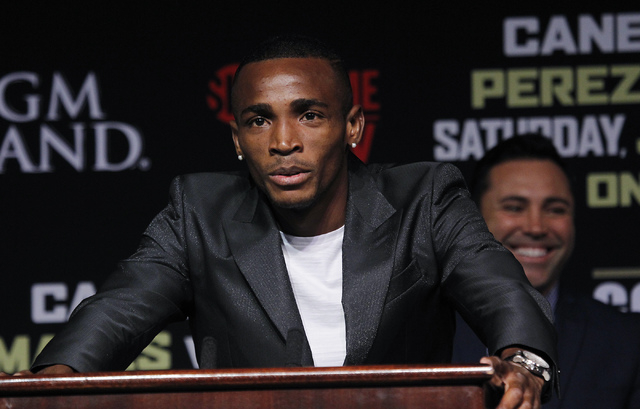 He's inquisitive. He likes to know why things are done a certain way.
That doesn't make Erislandy Lara a bad person or a prima donna. And in the case of Ronnie Shields, the man who has been entrusted with the career of the World Boxing Association junior middleweight champion, any question is welcomed.
They've been together four years and Lara is a world champion. So something must be working between the trainer and the fighter, who will face Canelo Alvarez on Saturday at the MGM Grand Garden in a 12-round nontitle fight to be contested at the catch weight of 155 pounds.
"He's the best trainer I ever had," said the Cuban-born Lara. "Ronnie knows exactly what he's doing. He's perfect for preparing me for any style opponent, and I trust him completely."
Some veteran trainers don't like to have their motives questioned, or the chemistry never connects in the gym, resulting in fight night failure, bad feelings and ultimately a parting of ways.
But Shields, based in Houston, said he welcomes the curiosity of the 31-year-old Lara (19-1, 12 knockouts) in the gym.
"He's a perfectionist," Shields said. "He wants to do everything right. What I try to do is explain what I'm doing and why I'm doing it. We'll talk about it and make sure he's comfortable with it, because if he's not comfortable doing it in the gym, how's he supposed to be comfortable doing it in the ring on fight night?"
Shields said Lara does not get defensive when Shields shows him ways to improve, the trainer said.
"He doesn't question my motives," Shields said. "He's a real student of boxing. And that's why we communicate and talk. Sometimes, he'll show me something which is similar to what I'm trying to do, and we get to the same place we want to get to, but we do it his way.
"But ultimately, he has to approve everything we do. He's the one who has to fight."
Lara said his defense has improved and he puts his combinations together since working with Shields.
"Ronnie understands how I fight, and he sees things in me and has made me better," Lara said.
The two met through Lara's co-manager, Luis De Cubas Jr., at a Lara fights in Chicago in 2009. De Cubas and Shields starting talking, and De Cubas asked Shields if he would be interested in working with Lara, who was 9-0 at the time.
"He was a natural talent, one of the best I'd ever seen," Shields said. "So when Luis asked me if I wanted to work with Lara, I said, 'Hell, yeah!' "
For Lara, it meant moving his training from Miami to Houston. But he has grown to like Texas, and their success has allowed Lara to fulfill his dream of being a world champion.
On Saturday, he can score the biggest win of his career by beating Alvarez (43-1-1, 31 KOs), whose only loss was to Floyd Mayweather Jr. in September.
"This is the reason I came to this country, to fight in these kind of fights," Lara said. "These are the kind of fights that make history.
"It's a good style matchup, because I know Canelo's going to try to press forward and press the action. That's the style I like. I like guys that come to fight, and I pick them apart and put them in the dirt. That's what I plan on doing."
■ NOTES — About 12,000 tickets had been sold for the fight as of Thursday afternoon. … Alvarez is a minus-210 betting favorite at the MGM Resorts sports books, with Lara plus-170. … Today's weigh-in is open to the public. Doors will open at 1 p.m., with the main event fighters on the scale at 3.
Contact reporter Steve Carp at scarp@reviewjournal.com or 702-387-2913. Follow him on Twitter: @stevecarprj.