PurpleStride Las Vegas race comes to Town Square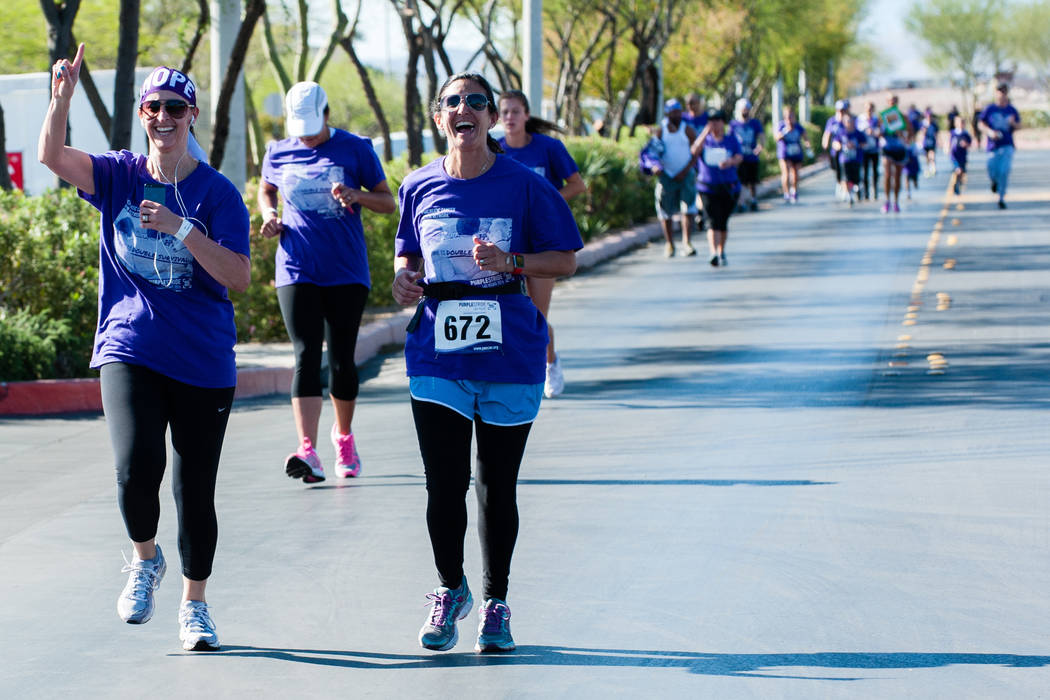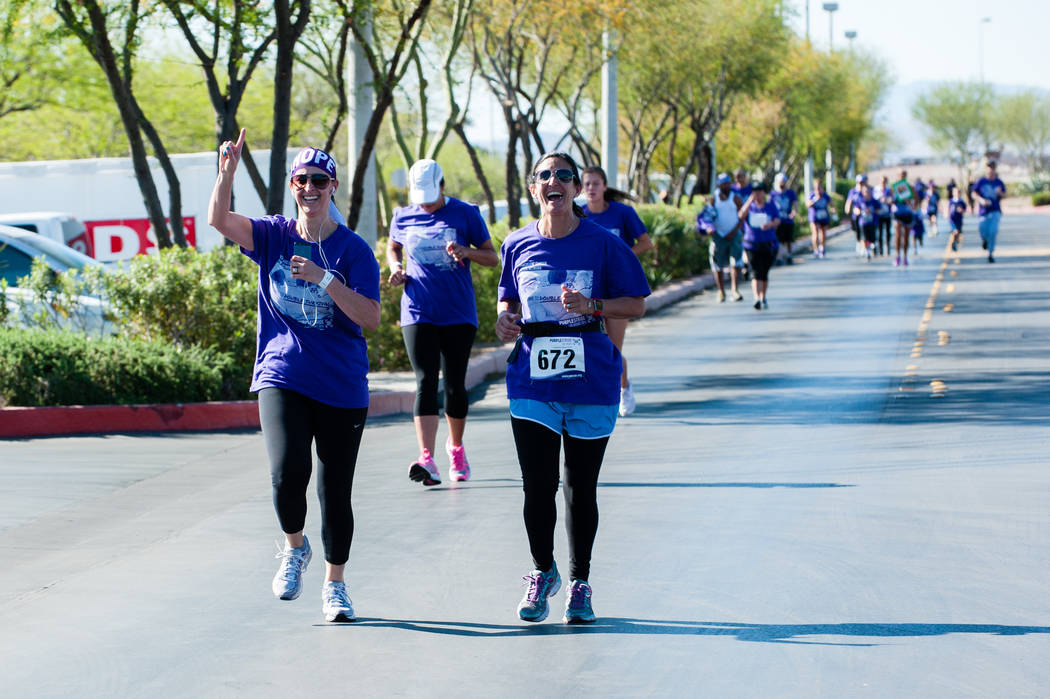 For one day, the Pancreatic Cancer Action Network will turn Town Square purple.
The PurpleStride Las Vegas race and walk returns Saturday to raise money and awareness for pancreatic cancer, the third-leading cause of cancer-related deaths in the country.
"Wage hope is our battle cry," Las Vegas affiliate event chair Renae Egan said. "Our battle cry is that we want to wage hope for the future, wage hope for a cure for pancreatic cancer … wage hope that we can get rid of pancreatic cancer."
After drawing about 800 participants the first year and about 1,000 last year, Egan is expecting more than 1,200 this year.
Organizers are on pace to break the $100,000 mark in money raised for the first time in three years, with more than 80 percent of the $103,000 goal raised.
As of Tuesday afternoon, Proud Mary, led by team captain Christine Yuhas, was leading the way with $9,113 raised in honor of Yuhas' mother, Mary Louise Yuhas, and cousin, Debbie Sartori Natali, who both died of pancreatic cancer.
Registration for the Las Vegas event, one of 56 the organization hosts around the country, is open until race day, while online registration at purplestride.org is open through Wednesday.
"This cancer is very doom and gloom," Egan said. "There's very little survivor rate. It's very lethal, so we make this event very family friendly. We turn Town Square very purple, and we really try to have a lot of fun with it and come out and celebrate a day of hope."
ROCK 'N' ROLL REGISTRATION
Registration is open for all distances of the Rock 'n' Roll Marathon.
The marathon, which shuts down the Strip at night, will be Nov. 12.
The full marathon cost is $135, with the half marathon $125, the 10K $70 and the Nov. 11 5K $50.
RUNNING CHALLENGE
Mina Guli, the founder of Thirst, "an educational charity that teaches future leaders about water conservation," will begin a running challenge Wednesday on World Water Day to raise awareness about water scarcity around the world.
Guli is beginning her 6 River Run by running around Las Vegas, the Grand Canyon and Lake Mead by the Colorado River from Wednesday to Sunday.
She then will run along rivers in five other continents for a total of 1,048 miles in six weeks.
Contact Betsy Helfand at bhelfand@reviewjournal.com. Follow @BetsyHelfand on Twitter.
CALENDAR
Saturday: 5k Color Blast Color Run, Las Vegas
Saturday: Fallen Heroes 5k, Henderson
Saturday: Las Vegas Margarita Madness 5k, Henderson
Saturday: PurpleStride Las Vegas 5k, Las Vegas
Saturday: Windy25 Memorial 5k, Las Vegas