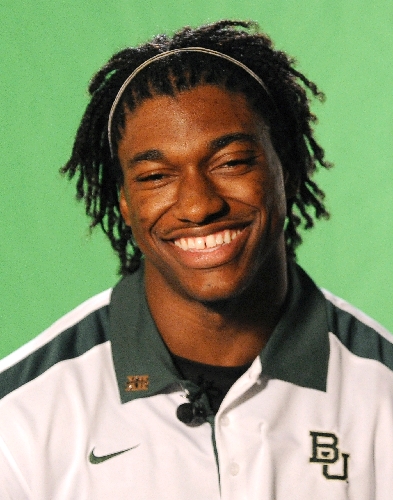 Robert Griffin III played football for years simply because he was good at it.
Then Baylor's exciting dual-threat quarterback tore the anterior cruciate ligament in his right knee and missed the 2009 season's final nine games. While stuck on the sideline watching, he realized how much he loved the game.
"After a knee injury like that, a lot of times you see guys come back and it's not the same," Griffin said. "So I didn't want that to be attached to me, great player, got hurt, never was the same. … My goal was to come back better, not only for myself but for my teammates."
Goal accomplished for Griffin, who excelled while raising Baylor out of the Big 12 basement.
Already the winner of the Heisman Trophy and Davey O'Brien Award, Griffin won AP Player of the Year on Wednesday.
The aspiring lawyer, who arrived at Baylor nearly four years ago as a 17-year-old after graduating high school early, is the nation's most efficient passer this season, throwing for 3,998 yards with a Big 12-leading 36 touchdowns and six interceptions. He also ran for 644 yards and nine touchdowns.
Griffin got 43 votes. Stanford quarterback Andrew Luck was second with seven, followed by Louisiana State cornerback Tyrann Mathieu (five) and Alabama tailback Trent Richardson (one).
■ YALE — Tom Williams resigned as coach amid a university investigation into whether he lied on his resume about being a candidate for a Rhodes scholarship while a student at Stanford.
The university began an investigation in November after The New York Times reported officials of the Rhodes Trust said they had no records of Williams applying for the fellowship when he graduated from Stanford in 1992. Williams said in a statement Wednesday that Stanford's fellowship office encouraged him to apply for the scholarship but acknowledged he never did.
■ NORTH CAROLINA — Senior receiver Dwight Jones was reinstated and will play in Monday's Independence Bowl against Missouri. The move came a day after the school declared him ineligible and applied to the NCAA for reinstatement after a secondary violation in which he allowed his name and photo to be used on a flyer promoting a New Year's Eve party.
Also, interim coach Everett Withers is heading to Ohio State to become Urban Meyer's co-defensive coordinator.
■ HOUSTON — Tony Levine will be named the Cougars' full-time coach today. Levine, 39, was the team's assistant head coach and special teams coordinator but was promoted to interim coach Dec. 10 when coach Kevin Sumlin took the Texas A&M job.
■ HAWAII BOWL — The Hawaii Bowl will feature a team from the Mountain West Conference in 2012 and 2013. The decision comes as Hawaii moves from the Western Athletic Conference to the Mountain West next season.
A team from the MWC will face a team from Conference USA, which has been associated with the Hawaii Bowl since its inception in 2002.