Quaney quickly subdues Centennial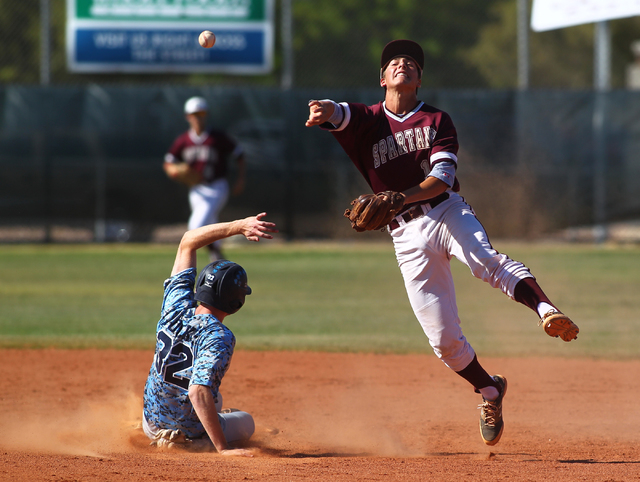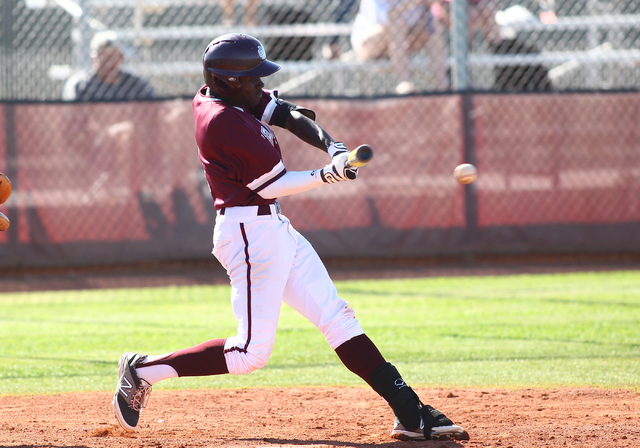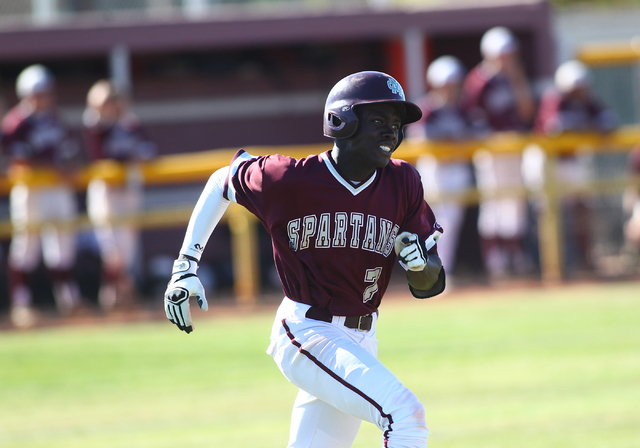 The opportunity for a big first inning was there for the Centennial and Cimarron-Memorial baseball teams Tuesday.
Only the host Spartans capitalized.
Cimarron turned two mistakes by the Bulldogs in the first inning into three runs and rode a strong outing by right-hander Larry Quaney to an 8-3 victory.
The win pushed the No. 6 Spartans (19-7, 5-2 Southwest League) into a second-place tie with Centennial with three league games remaining.
"Quaney won that game for us on the mound. Period. End of story," Cimarron coach Mike Hubel said.
Quaney struck out 10 in 6 1/3 innings and didn't walk a batter while allowing seven hits. His most important work came in the first, when he kept the No. 5 Bulldogs (18-10, 5-2) from jumping to an early lead.
Ricky Koplow led off the game with a triple to right field, and Tanner Wright reached on a dropped third strike to put runners on first and third with no outs. Quaney then struck out the next three batters to escape unscathed.
In the bottom of the first, Logan Bottrell led off with a single and stole second. He then scored Cimarron's first run courtesy of a throwing error on Micquel Robinson's grounder.
Adam Mitchell followed with a sun-aided double to right, putting runners on second and third with no outs. Trevor Lippard's run-scoring groundout made the score 2-0, and Niko Decolati's sacrifice fly gave the Spartans a three-run advantage.
"They gave us those first three runs," Hubel said. "I'll take runs any way we can get them. We need them. If it's free, it's for me."
That was plenty of support for Quaney, who threw 111 pitches, including 80 for strikes.
"Larry is Larry," Hubel said. "You know he's going to come out and pound the strike zone, and he's good at what he does."
Centennial's Jake Portaro went 3-for-4 with a run-scoring single in the third and an RBI double in the seventh off reliever Tyler Giovinco. Cooper Powell finished 2-for-4 with an RBI for the Bulldogs.
The Spartans went up 4-1 in the fifth after Centennial's third error and used three hits, three walks and a hit batter to blow the game open with four runs in the sixth.
Bottrell was 2-for-3 with one RBI and two stolen bases to lead Cimarron.
"It's always nice to be in a good position like we are," Hubel said. "The first time around, we lost a couple (league) games and you try to get it done the second round. We just have to come out every day and compete."
Contact reporter David Schoen at dschoen@reviewjournal.com or 702-387-5203. Follow him on Twitter: @DavidSchoenLVRJ.