Quarterback King released as part of Gladiators' shake-up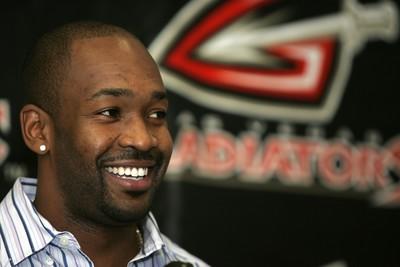 After the season's most disheartening loss, Sunday's 65-31 defeat to Kansas City, Las Vegas Gladiators coach Danton Barto said he would consider major changes.
He and the Arena Football League organization followed through Tuesday by waiving quarterback Shaun King — the headline in a series of moves.
The club also released defensive backs Dahnel Singfield and Vontez Duff, and fired defensive line coach Brian Kelly.
With King gone, the Gladiators — 1-5 and playing at Georgia on Sunday — turn over the reins to Brian Jones, a starter the past three seasons with the Memphis Xplorers of af2, where Barto was coach.
Nick Rolovich signed to back up Jones. Rolovich was the backup to San Jose's Mark Grieb in 2004 and 2005.
General manager Sam Jankovich said the decision to release King was a mutual one with the quarterback, though the club "initiated" the talk.
"We feel bad that Shaun didn't have the success that we anticipated," Jankovich said. "Shaun was hurt early. It's a whole different ballgame (from the NFL), and it takes time to get adjusted. So really, when it's all said and done, it's in Shaun's best interest, and Danton and the Gladiator football team, it's in their best interest at this time."
King, who played seven seasons in the NFL, said he would stay in Las Vegas for a while to weigh his options. He said he already has been contacted by some NFL clubs, and he might even try the AFL again.
Also, coaching could be the next career move. King said he "turned down some Division I-A (assistant) coaching jobs at some major programs" to sign with the Gladiators.
"I'm disappointed that it didn't work out," King said. "The city of Las Vegas is a great place for a pro team, and eventually it's going to work out here.
"I felt it would be better if we go our separate ways, and I wish them the best."
King said he established some good friendships with teammates, and that he especially appreciated his relationship with Jankovich.
However, King was critical of the coaches and his teammates after a 68-41 loss at Arizona on March 23. When asked if he still believed what he said, specifically as it related to Barto, or whether it was a moment of frustration, King did not address the subject.
"That's stuff that only time will tell," King said. "Hopefully, they'll make the necessary adjustments to turn it around."
Barto said King's earlier comments did not factor into the decision to release him.
Instead, Barto said the loss to Kansas City — in which the Gladiators trailed 34-3 early in the second quarter — was the tipping point not only to part ways with King but the others, as well.
"After a performance like that, you've got to re-evaluate everything as an organization," Barto said. "That's embarrassing. Even watching film, it was even more embarrassing. We've got to make changes to get better. We owe that to the organization. I definitely do. I owe that to the fans that paid the money to come watch us play."
The changes, Barto said, went beyond strategy.
"I just felt we needed to do some things and shake some things up to try to get this team motivated again to give effort," Barto said. "… We're trying to find a way to ignite this organization, and hopefully some of these moves will help."
Las Vegas Gladiators