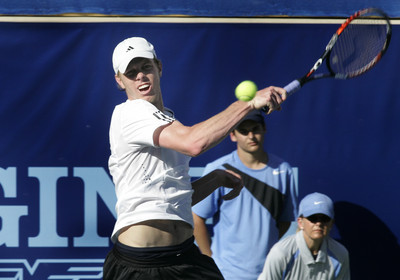 Sam Querrey now has two reasons to remember Las Vegas.
Querrey, 20, spent part of his youth here, from 1995 to 1998, learning to play tennis. On Sunday, he placed a major deposit into his memory bank, capturing his first ATP Tour title by defeating Kevin Anderson 4-6, 6-3, 6-4 in the Tennis Channel Open final at the Darling Tennis Center.
"It's very special, especially because I lived here for a while and I still have a lot of friends here," Querrey said. "But it was a tough match. He played unbelievable. That's what also makes it special, the fact I had to work so hard to win."
Querrey made $68,800 for his victory, and when today's ATP rankings are released, he'll be No. 47, tying the highest ranking in his three-year pro career. He managed to win despite 33 unforced errors and five double-faults.
"It was tough to get a rhythm against him because he hits it so hard and heavy," Querrey said of the 6-foot-7-inch Anderson. "But I felt I played better as the match went on."
Anderson, playing in his first ATP final, knew he squandered a great opportunity. But he was just 1 of 10 on break-point chances, and in a match this close and competitive, that was enough to do him in.
"It came down to a couple of break points where I needed to make those shots and I didn't," Anderson said. "I wasn't able to handle my break point chances as well as he did."
Anderson broke Querrey in the opening game. He had numerous chances to break Querrey again at 5-3 to take the set. But Querrey fired a 132-mph ace to hold and make it 5-4. However, Anderson quickly closed out the set on his serve.
"Those are the kind of games you have to win," Querrey said of the 19-minute game that had eight deuce points. "Games like that feel like they take forever."
Querrey finally got his first break when Anderson couldn't convert at 4-3 in the second set. Querrey served out the set, then picked up the tempo in the third. Fatigue began setting in for Anderson, which was no surprise, considering the former Illinois star had to qualify to get into the main draw and had played more tennis this week than anyone.
"Yeah, I was feeling it," Anderson said. "But that's expected. The frustrating part is having chances and not being able to win those points."
Querrey got the opening he needed in the final set by breaking Anderson in the fifth game, with the South African sending a backhand return wide to fall behind 3-2. Querrey held serve the rest of the way, finishing off Anderson in style with a 127-mph ace up the middle on match point.
"It's a huge momentum booster for me," said Querrey, who is headed to Indian Wells, Calif., to play in the main draw of the Pacific Life Open, which begins Wednesday. "It's nice to be in the top 50. I was there for a couple of weeks last year. Now I hope I can stick around for a while."
Querrey's victory gave the Americans a split Sunday. In the men's doubles final, Mike and Bob Bryan's quest for a third straight Tennis Channel Open title was denied by Julien Benneteau and Michael Llodra. The French duo defeated the Bryan brothers, 6-4, 4-6, 10-8. Benneteau and Llodra will split $20,500.
Contact reporter Steve Carp at scarp@reviewjournal.com or (702) 387-2913.