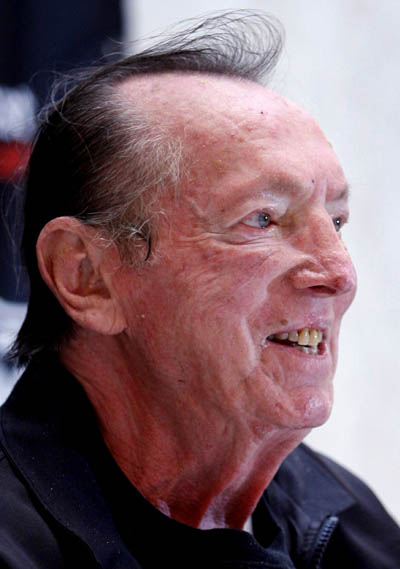 Sympathy for Al Davis is in short supply. The 79-year-old continues to run the Oakland Raiders into the ground with oddball antics and terrible business decisions.
With his slicked-back hair and wardrobe of white jumpsuits, Davis has become a comedic figure as the Raiders disintegrate into the biggest joke in the NFL. Their 19-62 record in the past five years is the worst in the league.
"It's hard to pity a dictator, even when he grows old and decrepit," wrote Dave Krieger of the Rocky Mountain News. "Davis goes right on running the Raiders like a medieval fiefdom, meddling in every decision from behind his walker, despite ample evidence that his football thinking has not been cutting edge since sometime in the 1980s."
Davis has gone through five coaches — Jon Gruden, Bill Callahan, Norv Turner, Art Shell and Lane Kiffin — in the past seven years, and Kiffin seems doomed after Oakland's humiliating 41-14 loss to the Denver Broncos on Monday.
• AWFUL ANNOUNCERS — One of the world's great mysteries is how Tony Kornheiser, who knows little about football, remains employed as a "Monday Night Football" analyst.
But nothing can be worse than the three-man stooge routine that ESPN presented Monday for the Broncos-Raiders debacle. The booth was crowded with three Mikes — Mike Greenberg, Mike Golic and Mike Ditka.
A sample of their wisdom, courtesy of awfulannouncing.blogspot.com:
"And bear in mind that the yellow line isn't actually on the field. The referees don't see that." — Greenberg.
"You remember what happened when Eddie Pipp got hurt? A guy named Lou Gehrig took over." — Ditka.
• K-ROD NO TRUE SAVIOR — Los Angeles Angels closer Francisco Rodriguez got his 56th save Wednesday, moving him within one of Bobby Thigpen's 18-year-old major league record. But Tom Verducci of SI.com is unimpressed.
"Rodriguez has come to personify the universal over-specialization of the modern bullpen," Verducci wrote. "Not once in his 68 appearances this year has he obtained more than three outs. He never has pitched with his team trailing, and only five times has he pitched with the game tied, and only seven times did he enter with a runner on. He has six blown saves.
"Rodriguez is eligible for free agency after this season. Would you want to pay $15 million a year for a guy who doesn't pitch before the ninth inning, who has made the majority of his appearances with a lead of at least two runs in the ninth inning — a comfort zone even average relievers will convert (at) more than 90 percent?"
• SINGLE AND AVAILABLE — Natalie Gulbis, LPGA star and Lake Las Vegas resident, revealed she is single and on the market in an interview with Golf.com.
Q: Does an average Joe have any shot of dating you?
Gulbis: "Absolutely. I'm pretty open-minded with who I date."
This is good news for average guys. Apparently, you don't have to be Ben Roethlisberger to play a round with Gulbis.
COMPILED BY MATT YOUMANS REVIEW-JOURNAL