5 things to know about Raiders' Week 13 opponent: KC Chiefs
November 29, 2018 - 11:50 am
Updated November 29, 2018 - 12:02 pm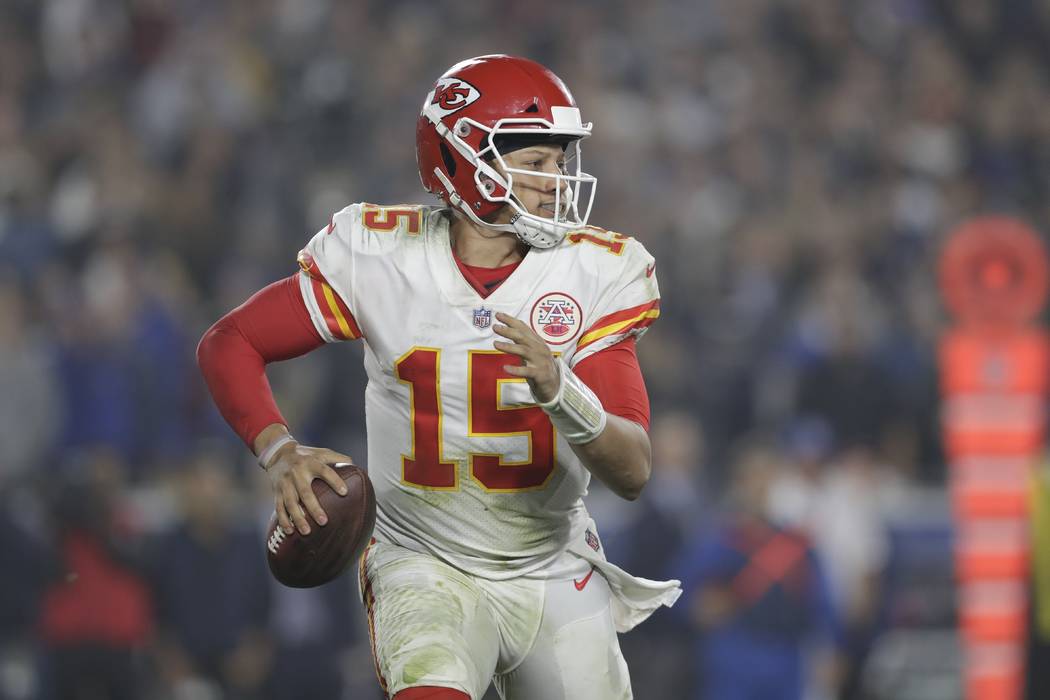 The Raiders will host the Chiefs at 1:05 p.m. Sunday in an AFC West showdown.
The first-place Chiefs are coming off a bye week. Here are five things you need to know about the Raiders' Week 13 opponent:
1. Surging Mahomes
Patrick Mahomes is coming off arguably the worst game of his young career. Mahomes threw for six touchdowns, but had five turnovers in a 54-51 loss to the Los Angeles Rams. Most quarterbacks go a whole career without throwing six touchdowns in a game. Mahomes has done it twice in his first-year as a starter and is in the running for MVP this season. Mahomes leads the NFL in touchdown passes with 37, eight more than Drew Brees entering Week 13. But Brees only has two interceptions and Mahomes has 10. That's a reason why many pundits have Brees as the MVP over Mahomes. Expect the Chiefs quarterback to bounce back against a poor Raiders secondary.
2. Cheetah on the prowl
Tyreek Hill is usually on the other end of Mahomes' deep passes. Hill's speed also makes him dangerous as a kick returner. But this season, Hill has turned into one of the best receivers in the NFL and could be making an All-Pro team. Hill's receiving numbers are at the top of most categories with 65 receptions for 1,106 yards and 11 touchdowns. Hill is averaging 17 yards per reception and has 22 catches for more than 20 yards. Hill is not alone in the passing game next to three-time Pro Bowl tight end Travis Kelce and wideout Sammy Watkins.
3. Explosive running game
Kareem Hunt led the league in rushing yards during his rookie year and he's near the top again. But he's also a big weapon in the passing game. Hunt has recorded 824 rushing yards with seven touchdowns and 378 receiving yards. He could have a big day on the ground against the Raiders, one of the worst rushing defenses in the league.
4. Underrated front seven
The Chiefs' defense was hammered by pundits for allowing the Rams to score 54 points in the wild "Monday Night Football" shootout. But that final score is misleading. The Chiefs' front seven was a big reason why Rams quarterback Jared Goff struggled for the first three quarters. The Chiefs recorded five sacks and Allen Bailey ran for a touchdown on Justin Houston's strip sack. The Chiefs' front seven has been making big plays all season. Before their bye week, the Chiefs were ranked second in sacks with 36.
5. Weak link
The Chiefs are loaded in every area besides secondary. They've been torched all season by opposing quarterbacks. After 11 games, the Chiefs were at the bottom in passing yards allowed with 3,269, for an average of 297 yards per game. With Derek Carr picking up his play in the past month, the Raiders could find some success.
Contact Gilbert Manzano at gmanzano@reviewjournal.com. Follow @GManzano24 on Twitter.