8 over/under questions for the Raiders' 2018 season
September 7, 2018 - 9:00 am
Updated September 7, 2018 - 9:46 am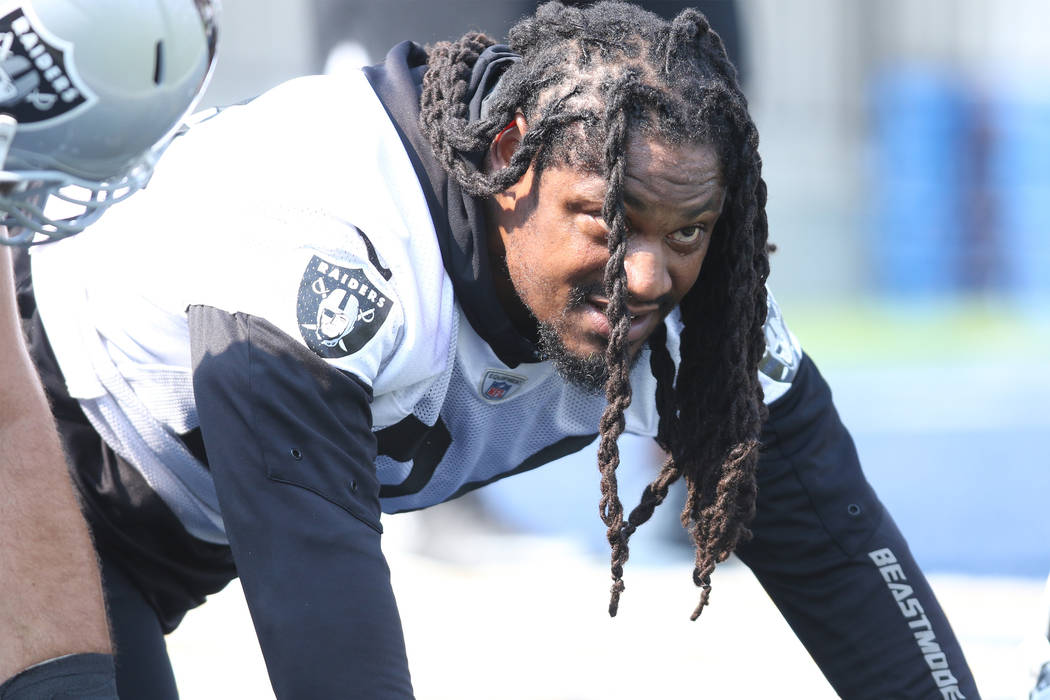 Review-Journal reporters Ed Graney (EG), Michael Gehlken (MG) and Gilbert Manzano (GM) make over/under predictions on 10 Raiders questions for the 2018 season:
1. Derek Carr 4,000 passing yards?
EG, over: He has come close to the number twice — 3,987 in 2015 and 3,937 the following season — and you figure the Raiders will trail in enough games to afford him the number of attempts needed. Doesn't the chance of Jon Gruden calling for Spider 2 Y Banana like 1,000 times make this a lock?
MG, over: NFL quarterbacks have reached this threshold 53 times in the past five years. Health and game flow largely will dictate whether Carr does so. Should he, Amari Cooper and Jordy Nelson stay healthy, a career-high yardage season seems plausible.
GM, over: The best quarterbacks regularly go over this benchmark. With Gruden calling the plays, Carr will air it out more and play like he did in 2016, when he was an MVP candidate.
2. Marshawn Lynch 1,000 rushing yards?
EG, under: He's a 32-year-old running back who last rushed for 1,000 yards in 2014, and you know the team didn't sign Doug Martin to simply warm a bench.
MG, under: He logged 135 carries for 625 yards and five touchdowns in the final eight games of 2017, so this is an entirely realistic goal. But a couple of factors beyond Lynch's control, namely game flow and competition for carries, are of concern.
GM, over: Father Time is coming for Lynch, but won't catch him this year. He proved on his 60-yard run that was called back in the preseason opener that he can still make cuts and explode up the field. Prepare for more "Beast Quakes."
3. Doug Martin games played 8?
EG, over: I get the skeptics on this one, but even over a six-year career that has seen Martin play 16 games just once and deal with both injuries and a four-game suspension for violating the league's substance abuse policy, he has still averaged 11.3. Given Lynch's age, why wouldn't Martin play in more than half the team's games?
MG, over: I could never in good conscience predict a player to be injured. Hope he plays all 16.
GM, under: This preseason showed how deep the Raiders are at running back. Lynch will carry the load with Jalen Richard and training camp MVP Chris Warren III splitting carries. Not enough snaps for Martin.
4. Donald Penn game starts at left tackle 5?
EG, under: Kolton Miller as a rookie won the left tackle spot and it's difficult to imagine, barring injury or Carr getting drilled on a consistent basis, the team stunting the maturation process of the 15th overall pick in the 2018 draft. Penn has a new home on the right side.
MG, under: It likely would take a Kolton Miller injury for an in-season switch to occur. See above.
GM, over: It doesn't make sense to have your three-time Pro Bowl left tackle playing on the right side. Eventually the Raiders pull the plug on this experiment. Let Miller learn before throwing him to the wolves.
5. Jordy Nelson 70 catches?
EG, over: For any relationship to be successful, there needs to be communication, appreciation and understanding. Which is another way of saying Carr isn't Brett Hundley, and Nelson's decline last year when Aaron Rodgers went down in Green Bay — nine straight games with fewer than 40 receiving yards and none with more than 80 — should be rectified with a much better quarterback.
MG, over: Nelson had a terrific training camp, showing steady flashes of the player who averaged 93.3 receptions from 2014-16 in Green Bay. A professional route runner. Good size. His grasp of the offense will enable versatility within it. Much of the passing game's productivity should be concentrated between Nelson and Amari Cooper.
GM, under: Nelson will be a big part of the offense and Carr's security blanket, but there might be too many mouths to feed with Cooper, Jared Cook and the recent addition of Brandon LaFell.
6. Amari Cooper 8.5 touchdown receptions?
EG, over: He played on a bad foot all last season and still caught seven TDs, and with Michael Crabtree gone, Cooper becomes the biggest red-zone target.
MG, under: Cooper is entirely capable of pushing past 1,200 yards this season. But red-zone play isn't his strength, and only six NFL wide receivers went "over" in 2017.
GM, over: Many believe Cooper has underperformed since being drafted fourth overall in 2015. He'll be motivated to play at a high level with a possible contract extension looming.
7. Raiders team interceptions 12?
EG, under: You mean the side that had a total of five last season and didn't record its first until Week 12? It's tough to imagine the team being worse, but it's also really tough to think anyone is going to give it their best Lester Hayes impression and help push this over the number.
MG, over: There has to be some improvement from five interceptions … right?
GM, under: Whenever a defensive back gets cut, the Raiders usually come up as "interested." This secondary is still not very good, and Gruden knows it.
8. Jon Gruden mentions Las Vegas in news conferences 3.5?
EG, N/A: This will fall strictly on where R-J beat writer Michael Gehlken sits, because you can bet that kid will dictate his prediction by either asking Gruden Las Vegas-based questions every day after practice or not mentioning Nevada all season. He's a sly one, that Gehlken.
MG, under: He hasn't mentioned the city since his introduction as Raiders coach on Jan. 9, and that quote memorably was, "I'll let Mark talk about Vegas," in reference to team owner Mark Davis.
GM, over: There will be one memorable news conference with Gruden repeatedly saying, "I'm not talking Las Vegas."
More Raiders: Follow all of our Raiders coverage online at reviewjournal.com/Raiders and @NFLinVegas on Twitter.