Devout Raiders fans sign up for a special hobby: autographs
Updated October 22, 2018 - 5:06 am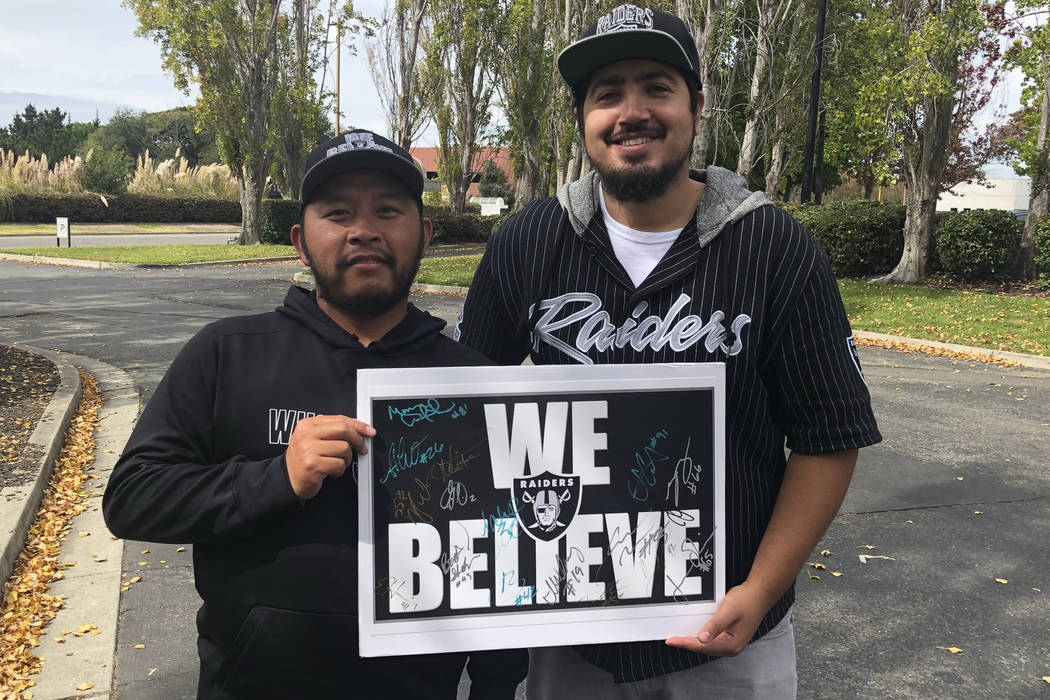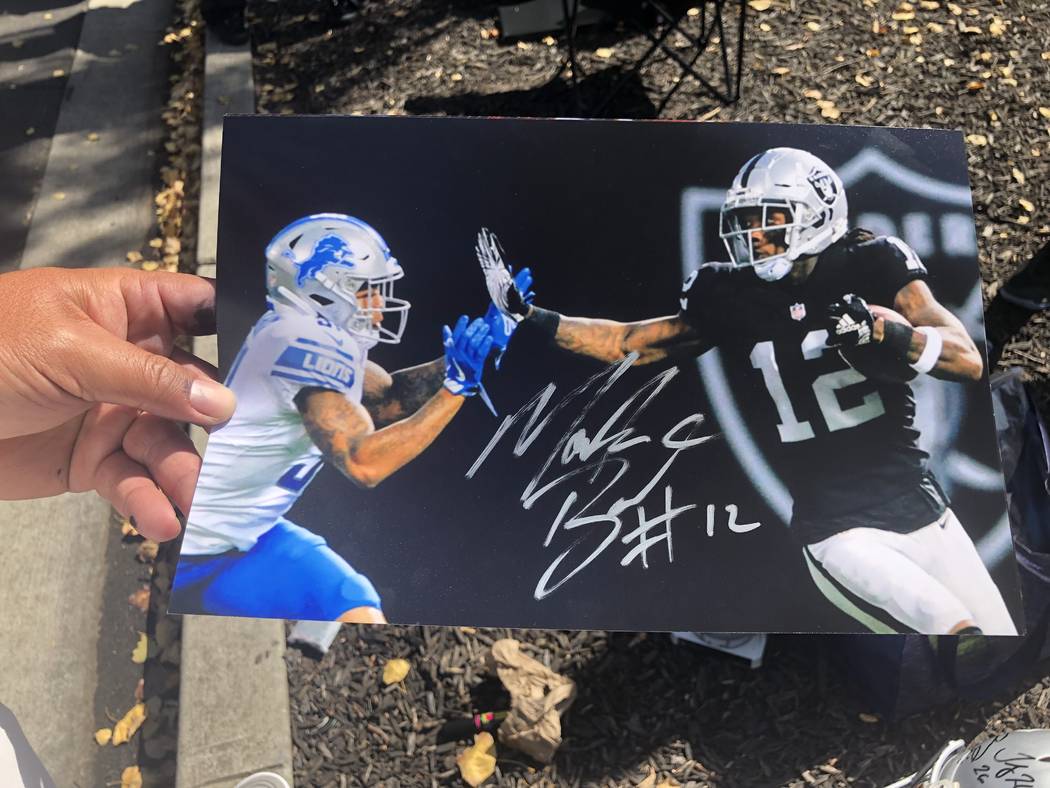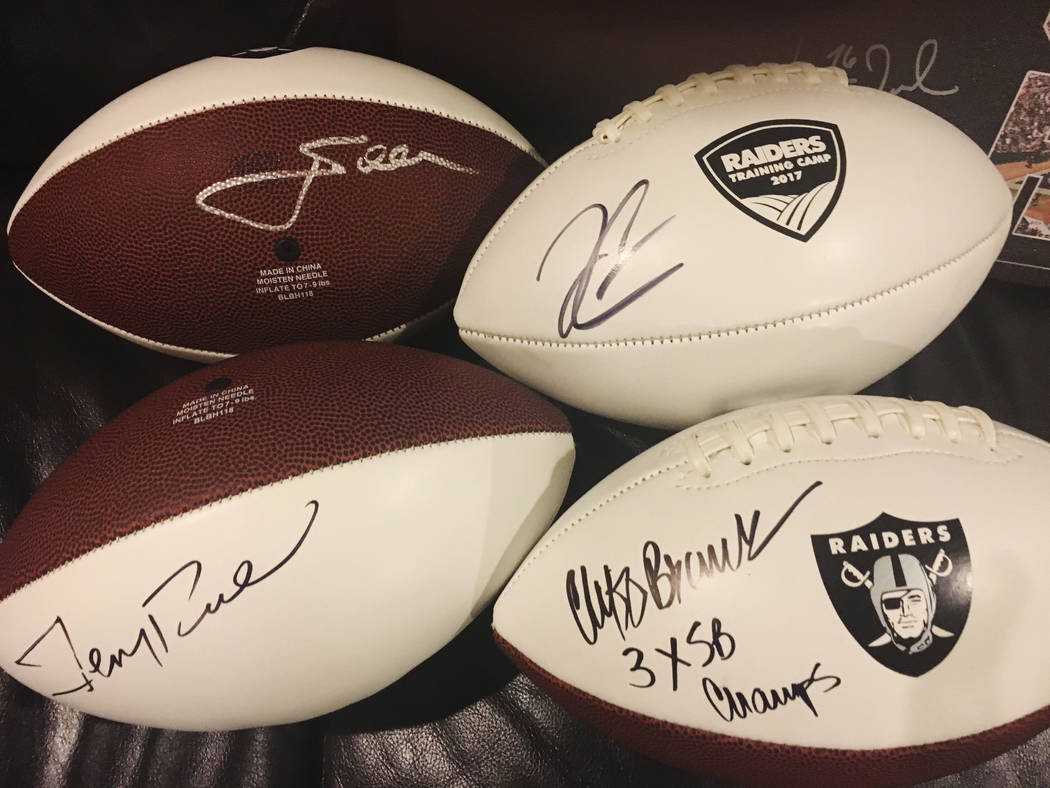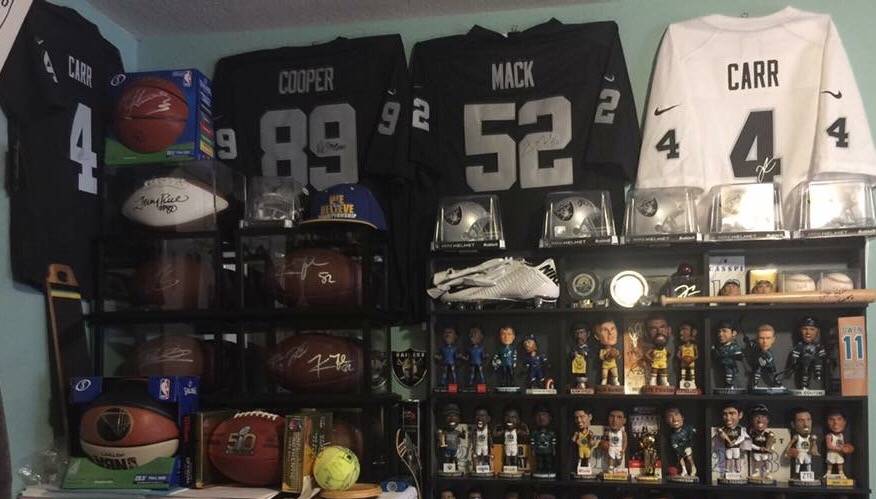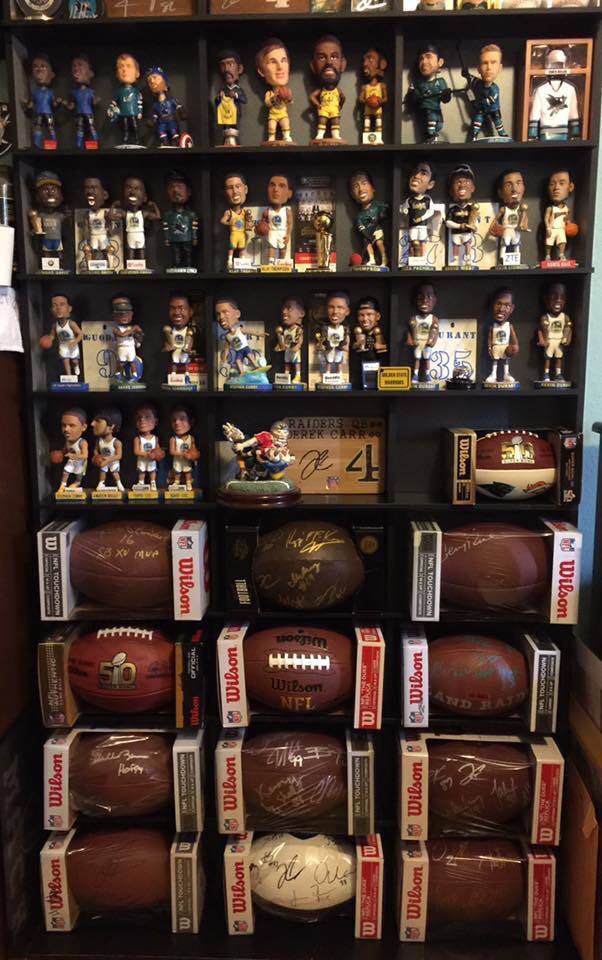 ALAMEDA, Calif. — On the Monday following a Raiders loss, Hein Tu stood in his usual spot outside team headquarters, wearing a black hat that read "We Believe" in silver capital letters and a black sweatshirt that read "Who You With?" above a club logo. About 20 minutes passed without a vehicle emerging from the employee gate.
Finally, a truck bent the corner of a paved road.
From along the road's curb, Tu sized up the vehicle 30 yards away. He largely knows which players drive what, the difference between former kicker Sebastian Janikowski's truck, which routinely blasted Polish rap music, and that of reserve center/guard Jon Feliciano, quarterback Derek Carr or tight end Lee Smith.
Tu searched his mental garage.
"Feliciano," he said decidedly and then shouted the lineman's last name. Two minutes later, another truck turned the corner, this one belonging to a starting guard.
"Gabe Jackson," Tu said. He shouted again.
Tu and Jose Valenzuela, both Raiders season ticket holders, were the only fans present on this September afternoon. Such is often the case. During a difficult 1-5 season that has seen players come and go, Tu and other autograph seekers are a constant. But fans don't flag down athletes merely to accumulate signatures. They give back, part of a symbiotic relationship that transcends wins and losses.
Tu, 35, has collected more than 1,000 signatures in the past three years, he said. Valenzuela, 29, estimated he is around 500. Some athletes are from other local teams, but most are Raiders players. Neither fan sells the autographs they receive, a point of pride for them both.
"Never," Tu said.
"Ever," Valenzuela added.
All Raiders staffers have seen Tu and Valenzuela when entering or exiting the facility. There, they stand for hours with helmets, jerseys, photos and footballs. Some players drive past without slowing down. Many stop and roll down their window. Others exit their vehicle entirely and take photographs with supporters, whom they've come to recognize but whose stories they do not know.
These are the men who wait outside.
Storage wars
Autographed Raiders jerseys of wide receiver Amari Cooper, ex-defensive end Khalil Mack and Carr hang against a wall near the bedroom ceiling. More than a dozen footballs are either stacked off the floor in their original boxes or sit encased in a wall unit. All footballs are autographed, including by such legends as Pro Football Hall of Fame inductees Willie Brown and Jerry Rice.
Signed Raiders minihelmets sit on the top shelf. Below them, there are dozens of Bay Area sports bobbleheads.
This is the bedroom of Tu's son. Dad decorated it with his own collectibles.
Just one problem: The 10-year-old is not a Raiders fan. Not yet, at least.
"He doesn't care," Tu said of the decor. "As long as I put a TV and PS4 right there for him, he's happy."
Acquiring signatures can be a difficult feat, a process that requires dedication, time and money. Just as difficult can be finding storage space. This is one of the unintended challenges for autograph hobbyists, who must budget showcase room for what they collect since they decline to sell it.
Closet aside, Tu largely has run out of room inside his San Lorenzo house. So, the husband and father of two tactfully chooses which items he wants players to sign. For example, when visiting the facility, he carries hundreds of photos in a binder. This well-organized collection is efficient, given the binder's lack of bulk. Player photos are arranged by ascending jersey number. There is a blue tab for 10 jerseys at a time, beginning with one to nine, 10 to 19 and so forth.
If Carr stops by, Tu quickly flips to the first tab sequence for No. 4.
If safety Erik Harris does, he flips to the 20s for No. 25.
Tu works nearby in Alameda as a tennis director at Harbor Bay Club. It is convenient for him to swing by headquarters once or twice a week. His 10-year-old son confirmed that Raiders, Golden State Warriors and San Jose Sharks items consume his bedroom almost entirely.
"Not the ceiling," Bryan Tu said.
Valenzuela, a San Jose native, has high aspirations for an autograph display.
He and his girlfriend recently bought a house that is under construction. When the two move in, Valenzuela plans to devote his energy toward designing a room for his most prized possessions, chief among them an autographed Tim Brown jersey.
"I don't even care what color the floors are going to be," Valenzuela said. "I don't care how the countertops are going to be. I care about my room. Not my main room where I'm going to be sleeping with my girlfriend but my man-cave room. She can pick whatever she wants, but that room is going to be all me. And when people come in, they're going to see all the work that I put in. It just reminisces, talking like, 'Oh dang, how'd you get Jerry Rice? How'd you get Tim Brown?' It's good stories to talk about."
Giving back
First, Jalen Richard assigned it a gender. Then he named him.
He seriously considered "Paul" in the interest of alliteration. Ultimately, he pivoted to an option along the same line.
"Pete," Richard said. "That's what I named him. Pete the Plant."
The Raiders running back is among the players who regularly stops and signs for fans, who can line up several at a time. Hein Tu has given such players thoughtful gifts as a token of appreciation. Other recipents include Carr, cornerback Rashaan Melvin and safety Obi Melifonwu.
This spring, Tu gave Richard a succulent plant inside a terrarium.
"I still got him," Richard said. "I water him a couple times a week. When he handed him to me, he told me not to water him too much or he'll get too big. But I got him. He's sitting on the counter in my house. … I thought that was real cool. We definitely enjoy the support from everybody who comes out there and asks us to sign. … That was unique. Ain't nobody ever handed me a plant. I was like, 'All right, I get a plant. I wanted a goldfish, but I'll take the plant.' "
Richard initially kept Pete in his car, some company for his drive to and from work.
He finally brought it into his house. His wife had questions.
"She was like, 'Where'd you get this plant from? Who gave you this plant?' " Richard said. "And I'm like, 'A fan. This is Pete.' She was like, 'Oh, you'd done gave the plant a name.' I'll be asking her to water him for me when I ain't home. She'll be like, 'I ain't watering your plant. You can water it when you get home.' "
Melifonwu turned 24 on April 5. For his birthday, Tu presented him a candle that he made personally.
Tu knows that Carr's favorite athlete is Kobe Bryant. He gave him a Bryant jersey and a plant.
Last month, he asked Melvin his favorite team. Melvin said the Warriors. Tu purchased a Kevin Durant jersey and days later presented it to him.
"Every time that we drive out to leave and go home," Melvin said, "he's always out there. … I haven't worn it yet, but I plan to wear it to my next Golden State basketball game. It's a blessing for him to give that to me even though he understands that we can afford it outselves. It's a gift. It's special."
Said Tu: "I appreciate all they do for me."
Why
It never was about the autographs for Tu and Valenzuela.
Not entirely.
Each of their collected signatures represents an interaction with an athlete they respect. These encounters narrow the binocular-range distance between the Oakland-Alameda County Coliseum field and bleachers, where Tu has occupied as a season ticket holder for six years and Valenzuela for the past 10. There are no helmets when an autograph is given. There is eye contact and acknowledgment.
Players see fans as people.
Fans see the players as people.
It is one thing to appreciate Carr for his football talents. It is another to see him decelerate his vehicle and roll down his window, time and time again. It is one thing to read headlines about wide receiver Martavis Bryant. It is another to interact with him and conclude that violations of the NFL's substance-abuse policy do not encapsulate him as a person.
For the record, Tu and Valenzuela both consider Bryant as having the cleanest autograph on the team. Linebacker Derrick Johnson, released last Monday, also was in the mix.
"Everybody's time is valuable," Bryant said. "If they stand out there for hours just for me to sign my autograph, I owe it to them to sign it."
Valenzuela called Bryant "one of the nicest guys ever. He always stops by, has a chat with us. … I'm actually going to buy his jersey to wear to games, just because of that."
Last month, Tu and Valenzuela stood alone in the shade beside a familiar paved road. At the time, the Raiders were winless after three games. This didn't matter. They waited for players from their favorite team to surface. More than an hour passed in vain.
The employee gate opened.
A vehicle turned toward them.
"That's Leon Hall," Tu said.
Hall rolled toward the super fans and slowed his vehicle. Excitement was in their voices. Tu told Hall that he'd had a great game the previous day, a 28-20 road defeat to the Miami Dolphins. Hall signed for both. Six days later, the Raiders would earn the first win of the season.
The defensive co-captain told them to keep up the support.
Valenzuela responded without hesitation.
"Always," he said.
More Raiders: Follow all of our Raiders coverage online at reviewjournal.com/Raiders and @NFLinVegas on Twitter.
Contact reporter Michael Gehlken at mgehlken@reviewjournal.com. Follow @GehlkenNFL on Twitter.