Family friends Jon Gruden, Sean McVay to meet Monday
Updated September 6, 2018 - 7:37 pm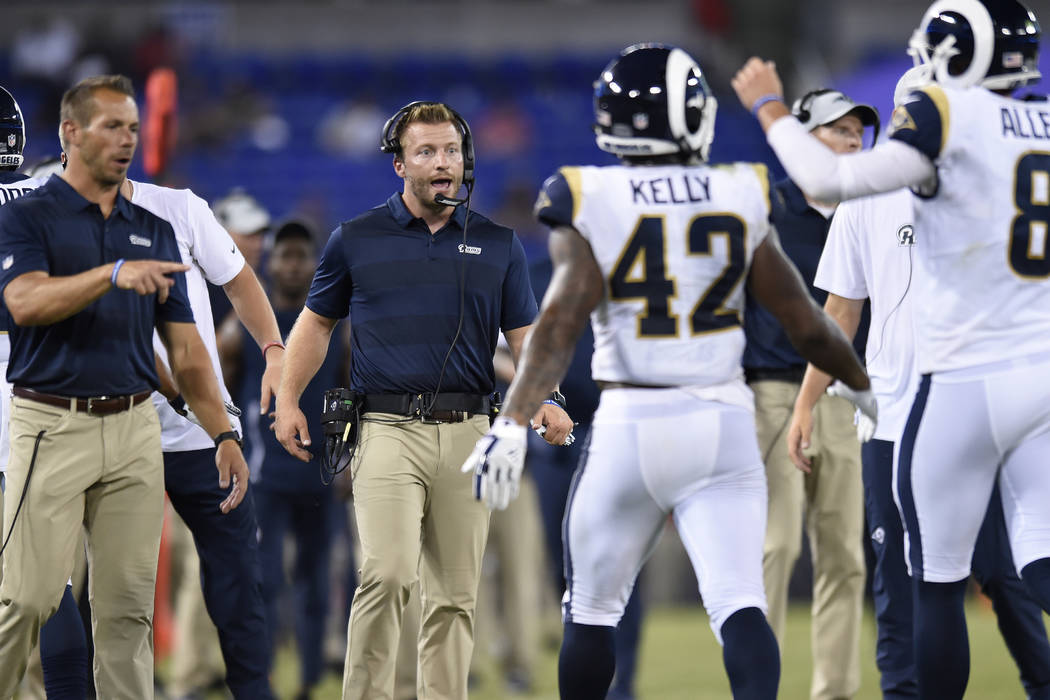 ALAMEDA, Calif. — It was around the time Sean McVay celebrated his 22nd birthday when Jon Gruden made the offer.
Come join his staff.
In early 2008, McVay agreed to become an entry-level offensive assistant for the Tampa Bay Buccaneers. He worked with their wide receivers during what proved to be Gruden's final year with the franchise. Gruden was dismissed about a year later and pivoted to broadcasting.
On Monday, Gruden will look for his first win as an NFL head coach since then.
McVay, who has come of age, can stop him.
Two longtime family friends will cross paths when the Raiders host the Los Angeles Rams on "Monday Night Football" at the Oakland-Alameda County Coliseum. Gruden, 55, and McVay, 32, have kept in close contact since they were colleagues. They'll stand on opposite sidelines as head coaches in their respective team's season opener.
McVay was young and impressionable when Gruden hired him out of Miami (Ohio).
That served him well, he said.
"I didn't really know anything when I first started coaching," McVay said Thursday in a conference call. "I realized how little I knew back then, and you still try to learn every single day. But a couple of the things that just continued to resonate with me when I look back on that experience is (Gruden's) consistency, the tireless work ethic, the ability to do so many different things while still maintaining all different roles and responsibilities that a head coach has. He is running quarterback meetings, making tip sheets, drawing cards, putting together game plans, being able to do a great job in the team meetings, having an understanding of what's going on defensively with the personnel.
"It really was quite incredible, all the different things that (Gruden) was able to do. You talk about a tireless work ethic but also an efficient work ethic where you're not wasting any time during the day and getting things done and somebody that loves football — there's no doubt about it. It was a great example for me to be able to see."
The relationship between the Grudens and McVays spans generations.
John McVay, Sean's grandather and a former San Francisco 49ers general manager, worked at Dayton as head coach from 1965 to 1972. Jim Gruden, Jon's father, was an assistant coach at Dayton from 1969 to 1972 and later a Niners scout for McVay.
"John McVay helped my dad," Gruden said. "I try to help any McVay I can. They've helped us throughout the years. We're a really close family, and got Sean out of Miami of Ohio — kind of in a secretarial role — to get him in the building (in 2008). Next thing I know, he's out there helping Joey Galloway and our receivers play better. He's a great, young coach and a really great friend. I can't wait to play against him."
Raiders offensive coordinator Greg Olsen sees a resemblance between Gruden and McVay.
In 2008, Olson was part of Gruden's staff in Tampa, helping mentor McVay as the Bucs' offensive coordinator. McVay spent the next season with the UFL's Florida Tuskers where Jay Gruden, one of Jon's two brothers, was offensive coordinator. McVay moved to the Washington Redskins' staff from 2010 to 2016, the final three seasons of which with Jay Gruden was head coach.
Olson and McVay reunited in 2017 in McVay's first season as Rams head coach. Olson coached his quarterbacks.
"I used to say that Sean (used) a lot of Gruden-isms," Olson said Thursday. "How he spoke to the team and his message and mannerisms, I think there were a lot of similarities there that Sean had picked up. Certainly, they're two different coaches, two different people. When I first got to Sean's staff, I thought that was entertaining, to say the least, on some of the mannerisms that he used."
In 2017, McVay became the youngest person in modern NFL history to be named Associated Press Coach of the Year.
Altogether, this has been a meteoric rise for McVay. It started with an offer one decade ago.
"Well, we have to try and slow down that rise," Gruden said. "We have to try to douse the flames. He's smoking right now. It's been exciting, man. Anytime you see a young guy come into a profession and do what he's done, it's awesome. He's turned around a franchise that is really important to the NFL, and I'm really happy for him."
More Raiders: Follow all of our Raiders coverage online at reviewjournal.com/Raiders and @NFLinVegas on Twitter.
Contact reporter Michael Gehlken at mgehlken@reviewjournal.com. Follow @GehlkenNFL on Twitter.