Future of Sam Boyd Stadium up in the air with Raiders' relocation to Las Vegas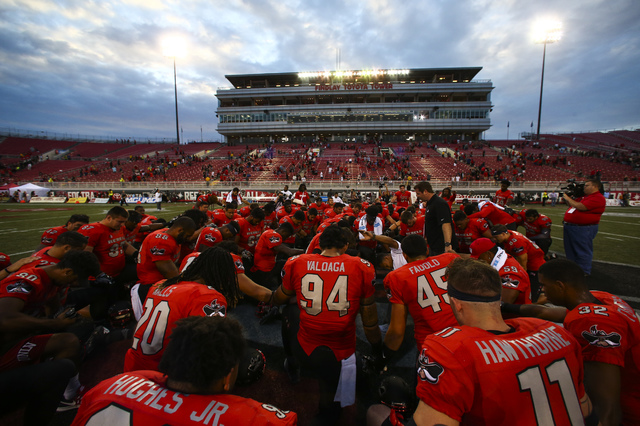 By the time Sam Boyd Stadium reaches its 50th birthday in 2021, the bleachers, parking lots and football field might not be there.
That's because UNLV officials are considering several options — including the sale of the site — because of the relocation of the Oakland Raiders to their new home in Las Vegas.
"One option is that we would sell it and see what funds we could get," said Gerry Bomotti, senior vice president for finance and business at UNLV. "It's not feasible to operate Sam Boyd after a new field is up and operational. We don't see it continuing as a stadium there."
That sentiment was discussed a few times last year during the Southern Nevada Tourism Infrastructure Committee meetings, where officials agreed that UNLV should cease operations at Sam Boyd.
By doing so, the university would receive 10 payments of $3.5 million from the new stadium's revenue, to make up for losses from the closure of Sam Boyd, where, with football, the stadium holds several other events that bring in revenue from ticket sales.
"That profit contributed to supporting UNLV athletics," Bomotti said.
In addition to selling the site, UNLV also wants to talk with the Raiders about the possibility of the NFL team using Sam Boyd as a practice facility.
"We would certainly work with the Raiders if there was interest in them using it either short term or longer term, but they would have to pay for any and all of those improvements," Bomotti said. "We would not be in a position to be able to afford investments like this."
Regardless of whatever decision is made, the university would welcome input from Clark County because the county owns all land around the stadium, and the site originally came from the county, Bomotti said.
Asked about the possibility of swapping the Sam Boyd land for county land closer to UNLV, he said those discussions haven't surfaced recently.
"The discussion goes back many years," he said. "But the county didn't show much interest in that, to be candid."
The only definite when it comes to the future of Sam Boyd Stadium is that there seems to be no definitive plan at this time.
"In most all cases, it's fair to say that we haven't finalized any plans," Bomotti said.
He said he hopes the university will have a plan to take before the state Board of Regents in 2018.
Contact Natalie Bruzda at nbruzda@reviewjournal.com or 702-477-3897. Follow @NatalieBruzda on Twitter.