Grading the Raiders' 34-17 loss to the Ravens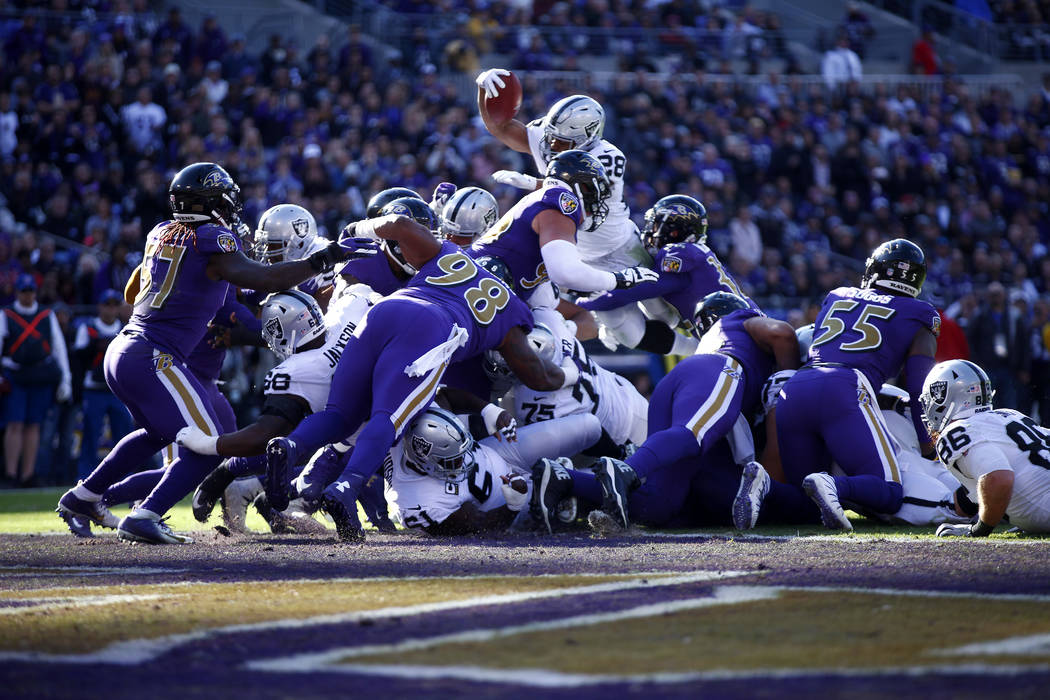 Here's how the Raiders performed in a 34-17 loss at Baltimore.
OFFENSE: D
Derek Carr completed four of his first five passes and then went 12-of-29. The quarterback received little help from his receivers — Seth Roberts was called for offensive pass interference that negated a 34-yard gain and tight end Jared Cook pushed off to erase a 25-yard reception. A strip of Carr led to Terrell Suggs returning the fumble 43 yards for a score and there was a fourth-quarter series in which Carr was sacked on three consecutive plays. When your defense can't get off the field and you only possess the ball for 25:48 of the game, less-than-perfect gets you beat. The Raiders were less than less. Doug Martin (11 rushes for 51 yards) scored his first touchdown with the Raiders.
DEFENSE: D
Speaking of possession: Baltimore had the ball for nearly nine minutes more than the Raiders because the visitors couldn't stop an inside run to save their lives, which then opened up the outside for a Ravens' rushing attack that went for 242 yards on 43 carries. The Raiders got interceptions off tipped passes from Reggie Nelson and Marcus Gilchrist of quarterback Lamar Jackson, but the Heisman Trophy winner played well otherwise in his second career start. Jackson completed 14-of-25 for 178 yards with a score and ran 11 times for 71 yards and another touchdown. The Ravens were 8-of-13 on third down and their first two series of the second half both led to scores, in which 23 of 30 plays were rushes and totaled 15:43 of the clock.
SPECIAL TEAMS: F
You don't get many chances to make a serious impact some weeks here, so the last thing you can do when the offense can't pass protect and the defense that can't get a stop is allow a 70-yard punt return for a score. But that's what the Raiders did in the second quarter, when Baltimore native Cyrus Jones took an offering of rookie punter Johnny Townsend and raced down the sideline, which is sort of concerning given the Raiders still must face the Chiefs and Tyreek Hill in two of next five games. Daniel Carlson hit a 42-yard field goal, making him 7-for-8 during his short Raiders tenure.
COACHING: D
If games were stopped after a team's opening series, the Raiders might be bound for a Super Bowl. But the rules don't work that way, and it's the rest of four quarters that really get in the way of Jon Gruden's team. The Raiders rank fourth in the NFL in points per opening drives at 3.09. After that, it's 1.32. On Sunday, they went 81 yards over 12 plays in 6:15 to lead 7-0 on a 1-yard run by Martin. Then the game went on and, well, you know.
ED GRANEY/Las Vegas Review-Journal