Homeless camp moves onto Raiders stadium site in Las Vegas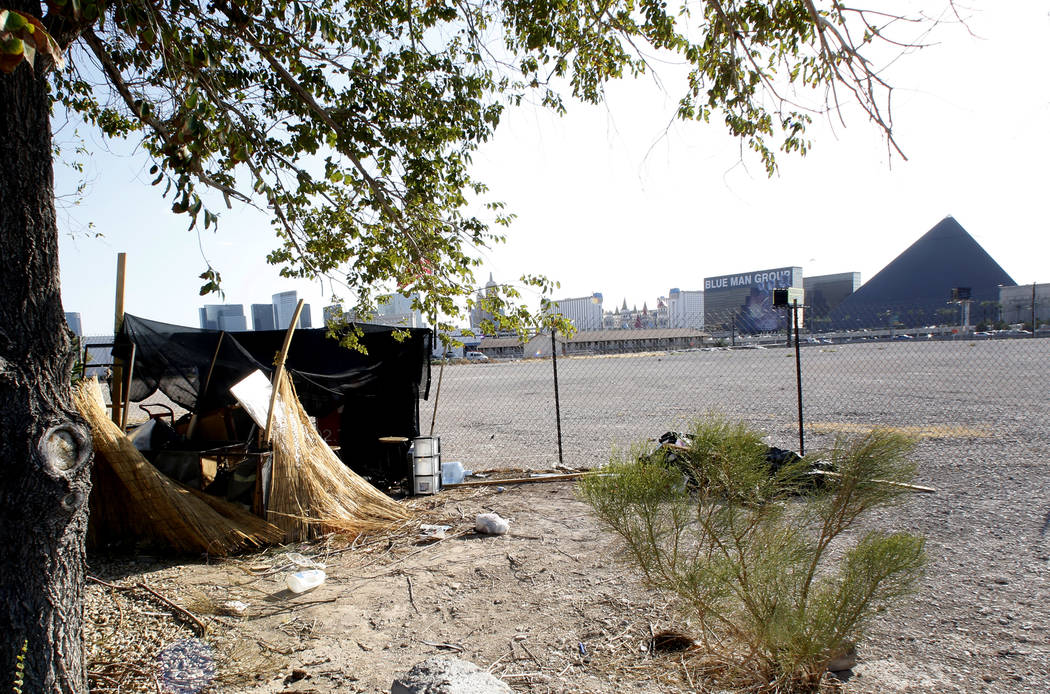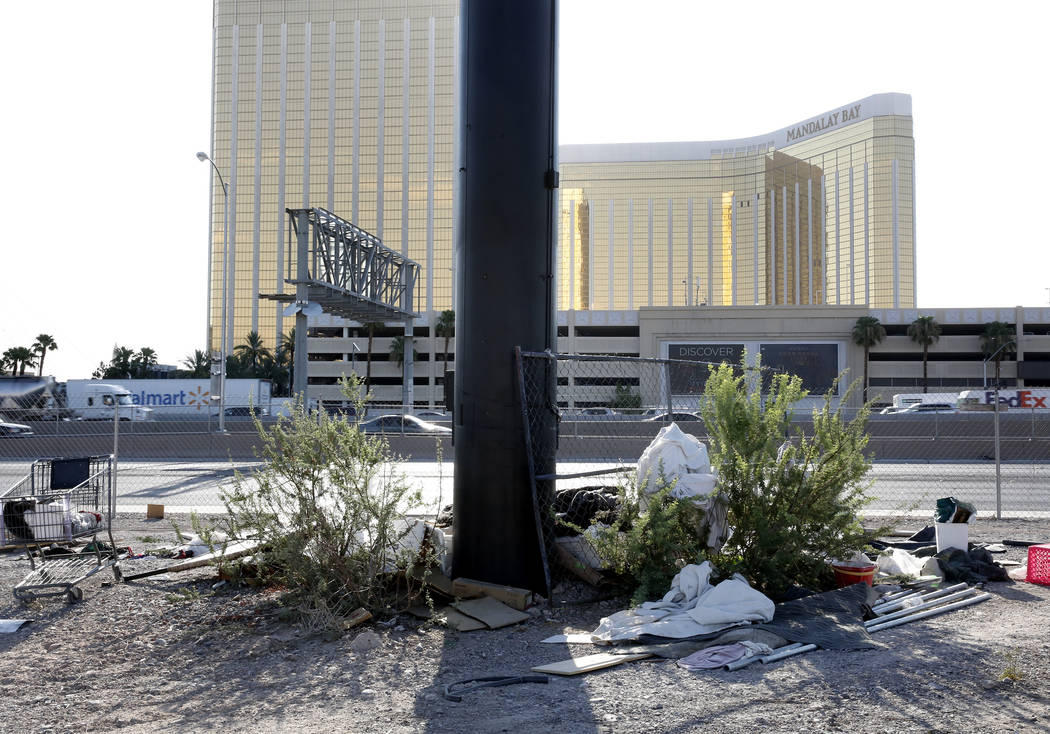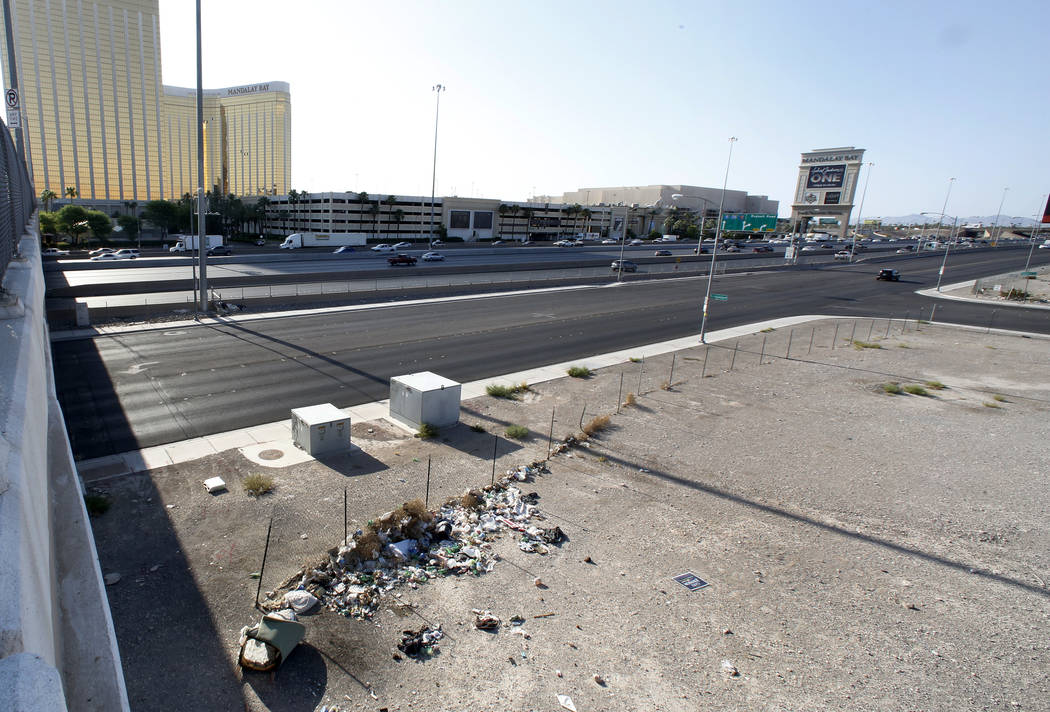 The Oakland Raiders haven't started building their stadium in Las Vegas, but there's already some activity at the project site.
A homeless encampment has taken shape on the football team's land. The cluster of property and trash is below a billboard off Dean Martin Drive that, as of last week, advertised a garage-door company on one side and singer Mariah Carey's performances at Caesars Palace on the other.
At the encampment, a mattress was lying on one or two wooden pallets and covered with belongings. A shopping cart, buckets, empty cups and water bottles, a toolbox and other items also were strewn about.
A handwritten sign there was partially covered from view but mentioned food, water and supplies.
"Anything you can spare is a blessing," the sign said.
Nobody was seen there Monday morning, but two people were there at least at one point last week.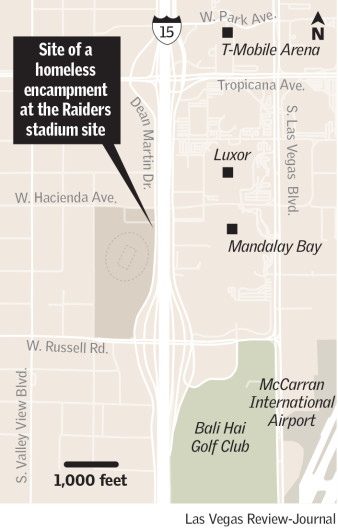 A Raiders spokesperson could not be reached for comment Monday.
The team, which received approval from NFL owners in March to move to Las Vegas, plans to build a 65,000-seat domed stadium at Russell Road and Dean Martin, just west of Interstate 15.
Construction is expected to start in January and finish by June 2020. The Nevada Legislature approved using $750 million in public money to help finance the $1.9 billion project.
The Raiders bought the 62.6-acre stadium site in May for $77.5 million, property records show.
Listing broker Michael Parks of CBRE Group said he never heard from Las Vegas police or Clark County code enforcement when he was trying to sell the property — if there were complaints, they likely would have been sent to the landowners, he noted.
But driving by, he's seen encampments in the neighborhood over the years.
Just north of the stadium site, homeless encampments have formed along the Hacienda Avenue overpass and on a vacant parcel nearby. The parcel's listing broker told the Las Vegas Review-Journal in May that when vagrants are cleared from his site, "it doesn't take long for them to return."
Meanwhile, a boarded-up commercial building at 5285 Dean Martin Drive, also just north of the stadium site, has a history of vandalism, vagrants and fires.
It was torched in a two-alarm blaze on May 4, causing an estimated $120,000 in damage. That week, notices taped and stapled to the two-story building said the property was "a haven" for vagrants and criminal activity, that vagrants had moved in and caused "multiple fires" and that vandals had ripped out "all electrical, mechanical and plumbing."
It looks like people aren't staying away, either: as of last week, two entry points to the barbecued building appeared to be open.
Contact Eli Segall at esegall@reviewjournal.com or 702-383-0342. Follow @eli_segall on Twitter.