How Raiders WR Michael Crabtree can cut NFL suspension in half
November 28, 2017 - 1:01 pm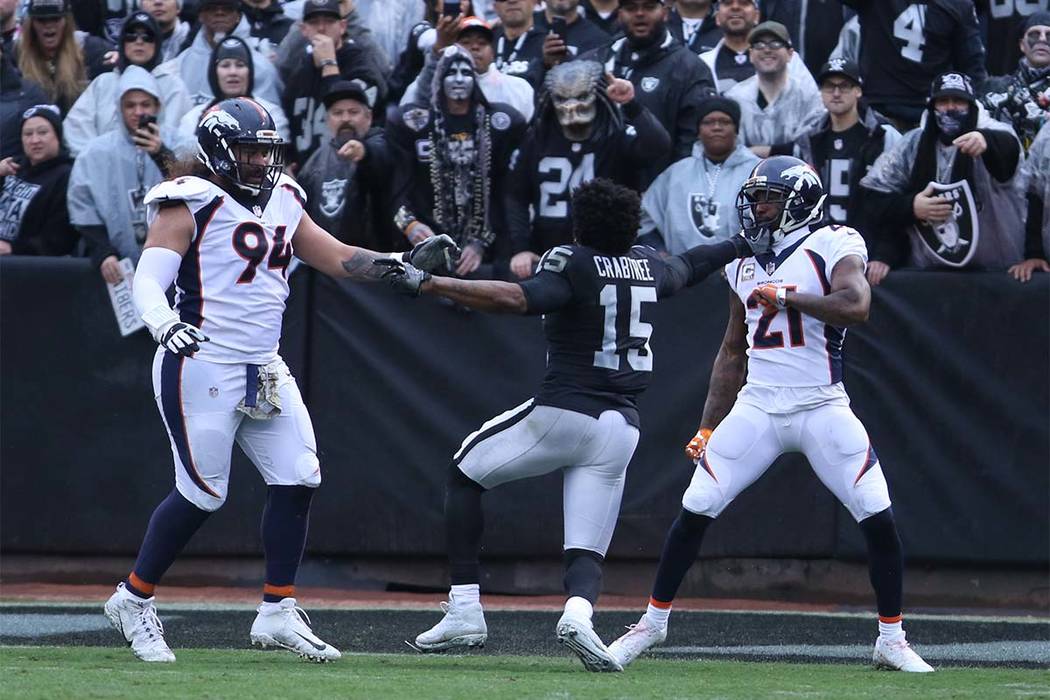 ALAMEDA, Calif. — It starts with remorse.
The unequivocal, heartfelt, convincing kind.
Remorse for NFL side judge Laird Hayes who grabbed his left chest area in pain Sunday after a 336-pound Raiders lineman unintentionally mowed him to the ground. Remorse for the minimum three punches personally thrown. Remorse for the nearly five-minute delay in game action, for the optics to the league, for the damage to his team. Remorse, most of all, for young fans watching.
True remorse must be the basis for this to work.
Raiders wide receiver Michael Crabtree has an appeal hearing Tuesday for a two-game suspension the league levied onto both him and Denver Broncos cornerback Aqib Talib. Their squabble, which came in the first quarter of the Raiders' 21-14 win in Oakland, centered around Talib having yanked Crabtree's chain during a game for the second time since Jan. 1.
This appeal, with a few good points, appears winnable.
A successful appeal likely will reduce Crabtree's suspension from two games to one, saving him $376,647 in salary and allowing him to play a crucial Dec. 10 game against the Kansas City Chiefs. Former NFL linebacker Derrick Brooks is hearing the appeal.
Here's a playbook to persuade.
First, do not simply express remorse. Be remorseful. Understand the scene Sunday at the Oakland-Alameda County Coliseum. Acknowledge it and your role. You slugged cornerback Chris Harris Jr. in the stomach on the play before the Talib tussle. Own that, too.
Demonstrate a desire for growth.
You and Talib are from the greater Dallas area. Your high school alma maters are 22 miles apart. Pitch to Brooks an idea to team up with Talib — have reps work on your behalf; you two don't need to become best friends overnight — and start a community outreach in which this holiday season, you and Talib pool your resources to provide necklaces and perhaps other custom jewelry to single, inner-city mothers in the Dallas region.
Some of the money saved from a reduced suspension goes toward this cause.
Convince Brooks you desire to squash this feud with Talib. You understand such incidents cannot occur each time you face each other. You're open to a conversation with Talib designed to move toward that effect.
Now, you mention some facts.
Fact: You ran two routes and played five snaps Sunday before your ejection. Essentially, you've already missed a full game for your actions. Suggest this could be taken into account when considering whether to reduce the suspension by a game.
Fact: Talib snatched your chain on Jan. 1. He wasn't flagged a yard. He wasn't fined a cent. He wasn't suspended a down. Argue you weren't the only one who allowed the Denver incident to escalate. Argue the NFL's disciplinary system did, too. (If you're going to blame the NFL, this is probably a good time to express remorse again.)
Fact: On Nov. 5, Cincinnati Bengals wide receiver A.J. Green was ejected without a suspension after placing Jacksonville Jaguars cornerback Jalen Ramsey into multiple chokeholds and throwing several punches. You understand why you were suspended. But the jump from no suspension for Green to two for you is objectively excessive.
Apologize once more. Thank Brooks for his time.
Begin to prepare for Kansas City.
Contact reporter Michael Gehlken at mgehlken@reviewjournal.com. Follow @GehlkenNFL on Twitter.